What's your strategy to create some holiday magic this year? Optimizing your holiday SEO strategy can help customers easily find and browse through your e-commerce site to find the holiday specials they've been searching for.
While the 2020 holiday season saw many new-to-online customers browsing e-commerce sites for their holiday gifts, this year brands need to keep those customers engaged to convert them into loyal shoppers. Online shopping behavior and trends are continuously evolving, but consumer sentiment remains largely the same as last year: customers are searching for deals, convenience, and optimal delivery choices. Consumers will return to brands that have their product availability status clear and updated, a site that is user-friendly and easy to navigate, gift ideas that are within budget, and more.
Convey all the necessary information your customers need easily and simply through holiday landing pages. 
Creating Holiday-Specific Landing Pages
Building out holiday landing pages for key shopping days like Black Friday and Cyber Monday and other holidays like Halloween, Thanksgiving, Friendsgiving, and more is one of the cornerstones of optimizing your holiday SEO strategy. Create these pages well in advance of the days themselves to give the search engines time to crawl and rank your pages.
While your site will benefit from the high-volume keywords of Black Friday and Cyber Monday, be sure to showcase products and categories that your customers want. Add products that have historically been effective at drawing in new customers to engage holiday shoppers. Conduct thorough research into keywords and industry trends to optimize these landing pages, both in product descriptions and in products offered. NetElixir found that aspects of the 90s are trending again, so you can position your products as the must-haves of the season. 
However, be sure not to burden the webpage with too many deals and seemingly random products; you don't want to confuse or overwhelm customers. Consider creating a separate page for each broader product category you plan to have discounts on. Repackage products into easy-to-navigate pages that are catered to specific demographics, popular hobbies, and the best deals — you don't necessarily need to create whole new product offerings, but just tweak the messaging and description of products you have readily available. 
To determine how to best categorize your products, start with your customer personas and target audience. Based on this data, consider segmenting your products by:
Gender, like "Best Gifts for Her"

Profession, like "Best Gifts for Nurses"

Price, like "Best Gifts Under $20"

Hobby, like "Best Gifts for Car Lovers"
Be sure to keep your buyer personas and high-value customers in mind, however, so you're not optimizing for customers who don't convert on your website.
Create a schedule to continually launch new products or deals on your site to keep customers returning. Coincide these new releases with social posts, emails, and other marketing campaigns to get people to visit your website and talk about your brand. Not only do you create greater exposure for your site, but you organically boost your backlink strategy. 
This holiday season will be uncertain. Drive enthusiasm by starting early promotions and exclusive deals.
Creating Urgency In Your Holiday Promotions
Add a countdown timer to your landing page to let customers know when the deal is ending. Consider adding in lightning deals leading up to key shopping days throughout the season to encourage impulse buys and keep customers returning. Regular announcements via newsletters and social posts will remind your customers of the limited time they have left to buy.
Before your brand's biggest holidays, plan out a promotional schedule such as:
45 days in advance: Leverage your website calendar, social media, and any emails or newsletters to start driving traffic and garnering interest. Be sure to link your holiday landing pages to your home page so it is prominently displayed.

7 days in advance: Begin highlighting key products or customer reviews for daily posts to draw customers to your site.

1 day in advance: Make your onsite countdown prominent to focus on your upcoming deals and drive home the sense of urgency as the deadline approaches.
5 Steps For A Successful Holiday SEO Strategy
Start sooner rather than later. 

Create landing pages specifically for Black Friday and Cyber Monday deals, as well as other holidays that fit your brand.

Identify relevant keywords for your niche and build out content around those keywords.

Coordinate your SEO strategy with your other marketing efforts for a seamless brand experience.

Track and measure success frequently to adjust your strategy accordingly.
According to Google's research, 23% of people start their holiday search three to six months before the holidays. To succeed this holiday season, you want to get an early start on perfecting your holiday SEO strategy. This includes checking your site for any user experience issues that could affect performance and hurt your ranking. Make your products easily searchable and accessible through holiday-specific landing pages and blog posts. 
While last year brought its own host of problems, we learned a lot. Learn from last year's trends, solutions, and wins to adapt the successes to your holiday strategy this year.
Boost Your Holiday SEO Strategy With NetElixir's Specials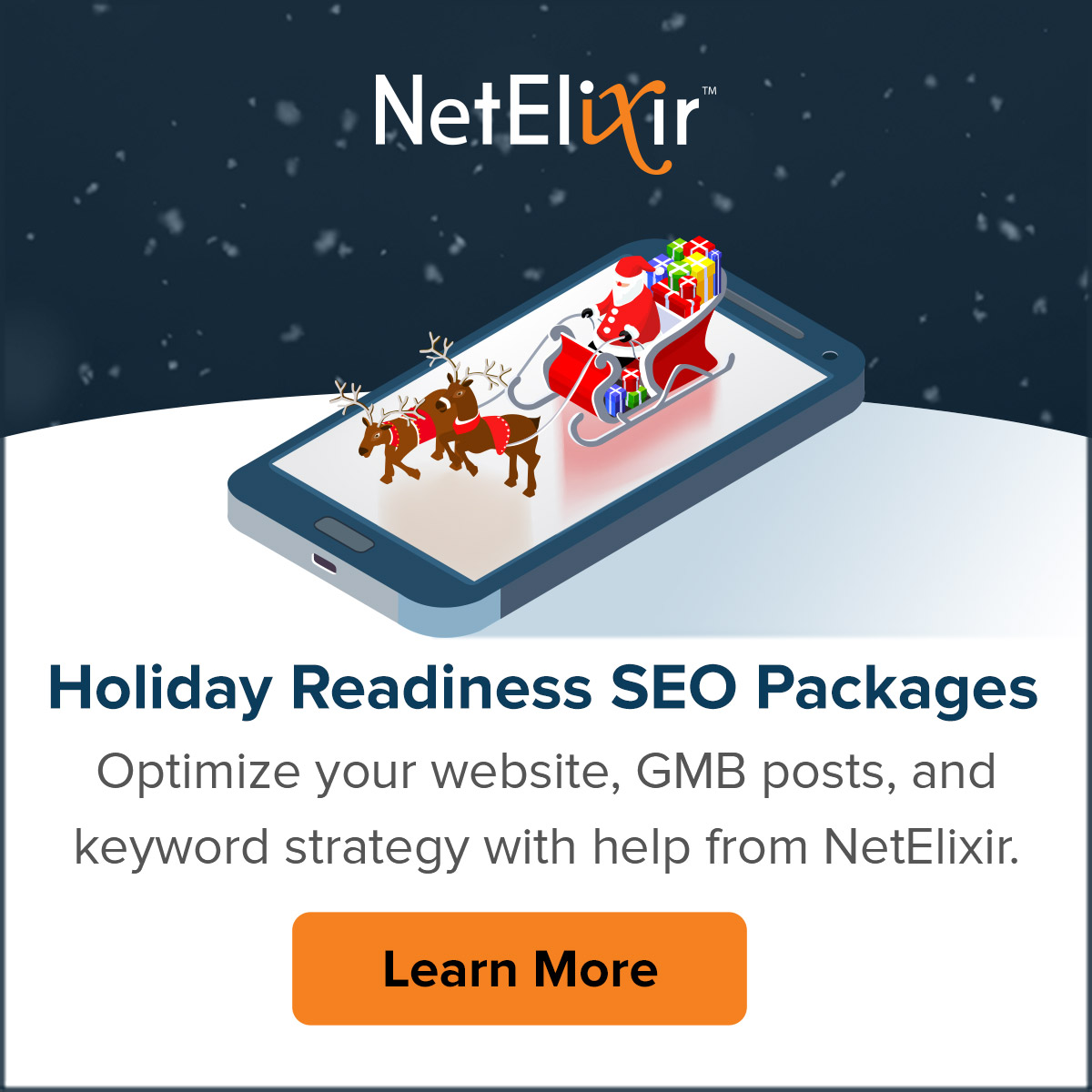 Reach more customers this holiday season with NetElixir's SEO holiday solutions! Our packs help minimize risk and maximize conversions by ensuring your site is ready for the holiday rush. Our holiday packs help tell your brand story, build a bigger content basket, increase visibility, show off your brand's unique style, and more!
 Our SEO Holiday Readiness Audit will get your site in the holiday spirit by offering:
Keyword research specific to the holidays

Micro-focus user experience audits for PDP and cart

Holiday deal landing page creation or optimization

Up to 25 pages optimized for H1s and minor on-page copy editing

And more!
Request your SEO Holiday Readiness Audit now and browse our other Holiday Packs at https://www.netelixir.com/services/holiday-specials/.