NetElixir's X=Experience is an annual event that started in 2013. Our founder and CEO, Udayan Bose, wanted a means to bring the university setting back into our professional lives. The X=Experience is an unconference, a unique approach to building better businesses.
We aim to bridge the gap between academia and industry, in a space where everyone is a student again. We are here to rethink innovation in order to create a brighter future. 
At the end of September, we held our 9th annual event. While the cadence of our event remained similar to years prior, our speakers and guests made this year truly magical. 
Day One of The X=Experience
Day One of our X=Experience event is structured around Albert Einstein. As NetElixir's icon of inspiration, we seek to emulate Einstein's endless curiosity. 
We host a cocktail hour and welcome dinner at the historic Nassau Inn in Princeton, NJ. Day One is an opportunity to network with fellow attendees and learn about Princeton's history and Einstein's local legacy.
Following our cocktail hour and full course dinner, we are joined by the Princeton Tour Company's energetic and knowledgeable guide for a walking tour that literally retraces Einstein's steps around the university and surrounding town. We pass by Einstein's house, a memorial bust, and more in our efforts to preserve his memory and influence.
We take a retrospective look at the past to understand its implications in the present moment before looking towards the future during our main conference day.
Day Two: Main Conference Day
NetElixir's 9th Annual X=Experience: Rethinking Innovation kicked off on the early morning of  Friday, September 30th at the Grounds for Sculpture in Hamilton, NJ. Grounds for Sculpture is a breathtaking and interactive art museum that brings new and classic artworks to life in unexpected ways. This gorgeous venue is the perfect background to gather today's thought leaders and feel inspired to build a better tomorrow.
I must also note that the warm and positive energy that your group as a whole brought to experience was very impressive. As one who works with a lot of organizational teams, it is very rare and inspiring." – Callie Lasch, Grounds for Sculpture
NetElixir's Founder, CEO, and resident Einstein, Udayan Bose kicked off the event with a welcome note that dived more into the why behind the X=Experience and the behind-the-scenes efforts from all our team members that brought us to this moment. 
"I found that there was a bit of a gap in terms of what is happening in the industry and what is being taught and researched in academia as well. So the aspiration really was to build an un-conference which tries to bridge the gap between industry leadership and academia," Udayan summarizes. 
The success of X=Experience relies on its pillars of fostering ideation by encouraging participants to ask questions and have discussions, initiating inspiration to help leaders think of something new, and cultivating lasting friendships.
One such friendship brought us to where we are today: that of Udayan Bose and our first keynote speaker, Jay Steinfeld. He was NetElixir's first customer back in 2005 when he was the CEO of Blinds.com and we are honored he could join us this year.
How To Disrupt Others Before They Disrupt You By Jay Steinfeld
During his presentation, Jay told the story of how he built Blinds.com from the ground up, starting in his home in Texas, and culminating in Home Depot acquiring it in 2014 for millions. But Jay's story is not one of strictly good business acumen; it's a personal story of endurance, spirit, and hard work. Jay's message is one of continual learning: "You can learn from every person, every company, every interaction you ever had."
To grow, Jay projected his brand as big as he could envision. He relied on a foundation of strong leadership that he championed every day. Blinds.com cultivated an environment of collaboration, generosity, and open communication that allowed everyone to freely share their thoughts, learnings, and questions.
Jay's four principles of business are:
Evolve continuously

Experiment without fear of failure

Express yourself

Enjoy the ride!
Jay taught us that we can rethink innovation by working to bring out the best in each other.
How To Change: Adapting for a Post-Pandemic World by Katy Milkman
Katy Milkman is a James G. Dinan professor at The Wharton School, best-selling author, and expert on the science of behavior change. Her book, How To Change: The Science of Getting From Where You Are To Where You Want To Be, delves into strategic methods for identifying and overcoming common barriers to change; during our X=Experience event, Katy explored three of these barriers: impulsivity, getting started, and confidence.
In order to make progress, first identify the obstacle that is in your way. Then, tailor your solution to overcoming that obstacle rather than strictly focusing on the goal. Changing the nature of your daily objectives is important to achieving long-term success. If you enjoy what you are doing, you're more likely to follow through with it. People are more open to change with the sense of a clean slate and an opportunity to do better than we did in the past. 
Three key lessons Katy shared on how to change are:
Efficiency is not the precursor to driving change; fun is!

We mentally align with fresh starts, like the start of a new year, quarter, or week.

Giving advice, rather than asking for help or receiving advice, changes our perspective around challenges and makes it easier to for to see solutions to similar problems.
Katy helped us rethink innovation by welcoming change.
Our Future Forward Segments
We introduced a new presentation topic this year in the format of our Future Of segments. First, Parag Shah, the VP of Omnichannel Merchandising for The GIANT Company, spoke on the Future of Grocery. 
Insights into the future of grocery include:
Omnichannel shopping is increasingly becoming the norm, as consumers adopt physical and digital channels to complete their trips

Retailers are embracing AI and rethinking robotics to elevate the in-store experience and increase efficiency

People's relationship with food has evolved significantly throughout the pandemic, as more opt to eat meals at home

Because people shop for groceries on a regular basis, they can get quickly acclimated to new technology and retail initiatives launched by the grocery industry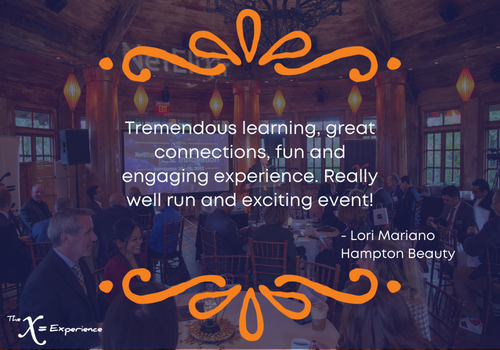 Should we even call engines like Google a search page anymore? NetElixir's Udayan Bose and Google's Agency Development Manager Billy McLellan spoke on the Future of Search, highlighting that:
Search is evolving beyond a simple word to an entire experience that encompasses a visual and video showcase, omni-buyers and hundreds of digital touchpoints, and highly personalized feeds.

Advancements in AI are changing how brands interact with customers in every context.

The modern customer is highly empowered and their path-to-purchase is more complicated than ever before.
Parag, Udayan, and Billy helped us rethink innovation by leading us into the future.
Innovation in the Small: Learnings from Consumer and Retail by David Bell
David brings his history as a Wharton professor, as a researcher into new consumer and retail company operations, and as an investor, both on a personal level and on a professional level through Idea Farm Ventures that he founded. The 'small' from David's presentation means attention to detail. Everyday consumption is something that fuels the world, so finding a balance between online and offline ensures success in an omnichannel world.
The retail experience is rapidly changing to encompass new consumer expectations. Throughout his experience, David has seen the following:
The physical aspect of shopping cannot be understated, but it needs to evolve alongside other digital initiatives.

Information and fulfillment will start to happen in native environments to be more accessible to the everyday shopper.

The internet is the world of the extreme, so attention to detail and curating experiences for your customers will help you provide a cohesive brand identity.
David helped us rethink innovation by challenging us to hone in on the small details.
Udaan Trust – Flight Foundation
The X=Experience event is more than just a meeting of great minds; all proceeds from the X=Experience go to support our non-profit, the Udaan Trust. Udaan's mission is to create a world where no young girl is afraid to dream big. 
Thanks to your generosity, we raised over $4,000 and can extend our scholarship to eight girls in 2023!
NetElixir's 10th Annual X=Experience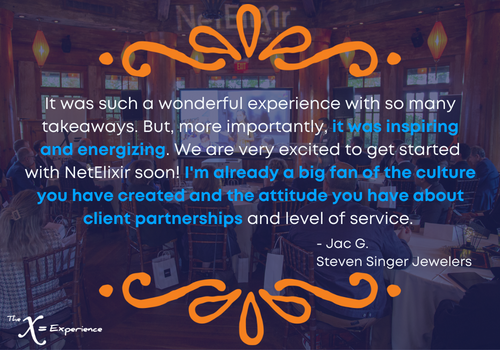 Save the Date! We will host our 10th Annual X=Experience on September 28-29, 2023. Stay tuned for further announcements as we expand our community and aim to make this the biggest event yet.
Once you are inside this [conference], you are in a classroom. Whatever your titles, your company, you leave them outside. But here you are a student." – Udayan Bose