Apparel, Food and Grocery, and Gifting Retail Categories
Consumer behavior has evolved as the coronavirus outbreak continues to impact the globe. According to McKinsey & Company's research of global consumer sentiment, consumers are shifting towards a "homebody economy", despite lockdowns slowly lifting across the world. As such, consumers continue to shop online and boost retail ecommerce metrics by remaining with their digital platforms. McKinsey reports that, in order for consumers to feel comfortable shopping more out of the home, they want to see company's emphasize cleanliness and safety. 
We slowly move forward to easing out of lockdowns, but in the meantime, consumers continue to turn to online shopping. Looking at the year over year changes between June 5 and 6, 2020 compared to the same dates in 2019, we see:
New shoppers continuously turn to digital means to buy essentials and other goods. More than half of Americans have made their first online order during the pandemic, reports a recent survey by

Small Business Trends

.

While the rate of ecommerce growth has slowed significantly since the initial outbreak of the coronavirus, we are still seeing positive year over year growth across most retail industries. 

Brand awareness and their responses to the current crises will shape who consumers continue to patronize in the future.

Millennials and Gen Z care about a brand's purpose

and want brands to be responsible to their consumers through messaging as well as actions.
Positive Outlook for Apparel and Fashion
While ecommerce has helped some retailers stay afloat during the pandemic, the apparel industry has suffered. Digital agility in the fashion and apparel retail category points to which retailers are more likely to overcome the coronavirus outbreak.
Amazon began offering virtual dressing rooms that allows shoppers to digitally mock up an outfit ensemble to see how it would look.  
As states have opened and people are more likely to go out to enjoy the spring weather  and opened retailers, the Apparel industry has seen more continuous year over year growth than early on during the pandemic. Comparing the year over year data from this past weekend (Friday, June 5 and Saturday, June 6, with the same dates in 2019), our Retail Intelligence Lab has found:
Website conversion rates increased by 4%.

The number of transactions have increased by 32%.

The Average Order Value (AOV) has decreased 7%.

The percentage of mobile orders have increased by 12%.

New orders have jumped 47%.
Ecommerce sales for the Apparel retail industry are increasing, which shows a promising post-coronavirus recovery. 
Food and Grocery Ecommerce
Online grocery sales continue to climb throughout the coronavirus outbreak. The stay-at-home orders under the coronavirus pandemic will change how consumers interact with their food. More people – and children at that – are learning to cook and bake and more families are eating together. People will focus more on eating local and eating healthy, as well as focusing on food safety.
Amid our changing relationship with food and less time out at restaurants and the office, consumers are still overwhelmingly turning to online grocery. Over the past weekend, compared to the 2019 data, we have seen:
Website conversion rates increased by 5%.

The number of transactions have jumped 77%.

AOV increased by 37%.

The percentage of mobile orders have skyrocketed by 178%.

New orders have increased by 85%.
Gifting in the Age of Coronavirus
Virtual meetings and digital gifts have kept us connected throughout the coronavirus pandemic. As social restrictions ease, however, we see more people able to express their love in person. Small gatherings and house visits have lessened the need for virtual egreetings. Gifting, which was a breakout retail category throughout the onset of the pandemic, has since decreased in prominence. 
Over the past weekend, when comparing the daily data of June 5 and 6, 2020 to that of 2019, our Retail Intelligence Lab has found:
Website conversion rates have decreased by 6%.

The number of transactions rose 16%.

AOV decreased by 5%.

The percentage of mobile orders have jumped by 39%.

New orders have decreased by 6%.
Consumers are turning to other retail categories as we shift into a new stage of recovery. 
Additional Insights
Some states have allowed non-essential retailers to start offering curbside pickup and retailers have become creative in how they recreate a shopping experience. Successful experiential retail will help boost the reopening of brick-and-mortar stores.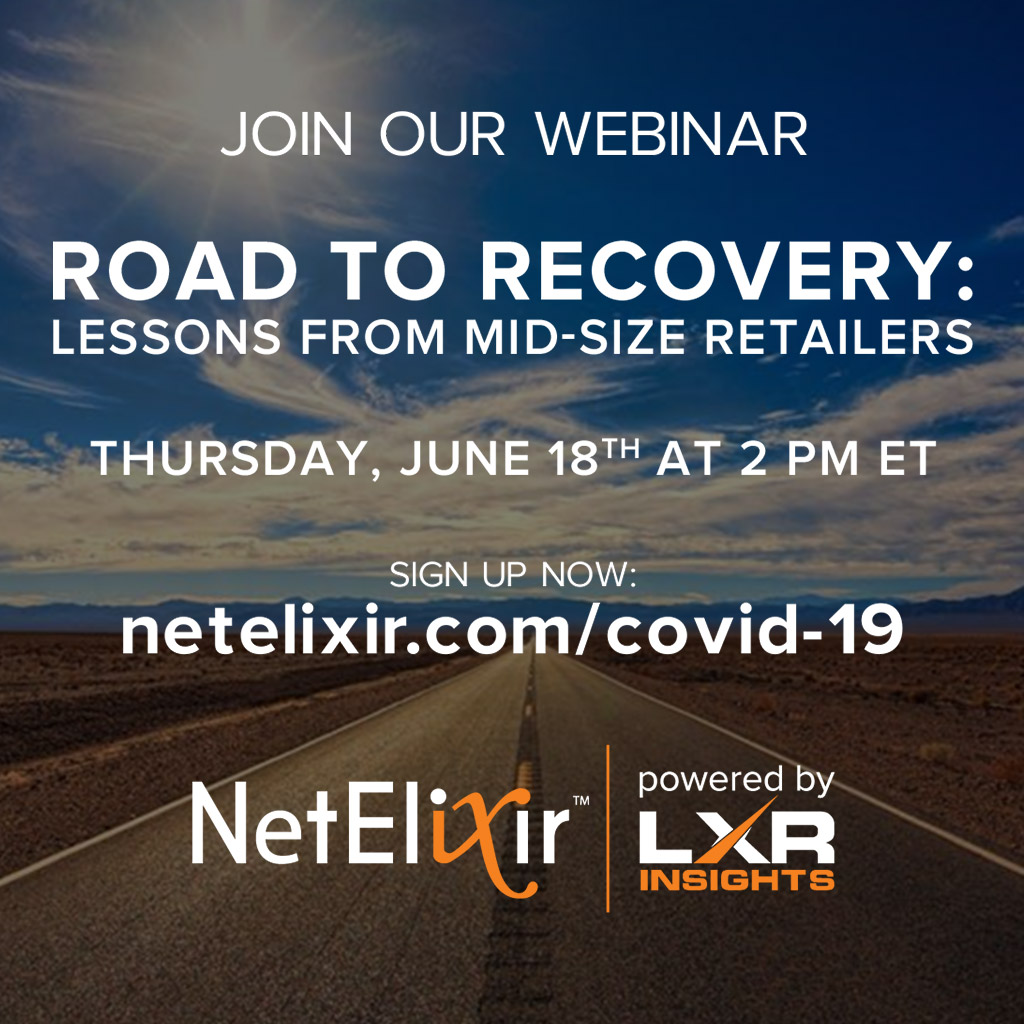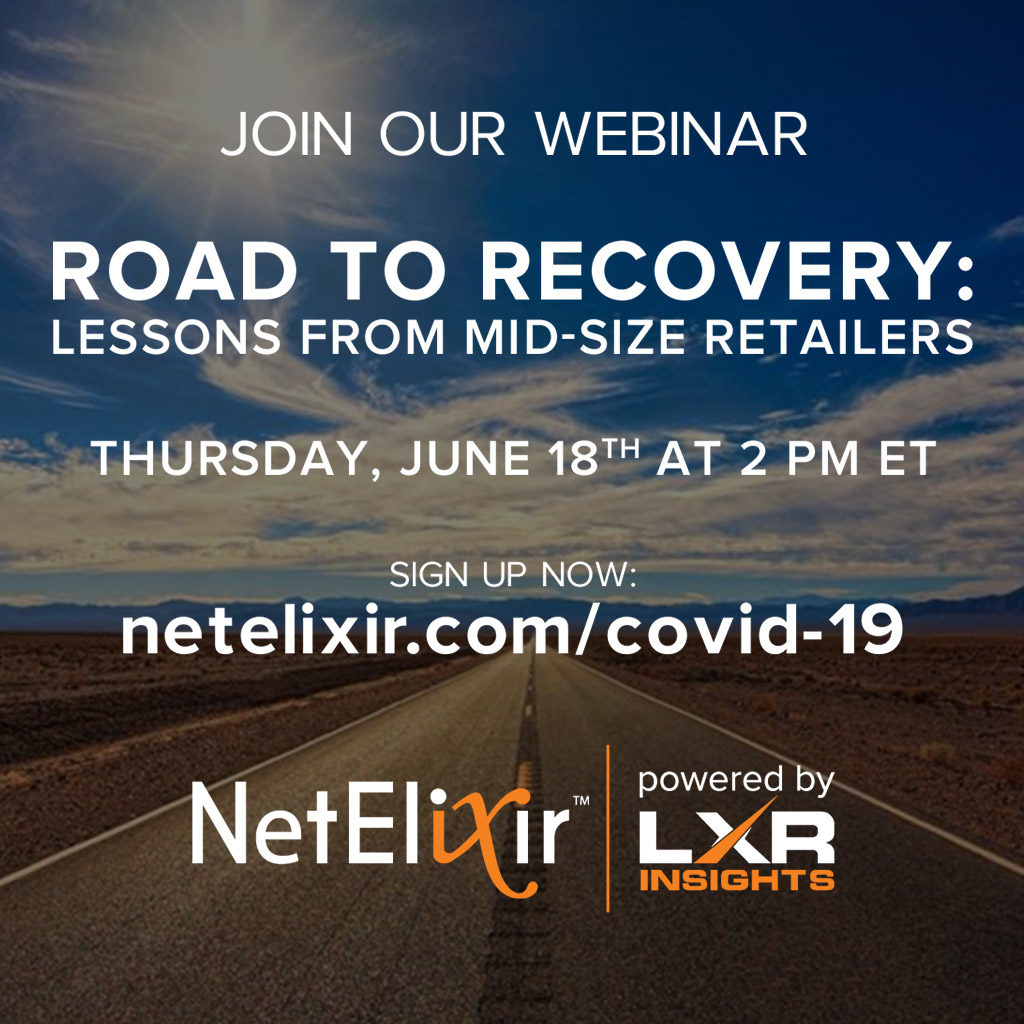 To learn more about how the coronavirus is impacting retail ecommerce and online shopper behavior, register for the sixth installment of our Covid-19 Updates Webinar series. Join us on Thursday, June 18 at 2 PM ET for the Road to Recovery: Lessons From Mid-size Retailers. Here, we will continue to share real-time ecommerce data from June and host a roundtable discussion with retail industry leaders.
Our next speaker in our Reimagine Tomorrow series is George Day. Professor Day will speak on How Vigilant Organizations Gain An Edge on Thursday, July 9 at 2 PM ET. Register at https://www.netelixir.com/experience/. 
Learn More about Ecommerce Updates During Coronavirus
You can join the conversation on social media using #NxInsights.
For further reading, you can see our prior retail analytics updates on retail ecommerce and online shopping behavi
or: