Just this past Sunday, we commemorated Albert Einstein's birthday and Pi Day. In celebration, team NetElixir took advantage of the warm weather and walked, ran, biked, or swam 3.14 miles. We looked more closely at the world around us, with a touch of curiosity that inspired Einstein throughout his life. 
But this year is a special year for Albert Einstein (beyond turning 142), as it marks the 100th anniversary of him winning the Nobel Prize in Physics. The Nobel Prize recognized Einstein for his services to Theoretical Physics, and especially for his discovery of the law of the photoelectric effect.
A Brief Biography of Albert Einstein
Life is like riding a bicycle. To keep your balance you must keep moving. — Albert Einstein
Born in Germany in 1879, Einstein went on to become one of the greatest physicists and innovators in our history. Einstein quickly developed a passion for learning, though not in the classical sense. He was a highly inquisitive child and struggled with the strict pedagogy of school throughout his life, often skipping classes and preferring to study independently.
A family friend, Max Talmud, tutored Einstein, introducing him to a children's science text that inspired Einstein's thinking and dreaming about the nature of light. Soon, as a teenager, Einstein penned what would become his first major paper, "The Investigation of the State of Aether in Magnetic Fields."
He excelled at math and physics, scoring exceptionally high on his entrance exam into the Swiss Federal Institute of Technology in Zurich. After graduating, he found a job at a Swiss patent office, which gave him time to focus on furthering the ideas he first conceptualized while in school.
1905 was a stellar year for Einstein, as he had four papers published in one of the best-known physics journals of the era. Two papers focused on the photoelectric effect and Brownian motion. The other two outlined E=MC2 and the special theory of relativity — which, as we all know, became his defining theories. 
He went on to win the Nobel Prize in Physics in 1921 for his theory on the photoelectric effect. 
A few years later, Einstein moved to Princeton, NJ to teach at Institute for Advanced Study at Princeton and to get safely away from the Nazi party rising to power in Germany. Einstein spent the rest of his life in Princeton, teaching and working on a unified field theory to merge the varied laws of physics.
NetElixir's Unofficial Icon
The important thing is to not stop questioning. Curiosity has its own reason for existing. — Albert Einstein
Although his theories revolutionized the scientific community, Einstein is truly marked by his inquisitive nature. NetElixir has informally adopted him as our icon and role model, to celebrate curiosity and knowledge-sharing. 
Einstein never stopped questioning the world around him and it inspired him to look more closely at how the universe works. Likewise, at NetElixir, we constantly ask ourselves why. We're not satisfied at just knowing the data and results of our initiatives; we seek to know more, to decipher how and why these results happened the way that they did. By attempting to answer these questions, we can continually better ourselves and improve in the future.
While Einstein was trying to solve how the universe works, we at NetElixir are trying to solve how e-commerce and digital marketing can empower brands to grow and engage more deeply with their customers. 
Our celebration of Albert Einstein's birthday and Pi day is different this year. However, we still always honor Einstein's legacy: to maintain a curiosity about the world around us and to never stop learning. Einstein is a giant among men who helped humanity view the world through a different lens and transported the world many, many years forward. We take inspiration from him now to continue moving forward toward a brighter, better future.
"Throughout this one year that we have been away from our office, our inspiration, Albert Einstein, has been holding the fort all by himself. He is patiently waiting for the world to get back to normal and for Team NetElixir to get back to the office and celebrate together," Udayan Bose, Founder and CEO of NetElixir, says.
Continuing Einstein's Legacy
I have no special talent. I am only passionately curious. — Albert Einstein
While we are not in the offices yet, we are still continuing Einstein's sense of knowledge-sharing. NetElixir is hosting E-Commerce Growth Week, a three-day digital marketing bootcamp. During the week, our solution experts will break down each element of your overall e-commerce strategy from SEO and Content Writing to Web Development and Amazon marketplace.
Developing a cohesive e-commerce business strategy requires seamless integration across all digital elements. Your e-commerce platform impacts your SEO, your content strategy supports SEO, your marketplace presence influences your branding, and so on. Everything is relative, you might say. 
Join us in honoring Einstein's legacy as we empower your e-commerce growth all week with insights and innovation. Register at https://www.netelixir.com/webinar/.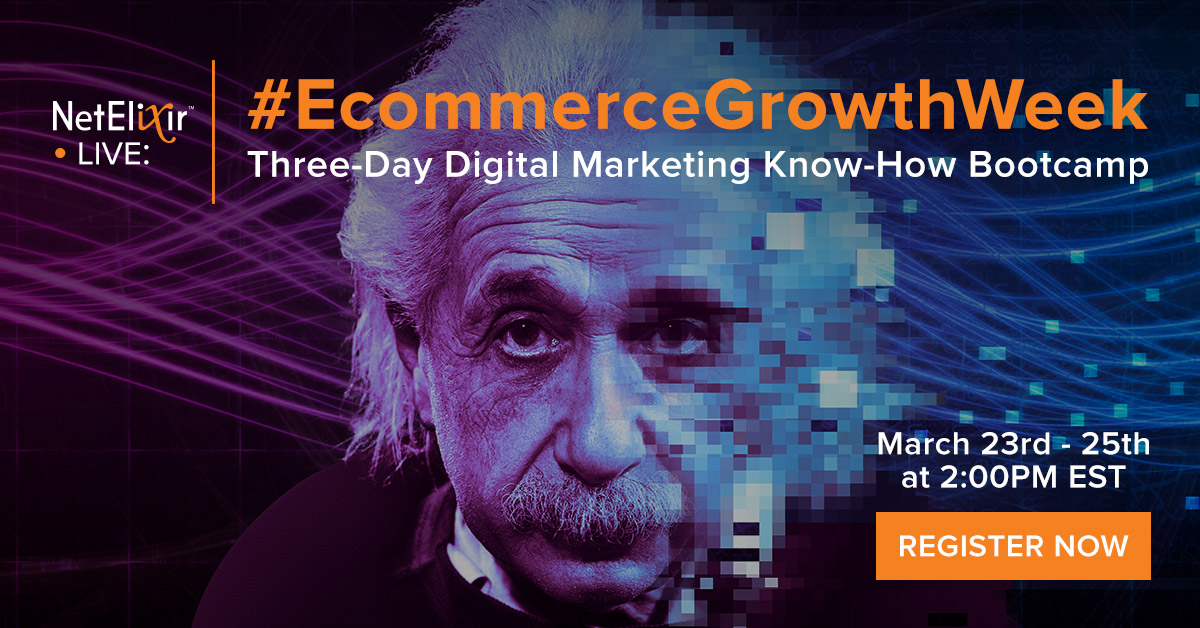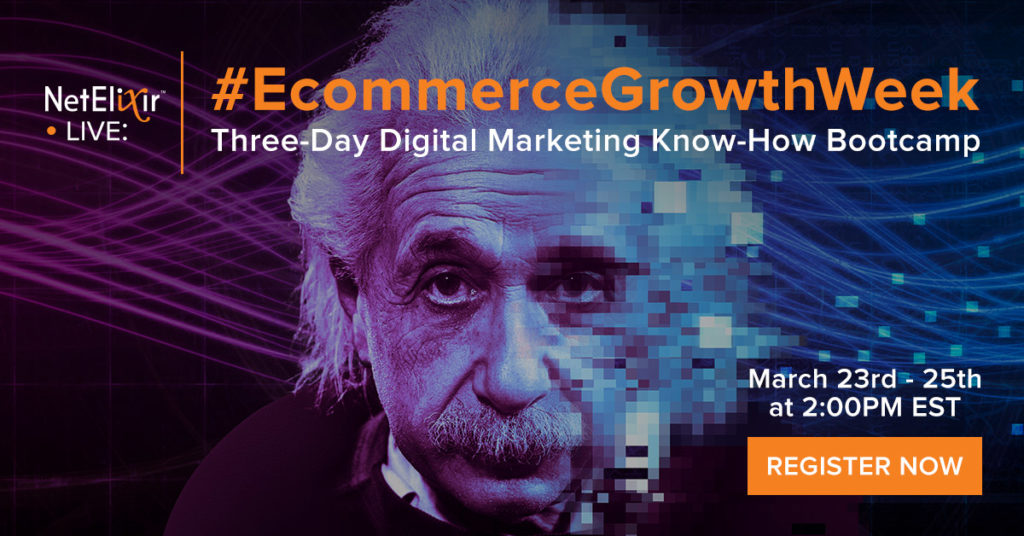 E-Commerce Growth Week Agenda:
Day One, Tuesday, March 23rd

Rethinking Your SEO & Content Strategy

Day Two, Wednesday, March 24th

Build a High-Performance E-Commerce Website with NetElixir & Miva

Day Three, Thursday, March 25th

Strategies for Driving Exponential Sales Growth on Amazon Marketplace
References
https://www.biography.com/scientist/albert-einstein
https://www.nobelprize.org/prizes/physics/1921/einstein/facts/