When I grew up, I watched plenty of The Simpsons, Family Guy, and South Park.
If your reaction to that sentence is, "Those stupid cartoons?", then this blog is going to open your eyes.
Snapchat recently released Into Z Future, their first-ever report about Generation Z and their creative habits. Detailing how Gen Zers express themselves and use social media as a platform, the 70-page report provides survey results, profiles, and observations that provide a deeper understanding of who Gen Z is.
One of main takeaways from the report (and what makes it analogous to my favorite cartoons) is that Gen Z uses social media to create humor and art out of complex issues. These can range from simple memes to curated videos, AR filters, or stunning designs. Taking the world they see around them and reshaping or rethinking about it creatively is at the heart of how Gen Z uses apps like Snapchat, YouTube, Twitter, and Instagram.
This may seem overly dramatic. What's so important about memes or selfies anyway? When you realize that 70% of teenagers trust influencers over celebrities and that the purchasing funnel has changed with more online touchpoints than ever before, it's clear there's a ton of opportunity here not just for revenue, but for brand lift and building brand loyalty by resonating with this younger audience.
The Report's Findings
According to the report, Gen Z makes up about a quarter of the population in the United States and the United Kingdom. Digital and mobile native, 56% of Gen Zers use social apps to express themselves creatively. The content they create is not siloed: a Twitch streamer or YouTube influencer will use other platforms to showcase their creativity or take viewers behind the scenes. The content creation process can be as simple as seeing a funny image and making a meme out of it or taking weeks to produce a single video.
The foundation of Gen Z's content is in sharing their authentic selves. Their commitment to activism, positivity, and a desire to showcase genuine humanity is prevalent across all platforms. When the report asked Gen Zers to create a slogan to best describe their generation, the answer was overwhelmingly a version of "be yourself." While this idea is antithetical to the notion (or accepted practice) of curating your social media to show the best version of your life, Gen Z considers all of it a part of growing up in the digital age.
"It's fan-fictioning everything," said Molly Logan, co-founder of Gen-Z-run think tank Irregular Labs in the report. "An individual's personal truth plays an important role in creative engagement."
Finding Their Place Online
By cultivating their own experiences, Gen Zers have also built their own communities. Whether it's influencer networks, private social media groups, or comment threads on a user's posts, Gen Zers are the most comfortable (and most savvy) generation when it comes to congregating online.
So, what does resonating with Gen Z actually look like? Combine the appeal to authenticity with brand virtues that reflect social values, and you have the ingredients of a successful Gen Z engagement. Refinery29's 29Rooms is considered a successful experiential marketing technique for today's youngest consumers, combining social issues with the ability to express oneself creatively. By taking these lessons in stride, you can build a plan to specifically connect with Gen Z, and modernize your branding in the process.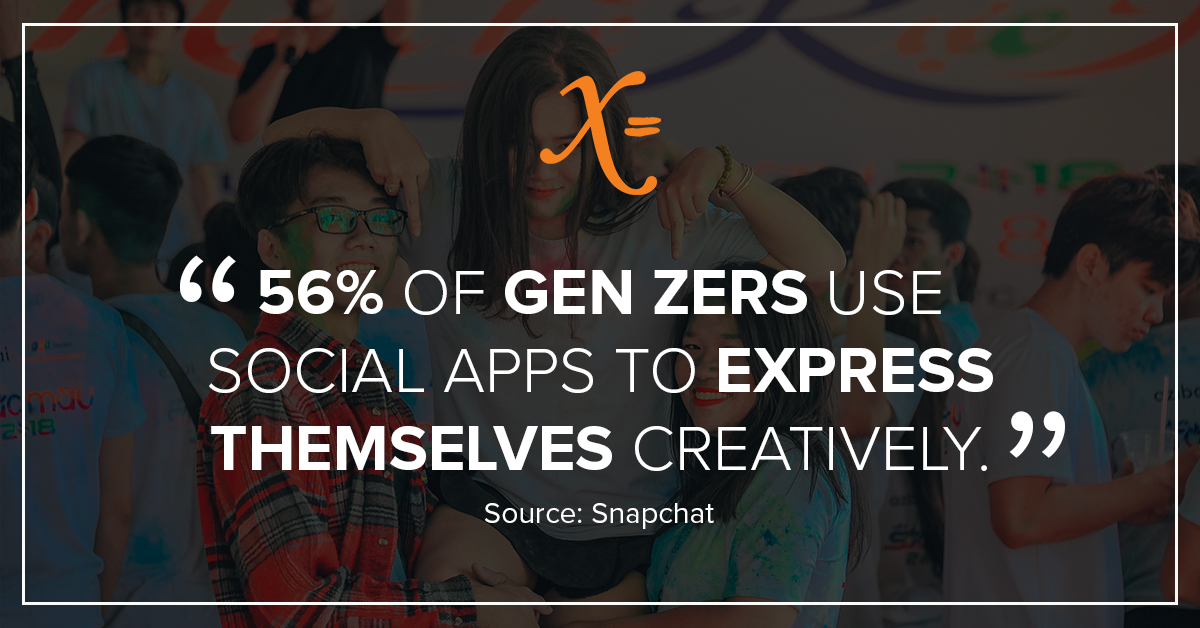 Here's How You Can Solve For X
Embrace Your Brand Humanity
Brands whose content and offerings are aligned with their customer's lifestyle are going to build a stronger relationship. I guarantee you've read some version of that sentence before, but what it means in the context of Gen Z is you should be declaring (proudly) what your company stands for. Honesty is the best policy. Red Bull is often cited as a great example because all of its content and partnerships reflect both their values and the interests of their customers.
Rethink your KPIs
When it comes to building brand loyalty, there has to be a more nuanced approach than simply measuring whether your revenue increases or not. These campaigns need to be thought of differently since Gen Z is in the nascent stages of growing its purchasing power. This is the opportunity to get on the ground floor and truly engender your company to these users. Again, authenticity is key. If you want to be thought of as a brand Gen Z stans for, you have to make an effort to showcase your business across social media. This could be a long-term project, but it'll be rewarding so long as you put out the consistent effort that reflects your true values.
Is your branding speaking to Gen Z? Contact us to see how we can help improve the conversation.