Don't you love when people have their heads buried in their phones? Yes, of course they're listening to what you're saying.
Get ready for a little more of that.
Snapchat has introduced its gaming service, Snap Games. Integrated right into chats, friends and strangers can quickly join a variety of quick games that load seamlessly. This platform offers six different real-time multiplayer games along with text and voice chat so you can send messages after beating your friends. Players can watch a six-second uninterruptible ad if they want to power-up or gain in-game currency.
How Do You Do, Fellow Kids?
With the addition of this gaming platform, Snapchat aims to keep its user base of 186 million daily active users and 90% of all 13-24 year-olds engaged and on the app longer, according to CEO, Evan Spiegel. While Snap Games doesn't currently offer in-game purchases, it's fair to assume they'll eventually introduce cosmetics and dance moves to drive revenue, similar to Fortnite and Apex Legends. To keep the experience free of harassment and foul behavior, users are only able to chat with their friends in the game or players they have invited to a group chat.
As we've mentioned in a previous post, the big business of gaming is all about engagement. Snapchat's attempt at growing their revenue with ad sales will rely heavily on its ability to show that these six-second ad units can have a strong impact. The decision to cut off the chat feature from uninvited strangers means fewer unfavorable experiences since users will know who they're talking to in-game. Overall, Snapchat is attempting to combine the comfort/user satisfaction of Pinterest with the social gaming aspect of older Facebook apps. It should come as no surprise that one of their main game development partners was Zynga, behind the well-known Farmville game.
As Snapchat has started accepting applications for ad placements, it'll be interesting to see the various ads they allow to run in those six-second spots. A retailer's ability to speak directly to this younger demographic and its growing purchasing power (or the ultimate purchasing power: a parent's credit card) could prove invaluable. If humans supposedly have an eight-second attention span, then the length is perfect for today's young audience.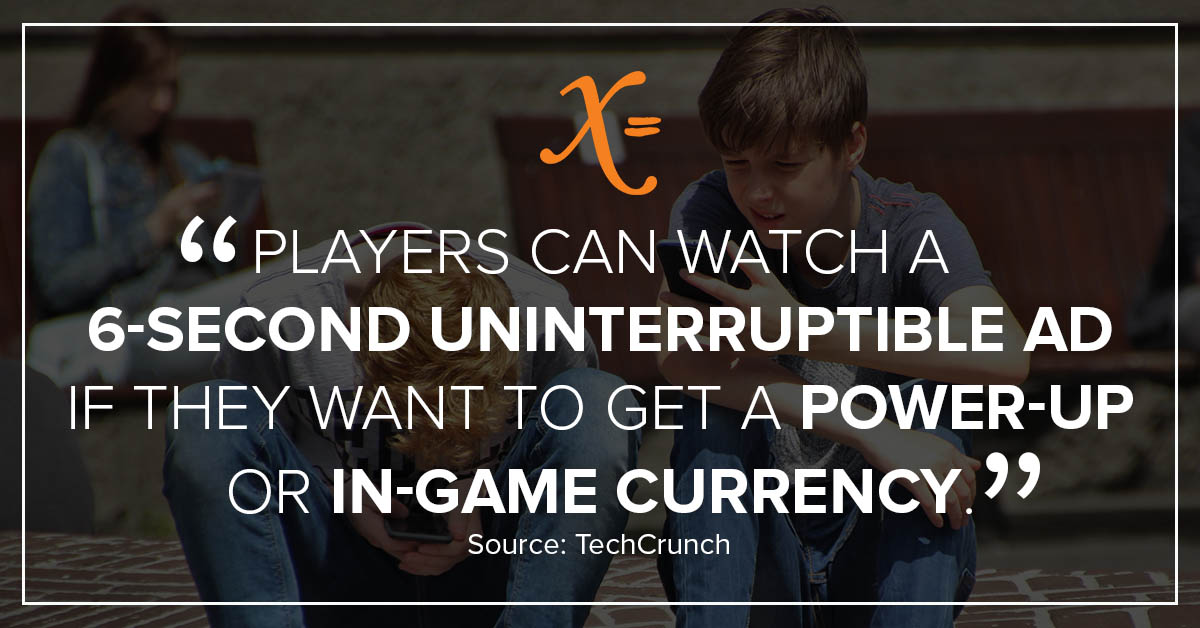 Here's How You Can Solve for X
Distill Your Story
Look, you may not be in a rush to place ads on Snapchat. The main takeaway for retailers and brands is to start strategically brainstorming ideas and then consider how to implement that plan in this ad format. What story can you tell or what indelible point can you make in just six seconds? It's important to keep pace with changing consumer attitudes and ad placements, and if this short ad format becomes commonplace, your team will be ready.
Speak To Younger Customers
The future is here: millennials and Gen Z have growing purchasing power and their purchasing funnel is changing. Understanding their consumer behavior is vital to expanding your reach and growing your brand loyalty. Connecting at their zero moment of truth (ZMOT) while already delivering information and value will help your brand win their purchasing decisions.
Want to learn more about reaching these audiences? Join us for #SEOWeek as our experts reveal their secrets to connecting with consumers.
Additional Contributors: Shreya Verma, Senior PPC Analyst