The big seller in today's digital advertising economy is talking. No, not physically talking (although voice assistant technology is another topic for another day), but talking to your audience. Creative, interactive ad units across social media platforms are growing as brands recognize their ability to inform, entertain, and usher users into the purchase funnel with positive brand lift.
Sending more users into your purchase funnel while building new brand loyalty sounds like a great deal. Enter Instagram's latest development: polling stickers in Instagram Stories Advertising.
Announcing the new feature in a blog post in March, the photo-sharing platform empowers brands to add polls as part of their latest rollout, Interactive Stories Ads. These ad units help retailers "be more engaging and playful" and "generate more impact for your campaigns."
For businesses looking to start a dialogue or to build brand loyalty, these polls seems like a great opportunity. According to Instagram, 9 out of 10 beta Stories ad campaigns saw polling stickers increase 3-second views. Dunkin' achieved a 20% lower cost per video view with the polling sticker, showing the poll sticker's ability to drive efficiency. Next Games' polling ad drove more than 40% app installs. With about 500 million people using Instagram Stories, there's plenty of audiences to resonate with.
Just Getting Warmed Up
We know that Snapchat continues to push for engagement. The key takeaway in the announcement for me was the phrase, "starting with the polling sticker." We know that engagement drives ad sales for platforms and we know that these moments can be quantified to drive fascinating insights. Polls in ads serve as a good way to take the temperature of your audience, offering a quick interaction in content that's simple and "snackable." (Yes, I'm also rolling my eyes).
"A user who viewed the first three seconds of an ad would be curious to answer the poll, and is likely to be  more open to spend a few extra seconds to know or see more," said PPC Analyst, Pranathi Yellapragada.
Paid social has a lot to offer advertisers, with new developments arriving at a breakneck pace. If Instagram is keen to provide brands more ways to speak to customers, future Stories developments will be easy for users to interact with. A quick click, a share of an emoji, or viewing interactions (like "choosing" your ad) are a few ideas of what we might see Instagram debut in the coming months. You can see a future offering where Snapchat allows the use of ads that react to a user's choice.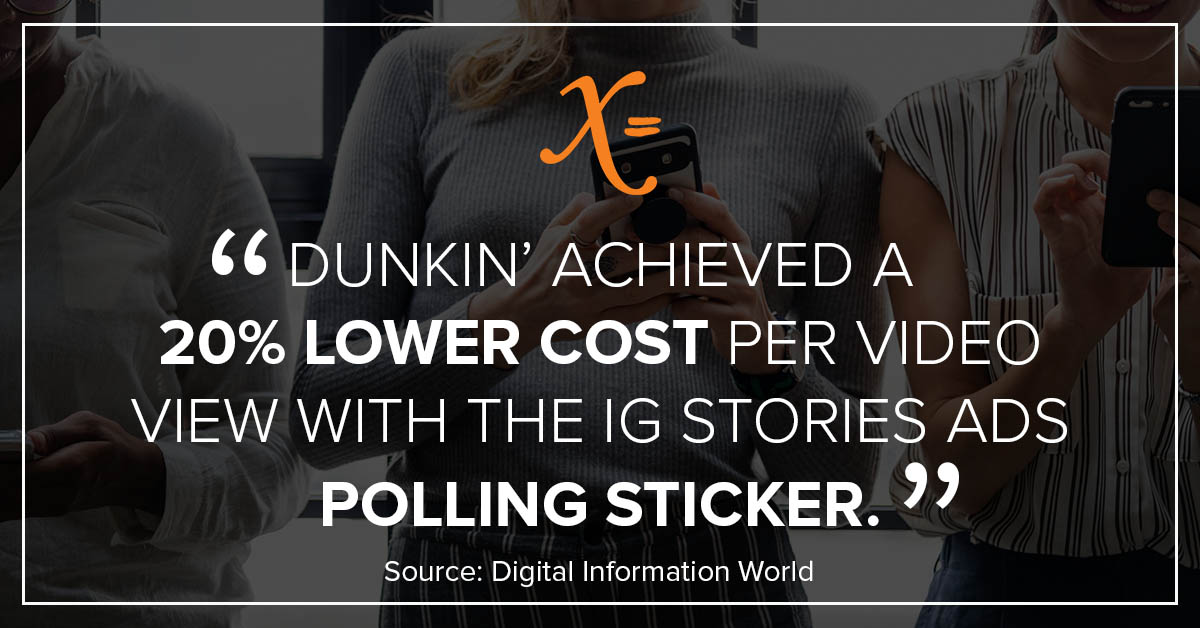 Here's How You Can Solve for X
Read the Room
Watch more Instagram Stories. Skip the boring ones from your friends that you don't like. Pass on the ads you find disruptive. All the while, keep notes on which ones you watch, which ones you skip, and why. Survey your team to learn their results. Learn what ad/poll usage is most effective through your team's shared experiences. Once you've identified what your target goals are and established a baseline, you can use these to help inform (but not totally direct) the creative direction of the ads.
Try Your Hand At Polling
When it comes to brand awareness campaigns, these polls are a perfect place to start. What can you show your audience besides a product image and a poll asking if people like it or not? What's a natural extension of your brand that speaks to Snapchat's audience? First identify your goals, then tailor your content to drive towards the metrics that measure those objectives.
Is your paid social presence ready to add Instagram Stories? Contact us to transform your approach.
Contributors: Sindhuja Jogu, Senior PPC Analyst, and Pranathi Yellapragada, PPC Analyst