Stop me if you've heard this before: Google is making things more convenient.
In the last month, Google has rolled out a better way to organize setup for Google My Business listings, giving brands the chance to set their goals. Once a marketer does that, Google recommends the next steps to help the business achieve the goals they've picked. Whether you're just starting a Google My Business listing or you've been managing this channel for years, these new tools help direct your marketing efforts.
Go For The Goals
So what are the ways you can direct your action plan? Here are the options Google My Business now offers:
Help customers discover your business

Share updates with customers

Learn how people find your business on Google

Have accurate information on Google

Respond to customers

Promote your business online
Once you pick your priorities, Google recommends what tasks should be done first (such as responding to reviews, uploading photos, or viewing performance reports). This organizes your next steps and works great as a checklist.
"There previously was no option of selecting a particular goal to optimize the listing, and the user interface could sometimes be tough for newer users" says Sindhu Padamatinti, SEO Analyst at NetElixir.
Not only is this less daunting, but it also gives users an understanding of what factors into a business' digital presence. In a perfect world, you'd already be doing these things, but it takes time (and a team) to truly optimize your listing.
Sujaya Konduru, a Senior SEO Analyst at NetElixir, agrees. "This really helps users set up their Google My Business listing with their specific goals, without missing anything. It also helps customers find the physical location and improves search visibility."
These easy-to-understand options are a part of Google's push to help local businesses identify themselves. These steps are helped by adding your Machine Readable Entity ID (MREID) to your website HTML. This piece of data gives you the digital equivalent of a barcode (or ISBN for my book lovers). MREIDs help your business stand out, aiding all your SEO efforts.
So, What Does This Cost Me?
It's free in the same way a mobile game is free.
Think of it this way: you play a game on your phone, you make some progress, but then you hit a wall. You're out of lives or health, so you pay a little to help complete the challenge.
That's how businesses should approach Google My Business. Creating and maintaining your listing is totally free. Executing all the tasks it will recommend are free. But to really make a difference in your listing on SERPs or gain more visibility, it will naturally lead to creating Google Ads campaigns. Your SEO and organic search presence can be built over time, but paid search campaigns act like rocket fuel for your business.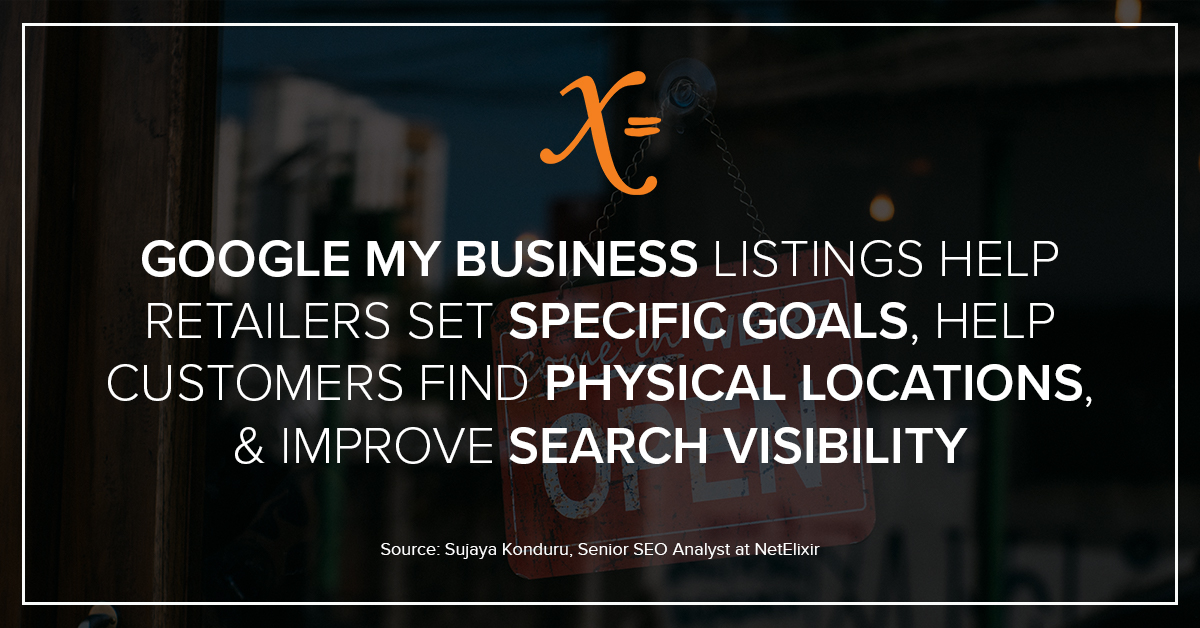 Here's How You Can Solve For X
Get Testy
Select a variety of goal combinations to see how they differ. What do they prioritize? How do they interact? For new marketers and retailers, this will be a fascinating first step to understand how SEO comes together. For the more experienced, it's a chance to pull these different levers and identify your business needs. These cover the steps needed to get your My Business page looking professional and trustworthy.
Be Prepared
First off, the Lion King song with the same name is an underrated classic. Play it and tell me you don't get pumped up. On a more relevant note, it's all about relevance. An SEO keyword strategy is a perfect guide to filling out your business information and ranking better on SERPs. Important words and phrases are vital to making sure Google delivers business on the searches you want to rank for.
Need a hand getting your Google My Business listing up to speed? Contact us to get our analysts and experts on your side.