Pokémon GO was really on to something.
Whether you've played it or not, part of its charm is its use of augmented reality (AR) – you might see a Pikachu on the sidewalk or standing on some random guy's head.
Our friends at Google were definitely paying attention. Google recently announced that mobile searches now support 3D images and AR implementation. With a few lines of code added to images, users can now see 3D images and then view those images through their smartphone camera. Users will have the ability to place, view, and interact with 3D objects. With the ability to place them in the environment their smartphone camera points to, users will be sure to see things in a whole new way.
The possibilities for retailers and marketers are endless. Retail categories that rely on fit or placement, such as furniture and apparel, have a golden opportunity to ease certain pain points for searchers. They can also showcase their products in a cool, fun, and interactive feature for users.
We see this development crossing the entire purchasing funnel. When gathering information about a couch for your living room, for example, you want to know its dimensions and how it'd fit in that space relative to your other furniture. If you're in the consideration phase when trying on an outfit, for instance, you want to make sure it fits you properly. When you're ready to convert for beauty products, you might want to see how the different shades of lipstick look with your complexion.
As image search becomes more prominent in SEO, it's up to brands to ensure that customers have a useful interaction when it comes to search. Considering what users find they they seek out products your business sells is the best way to build out your SEO strategy. Our recent Modern Search Best Practices papers outline the updates from Google Marketing Live and what strategies you can adopt now to stay ahead of your competition.
Here's How You Can Solve For X
Know Your Products
On its face, this sounds like a pointless tip, but the key to making your products 3D images and maximizing their impact is to understand the needs your product serves. What if your company doesn't sell apparel, beauty products, or furniture? You search presence will improve with the addition of 3D images that show your product and highlights how that product can solve a user's pain point. What image besides the product can you provide to give interested searchers the value that helps your product stand out?
Leave Your Mark(up)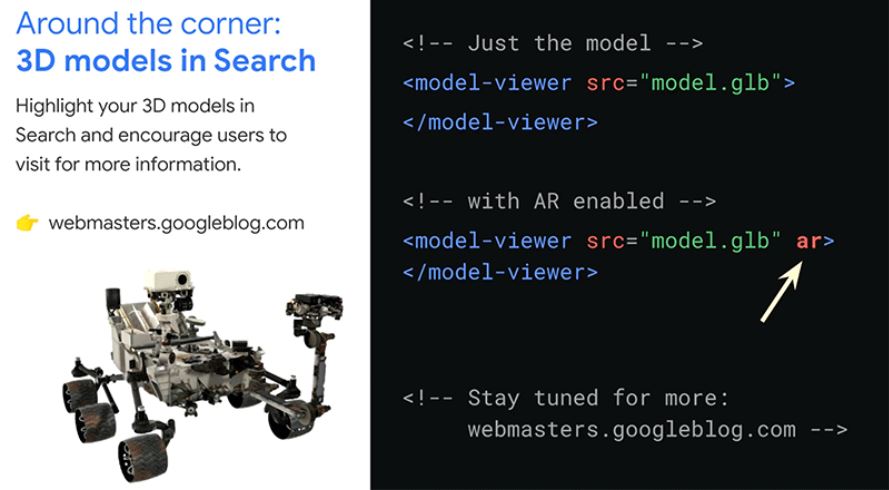 We stress the importance of updating your schema markup, whether it's to include your Machine Readable Entity ID (MREIDs) or make it easier for search engines to identify your business and products as a search result for related keywords. The markup in the picture above is part of your developer's tools to bring the products or images to life and improve the quality of the results you produce.
Is your retail brand optimized for modern search? Contact us to find out how to rethink your approach to marketing.