Technical SEO Know-How and Implementation
What Is Technical SEO?
Technical SEO refers to a range of optimizations that make it easier for your website to be crawled and indexed by search engines. This may include implementing structured data for SEO, meta tags, improvements in site speed and mobile-friendliness, and more. Technical SEO is important because it makes your site faster and more "readable" to search engines, which can lead to higher search rankings.
At NetElixir, technical SEO is an in-depth process that allows us to lay the groundwork and level the playing field to give your ecommerce platform and website design the best chance at winning search engine results pages (SERPs). From a full site crawl to implementing structured data, schema markup, metadata, and beyond, our team has the technical SEO knowledge and provides the best technical solutions to optimize your site from top to bottom, and first click to final conversion.
TECHNICAL STRATEGY:
Perform extensive site crawl to ensure page status codes are optimum.
Perform 301 audits to ensure best practices are followed in terms of user friendliness and redirect structure, with a strong focus as they pertain to ecommerce and retail sites.
Audit image size and ensure they're optimized for site speed, especially on mobile devices.
SEO Content Strategy
What Is SEO Content Writing?
SEO content writing (also known as "writing for SEO") is the process of creating content with the purpose of ranking highly in search engine results. It involves steps ranging from performing keyword research in the planning stage to writing the content itself. SEO content is optimized to appear prominently in search results by providing relevant, authoritative information to users searching for associated terms or queries.
Our SEO content marketing strategy entails:
Audit H1s and meta titles to ensure best practices are followed in terms of length, UI matching, and keyword targeting.
Optimize on-page content for both product page descriptions and category page descriptions as they pertain to ecommerce and retail site needs.
Ensure all images have the appropriate alt text in order to improve rankings and traffic related to those images.
Compose optimized long-form copy for ongoing content channels and ad hoc needs in order to support and drive traffic for promotional, campaign, and seasonal efforts.
Track key search terms and rankings to identify opportunities for future content, ensure the correct terms are ranking on the correct landing page for optimal UI/UX, and boost presence in SERPs for results such as Featured Snippets, Local 3-Pack, and People Also Ask.
SEO Content Gap Analysis
We not only identify terms you already rank for using tracking tools, but also high-volume, lead-qualified, and converting terms you should be trying to rank for as well.
Matching Ranking to UI
Our team identifies if any high-volume/high-opportunity terms are ranking on irrelevant or poorly matched pages, or non-conversion-optimized pages.
Catching Long-Tail Keywords
We identify content strategy opportunities based on long-tail terms that either convert or can point to converting terms and pages.
Working with Ecommerce Partners
Premier Channel Partnerships
As one of the leading independent digital marketing agencies in the United States, we enjoy a premier partnership status with industry giants like Google and Microsoft. This provides us access to a continuous flow of ecommerce trends, market intelligence, and SEO best practices. We also conduct intensive growth workshops with our channel partner teams where you can see the latest SEO knowledge in action and learn how it can supercharge your own business.
SEO Marketing Solutions
NetElixir's SEO solutions will become a valuable component of your business's overall marketing strategy. Between our expertise in modern SEO and commitment to both technical and content optimization, we'll help drive more qualified traffic to your site and turn those visitors into increased revenue.
What gives NetElixir customers the edge? Our keen understanding of retail, deeply analytical mindset, and intelligent proprietary technology - all honed through 16+ years of experience helping retailers conquer search marketing and grow their online businesses - is what gives us a superior edge in providing SEO services for small, mid-sized, and large businesses.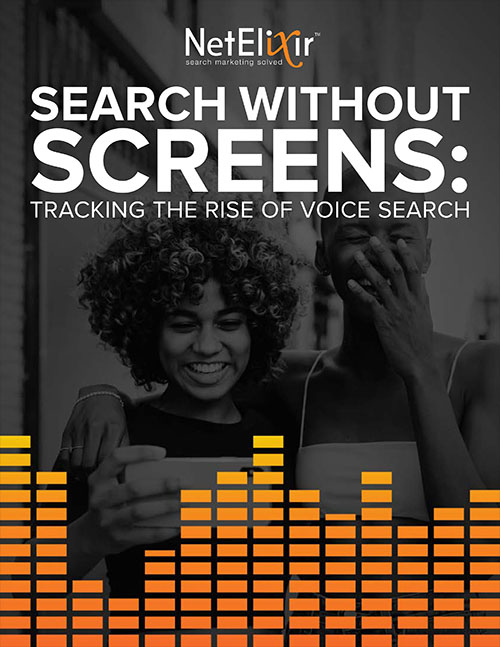 Voice Search SEO
With a rapidly growing percentage of searches now occurring on devices like Amazon Echo and Google Home, we'll help your business take advantage of opportunities to appear in results for voice-activated queries. Our team applies the latest voice search SEO best practices to make it easier for customers to find your brand when searching with a voice assistant or device. We also recommend reading our Search Without Screens primary research report for deep insights into how consumers are using voice search and potential applications for ecommerce retailers.
AI and Natural Language Processing
We recognize that, like many other areas of digital marketing, SEO has become an AI-driven field. Understanding artificial intelligence technology and knowing how to leverage it effectively for SEO will play an increasing role in determining which businesses succeed and which get left behind.
NetElixir's team applies an AI-focused strategy to ensure your content is highly readable to search engines, thereby maximizing its ability to appear in results for relevant search terms and queries. We'll work with you to follow the latest best practices, from implementing machine-readable entity IDs (MREIDs), to taking natural language processing (NLP) into account when writing content.
To learn more, read A Marketer's Guide to AI, Machine Learning, and Deep Learning on our blog.
Building Your Site Authority
We apply Google's E-A-T principle to boost the authority of your brand and thereby increase your site's chances of ranking highly in search results. E-A-T involves expertise, authoritativeness, and trustworthiness, and together they form a significant factor in Google's search algorithm. The more your site reflects these important attributes, the more likely the search engine will recognize it as a valuable, informative resource for users.
Our SEO team builds this authority primarily through your backlink profile and quality of on-site content. This includes strengthening your backlink profile (which you can think of as your website's bibliography) by cleaning out spammy or toxic backlinks through regular disavow file uploads in Google Search Console.
We also focus on continuously adding useful, relevant content to your site that effectively answers commonly searched questions or terms. This allows you to build your bibliography through highly shareable content, growing your authority naturally.
Local SEO for Brick-and-Mortar Stores
Through the strategic use of local SEO, we can turn search traffic into valuable foot traffic at your physical store location. As you might guess from your own search habits, the frequency of "near me" searches for local businesses has grown rapidly in recent years. By practicing good local SEO, we ensure your business is visible to those searching for what you offer in your area.
Our approach to local SEO includes:
Updating your Google My Business page with Google Posts and product catalog features following best practices.
Optimizing your Bing Places page.
Closely monitoring your business local listings in Google, Bing, and other online business directories such as Yelp and Foursquare.
Amazon SEO
Amazon has quickly become the "shopper's search engine," often serving as the first destination for those researching products they might buy. Like Google and other search engines, Amazon has its own algorithm which helps determine how product listings are ranked in its search results. If you sell on Amazon, we can help you optimize your product pages to rank highly for related keywords and in turn drive more sales.
NetElixir's Amazon SEO approach focuses on these areas:
Product listings optimization
Keyword mapping
Competitor analysis
Product copywriting
Amazon SEO = Optimizing Product Listings = Better Rankings = More Visibility = More Sales
For more details, read about Amazon SEO Best Practices to Increase Your Product Rankings on our blog.
YouTube SEO
YouTube has exploded in popularity to become the world's third-largest search engine, presenting a can't-miss opportunity for brands that produce video content. In fact, 72% of customers would rather learn about a product or service by watching a video, and online videos are projected to make up more than 82% of all consumer internet traffic by 2022.
Our experts will help you optimize your videos, playlists, and channel to rank highly in YouTube's organic search results for related queries. We begin by auditing your channel and videos to see how your content is performing and determine the best way to optimize your content. Including a relevant video on a landing page, for example, can increase conversions by 50%. Our solutions are designed to put your video content in the best possible position to drive success for your business.
When it comes to new SEO developments in areas such as local search, voice optimization, Amazon, YouTube, and more, we're always looking to empower our clients. Comprehensive educational and training resources are one of the ways NetElixir gives you a vital edge.
SEO Best Practices and Client Training
Our experts will educate your internal teams on how to properly apply current SEO best practices, including guidance in best practices for SEO content strategy and technical SEO.