Not long ago, SEO may have felt like watching the leaderboard at a golf tournament. Position or ranking was the primary concern. If your site sat comfortably in the top spot of the results page, you felt pretty good about your chances of attracting more traffic (and hopefully customers) than your competitors.
This reality has changed, however, as search engines have shifted their focus to providing users with more personalized search results. The future of SEO still starts with ranking, but it's a foundation – not the entire building. Search engines like Google are now driven by user intent, search context, brand authority, and other factors. Retailers must follow suit by thinking about the customer's needs when searching online, along with their journey across multiple devices and touch points.
We're #1! (But Not Really)
As previously mentioned, owning the top organic position on a SERP is not as valuable a distinction as it used to be. Google has introduced many new elements onto their results pages over the years, aimed at catering better to users' search intent. These include Quick Answers, rich snippets, 3-pack local listings, site image carousels, and more. Naturally, the battle for SERP real estate has become quite competitive.
You may have been puzzled over a decline in site visits while your ranking remained stable over the same time period. A simple look at the SERP should tell you everything you need to know. 4-pack ads, news results, and many other layout-altering features have forced organic results further and further down the page.
Use Tools to Inform Strategy
Traditional metrics such as ranking no longer tell the whole story, so retailers need to adjust how they evaluate their performance. With the right tools, you can determine the best ways to enhance visibility on an increasingly crowded SERP. Our partners at BrightEdge offer resources like Visual Parsing Technology to help you stay ahead by visually scanning each SERP.
Visual parsing allows site owners to better understand the layout of the SERPs on which they're trying to rank. It extracts all text, visual elements, and meta information including title, description, call button, reviews, ratings, and more to help you optimize existing content or create the right new content to drive the highest return. Are Quick Answer boxes currently sitting on top of the page? Develop fresh, creative content that directly addresses these queries.
When you determine exactly what kind of SERP each search query will yield, you can figure out how to separate your site from the rest of the pack.
Pump Up Your Brand Authority
We live in a brand-dominated world, and search results are no exception. Today's search engines appreciate the value that reputable brands bring to end-users, and this is reflected on the SERP. Top brands offer consistency in marketing, product quality, loyalty of social following, trusted authority, and an offline presence.
How can you bolster your own brand authority so that search engines take notice? Here are a few ways to get started, especially if you're a small or mid-sized brand with limited resources:
Create a Wikipedia page

Utilize a Google My Business listing (and actively update it!)

Optimize your brand presence online
Consider the "E-A-T" principle from Google's Search Quality Evaluator Guidelines: expertise, authoritativeness, and trustworthiness. Maximize your brand's value in each of these areas and you'll only help your organic ranking.
UX, Mobile, and Screenless Optimization
There's nothing more important in organic search than the user experience. You may rank #1 on the results page, but it means nothing if a poor experience is chasing users away from your site. Today's consumer is searching across various devices and touch points, so retailers must optimize their user experience for mobile and voice in addition to the traditional desktop.
Page speed became a mobile ranking factor in 2018. Per Google, 55% of teens and 41% of adults use voice search every day. The usage is there and retailers will neglect mobile and voice audiences at their own risk. The following steps can help you gauge the user experience on your site and identify areas for improvement:
Utilize Google Analytics for optimal CRO

Map the customer journey across devices and touch points

Optimize for mobile speed and performance
For voice search, optimize your content by focusing on local search, FAQs, and creating mobile-friendly pages. By making your site as flexible and readable as possible, you can ensure a positive experience regardless of the device and search method the consumer is using.
Context & Intent
Google's latest Search Quality Evaluator Guidelines identify four main types of intent to focus on for ranking:
Know

: Find information on a topic.

Do

: Accomplish a goal.

Website

: Locate a specific website.

Visit-in-Person

: Find and visit a local business.
Retailers can better address these forms of customer intent by taking advantage of sophisticated SEO tools to acquire pertinent insights about their site and how users engage with it. They should also ensure their website architecture and navigation facilitates a smooth user experience. Consider developing a Progressive Web App (PWA) for a faster, more seamless site that behaves more like a native application.
Since voice searches often lead to store visits ("Where is the closest pizzeria?"), it's vital for brands with a physical presence to prepare for voice queries. Implementing schema data is a great way to lay a foundation. With structured data in place, search engine bots can more easily read and understand your site. This reduces ambiguity and ensures users are receiving accurate, relevant information. Make sure key details like your address and store hours are updated on your site and properly tagged with schema markup.
Top 5 Factors for SEO Success in 2019
You may be asking, "So what's the most important thing I need to know for improving SEO in 2019?" Our response: "Forget SEO and focus on the user." As long as you prioritize the needs of the user on your site, you'll be able to withstand any algorithm update without penalty.
As a recap, here are our key takeaways for future SEO success: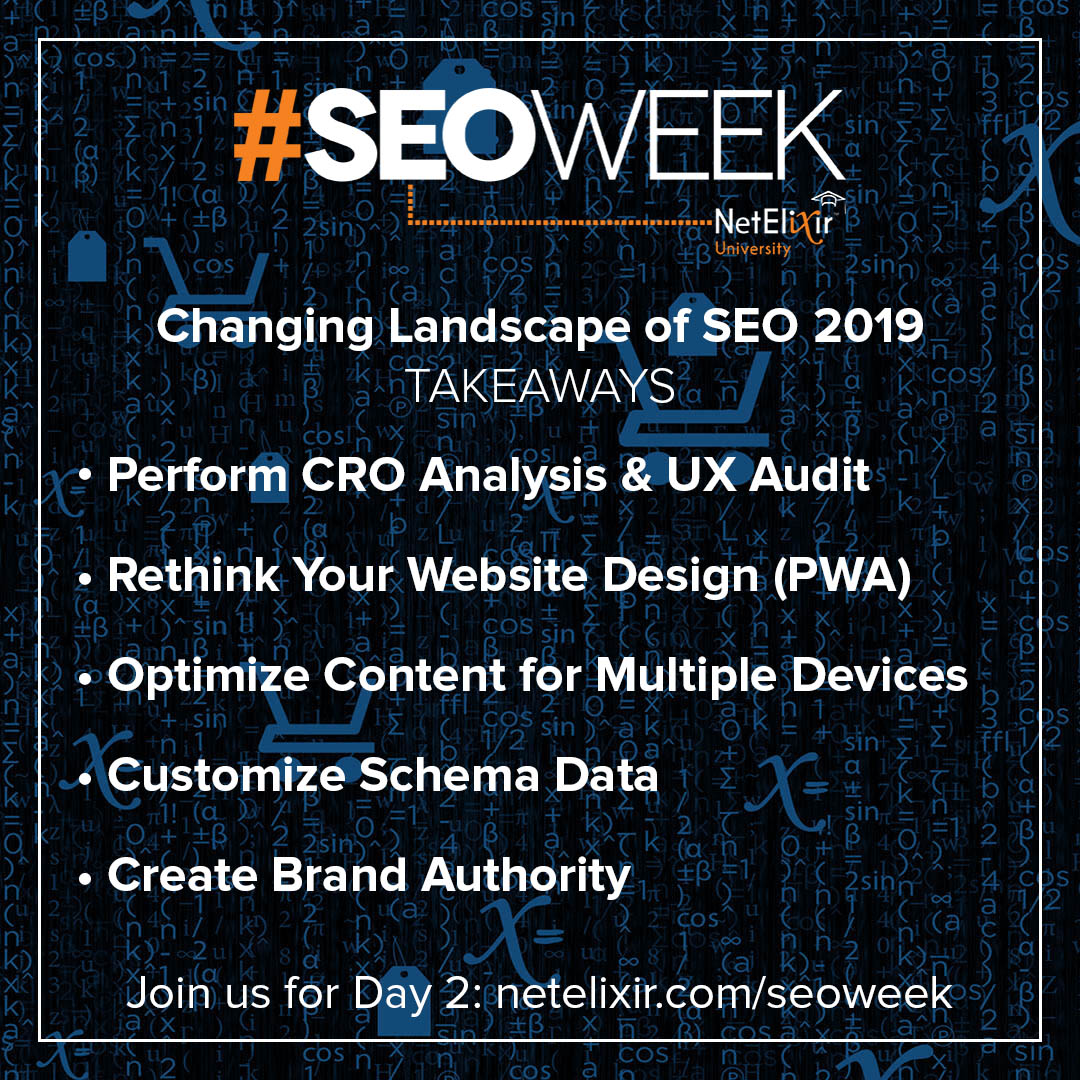 We Can Help!
Want more guidance? NetElixir University is filled with on-demand webinars, consumer insights, and other resources relevant to your business. You can also contact us to learn more about the services our SEO team provides to help you dominate the search bar.
For additional information about voice search, we encourage you to download our brand-new Search Without Screens research report.
Stay tuned for even more knowledge and insights from #SEOWeek 2019!
If you missed our session on The Changing Landscape of SEO, you can catch up through our recap video below: