We begin our webinar with a moment of silence to remember George Floyd and all those who have suffered and lost their lives to senseless violence and systemic racism. We believe in creating a world that celebrates kindness and inclusiveness and welcomes differences with open arms.  We celebrate diversity.
NetElixir was joined by Professor Jerry Wind, The Lauder Professor Emeritus and Professor of Marketing at the Wharton School of the University of Pennsylvania. Our hearts go out to those suffering from coronavirus and those suffering from what Wind calls, "the second virus of senseless violence."
Reimagine Tomorrow Series
Professor Wind joins the second episode of our Reimagine Tomorrow webinar series, which brings in leading and global thought leaders for a discussion to begin to look forward to the future. Last month, we featured Professor Anindya Ghose,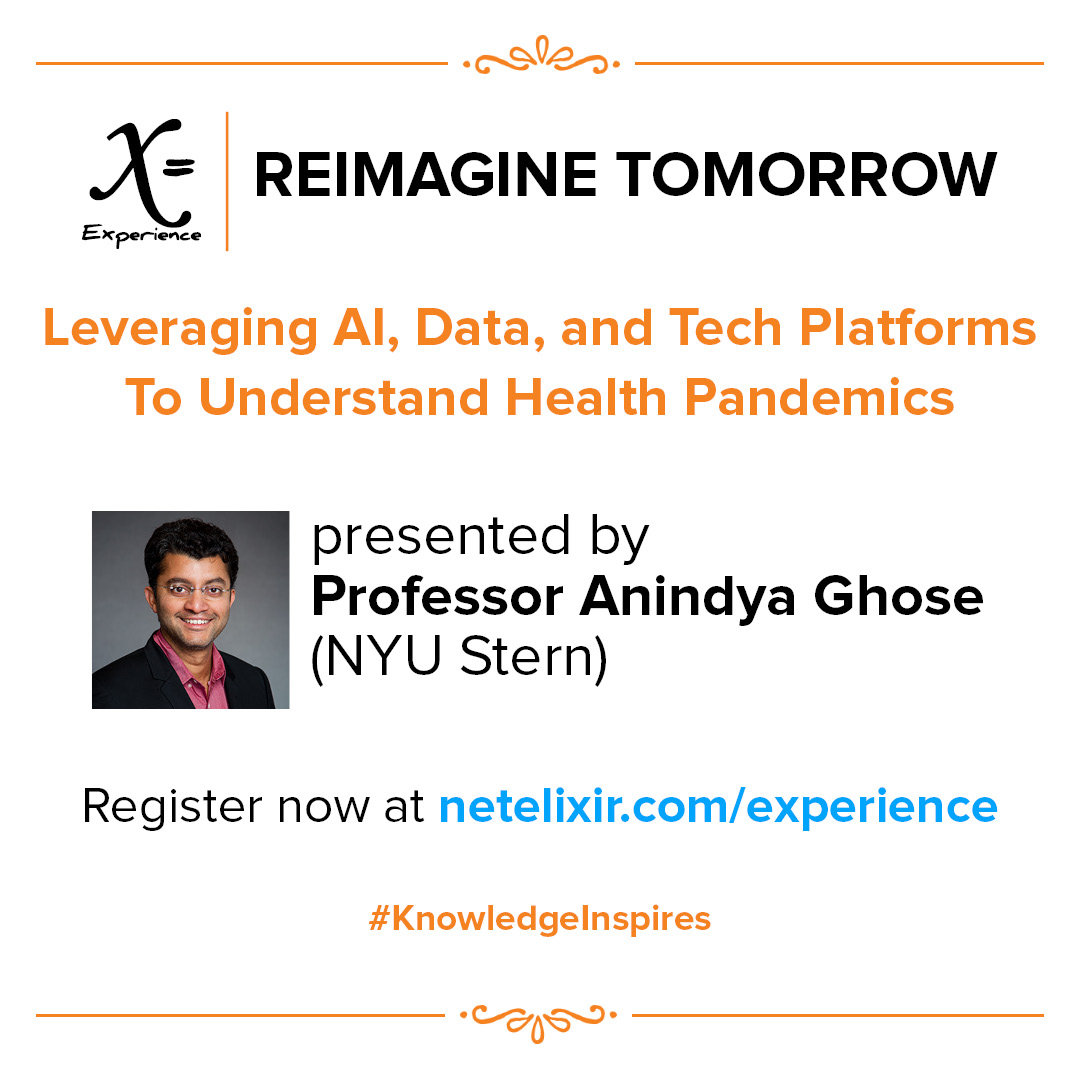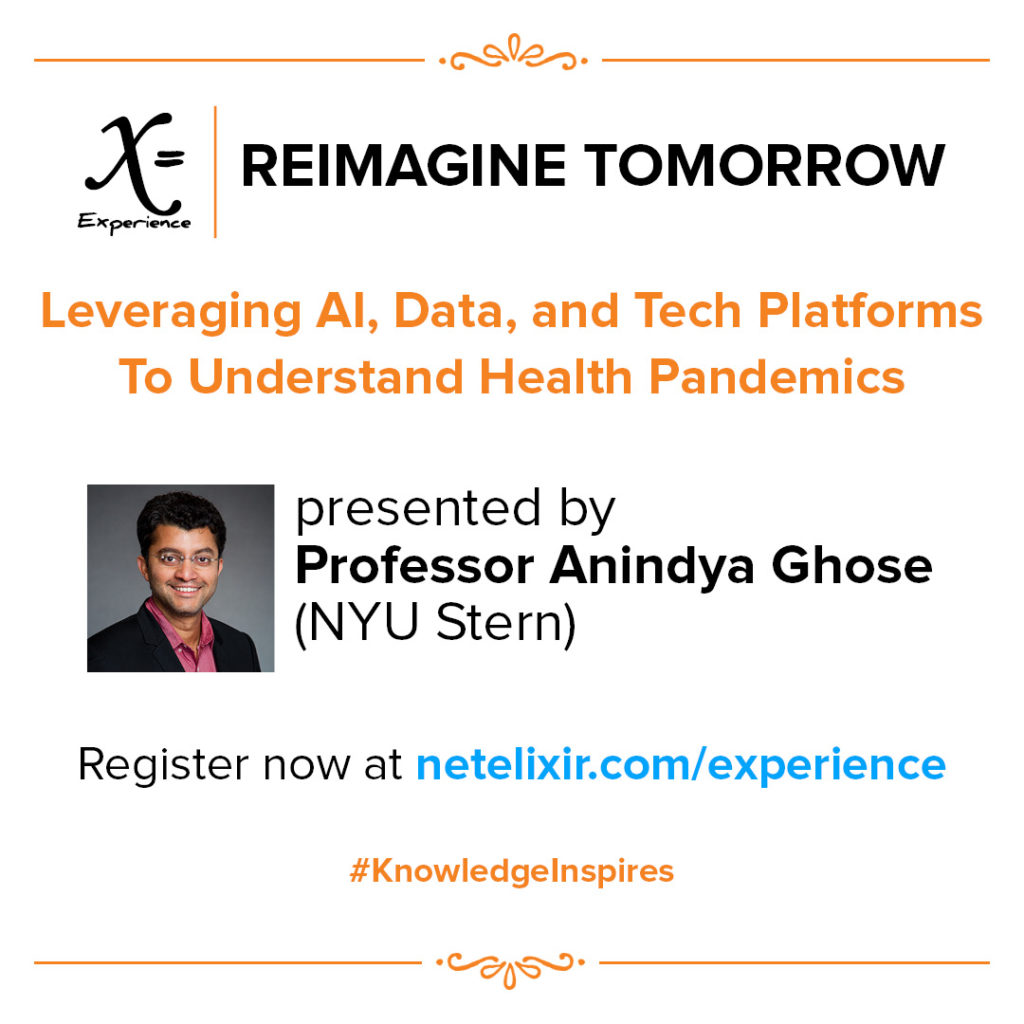 who spoke on Leveraging AI, Data, and Tech Platforms to Understand Health Pandemics.
As we all navigate through these uncertain times together, we need more than just real data. We need knowledge that inspires us to look forward to the future, thought leadership that sparks fresh ideas, encouragement to consider a broader world view, and dollops of genius to help us connect the dots and move forward, relentlessly.
The world is shifting to a new reality, inspired by fights for justice, equality, and innovations to overcome the coronavirus pandemic. The coronavirus crisis specifically has prompted a restricting of the workforce to accommodate remote working and learning.  Social distancing has become part of our behavior. We are accelerating toward a digital transformation by advancing an era of digital relationships and communication.
Professor Wind's presentation on creating Opportunities in Times of Crisis helps leaders to capitalize on shifting their market dynamics, identify untapped opportunities within their organization, and challenge them to invest time and resources to explore the new opportunities which emerge.
Guidelines for Creating Opportunities
Capturing and creating opportunities during times of crisis will also help us cope with and survive the current situation, as well as anticipate solutions to future issues. Professor Wind outlines 10 guidelines for creating opportunities in times of crisis.
1. Change Your Mental Model
This is among the most critical of the guidelines because the right mindset can unlock an opportunity. Professor Wind urges business leaders to not return to the same models we had pre-pandemic and pre-protests.
Throughout the coronavirus outbreak, we have overall successfully transitioned to remote learning and working, as well as establish strong communication online. We need to take these experiences and what we learned and evolve them into the future.
Professor Wind notes, "We have an opportunity to rethink." We can address fundamental societal issues and recreate our baselines to include our lessons and advantages we innovated during the crisis.
2. Speed Up Digital Transformation And The Creation Of A Digital Infrastructure
The coronavirus outbreak has accelerated the digital trend. Ecommerce is rising. Communications occur virtually, between zoom meetings and egreetings. By accommodating new technology and expectations of how we use that technology, we revolutionize the way we conduct people and connect with others in the future. There are opportunities to explore different technological platforms and innovations to see what works best for your business and situation. The changing digital landscape will spark even more inventions.
3. Create New Business Opportunities
Think about creating opportunities not just for the short-term immediate needs that need to be addressed during a crisis, but focus on long-term goals as well. Consider how, with your business's capabilities and by connecting with your customers, how you can better the future. Create long-term plans for lasting change. Living and working post-crisis should be about transformations, based on what we learned by overcoming the crisis. 
4. Reexamine Your Talent Strategy And Adopt Open Innovation
As a business owner, you have to evaluate if your current workforce can meet your business's needs. Professor Wind says that sometimes, the best talent to solve your problems are probably not part of your company. Businesses should take people from other disciplines to create a well-rounded workforce. By accepting open innovation and open talent from outside your business, you can excel from a myriad of backgrounds, ideas, and perspectives that will invigorate your creative problem solving team.
5. Undertake An Idealized Design Process To Guide Mergers And Acquisitions And Other Areas Of Opportunities
To achieve success, you have to visualize it. Professor Wind suggests crafting a story around what you want to achieve – say you want to win an award. Visualize yourself with that award and note which publication you want your story to be featured in. Write out the reasons you won that award. Now, you have a foundation to win that award, of milestones you have to hit and guidelines to follow. Evaluate acquisition opportunities to ensure everyone will help you achieve your goal.
6. Switch From A Shareholder-driven Organization To A Stakeholder-focused One And Engage Your Stakeholders
The most important facet of this guideline is to engage your stakeholders effectively. How can you meet the needs of society and offer positive social contributions? If governments will not solve our problems, what can you do to help your stakeholders?
Address your shareholder's purpose and give greater weight to your employees, consumers, and other partners in your network. Companies who are silent during crises often fare significantly worse than companies who helped and advertised in meaningful ways during a crisis when the situation is over. The types of organizations that will succeed in the future are the ones who speak up, who take a stand, who offer relevant responses – especially those who address racial injustices and respond with sympathy, actions to take moving forward, and continued projects to address and combat racism.
7. Speed Up The Switch To A Network Orchestrator Model
No company can exist on its own. There are networks of employees, partners, suppliers, consumers, and stakeholders who make up a company. Competition won't be between companies, but between networks that highlight the strength of partnerships. Evaluate who the members of your current network are. And then ask yourself if you can leverage them to create an effective network. By doing so – and doing so now, during multiple crises – you will also succeed in engaging your talent strategy and your stakeholders.
8. Assure Your Organizational Agility And Resilience By Enhancing Its Culture And Organizational Architecture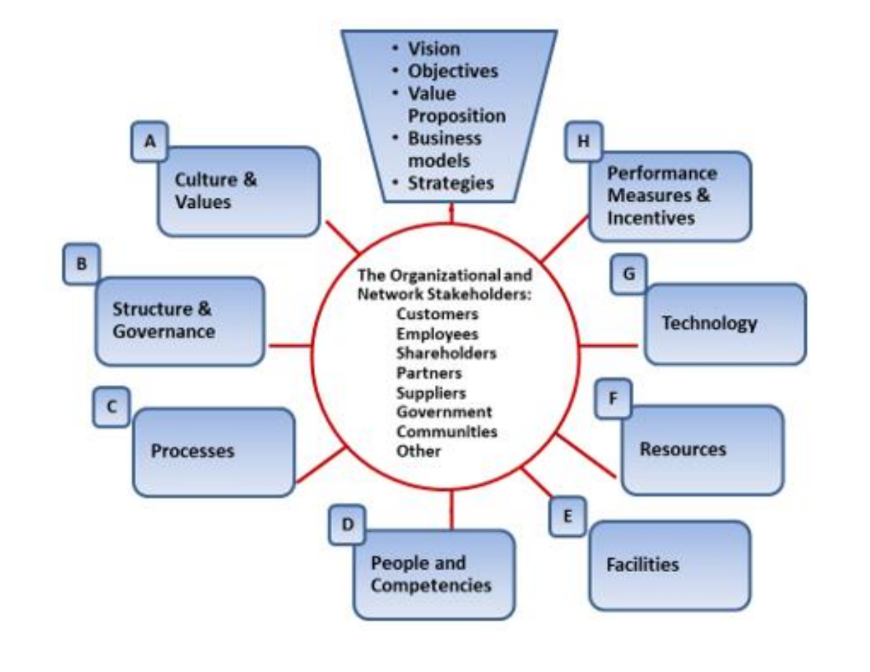 Your culture of values will work around the clock – both literally and figuratively represented in the cyclical chart to the left- so that everything aligns to propel your business forward. Greater agility will ensure your company can make better and faster decisions, which will therefore increase your resilience during difficult times. 
9. Reexamine Your Business Model And Operations For Increased Efficiency And Challenge Your Revenue Model To Identify Opportunities For Profitable Growth
During a crisis, cash is king, Professor Wind says. To effectively survive a crisis, a business must generate cash and eliminate waste, inefficiency, and redundancy. Reexamining your business model and efficiency at the onset of a crisis can help you save up to 20% of an operating budget. Reinvest this budget to cover your innovations and experiments that will help you cope with and overcome, rather than simply survive, a crisis and propel you further post-crisis.
10. Innovate And Adapt The Adoptive Experimentation Approach
To identity causal links of what was successful in campaigns, you have to experiment with small changes and study their effects. Continuous experimentation is key to emerging stronger from a crisis. Accept and encourage your team to go outside their comfort zones and allow them to fail for the sake of experimenting. Celebrate lessons learned from failures as much as you celebrate successes. Stimulate a creative culture with a talent strategy that will try new things to learn something.
For the other guidelines to be truly effective, you need to experiment to create opportunities for your success.
Tidbits On Creating More Opportunities
In our Q&A section, Professor Wind offered additional insights into our current situation.
What contributes to a company's success is how close to the market and consumer the company is, its agility,

communication skills, and ability to quickly implement change.

Company leaders should be agile, and listen to their customers, as well as open to hearing about marketplace trends.

The coronavirus crisis has shifted our work schedules and allowed for a more flexible work structure. We are moving toward more virtual organizations, working during individuals' convenient hours, and working on more passion projects (which will inspire innovation and experimentation).

Everyone is responsible for innovation,

to think how they can do better and if they are doing the right thing the right way.

Companies are realizing and reimaging who they are as consumer sentiment is changing.

McKinsey & Company

has a selection of consumer sentiment surveys from around the world.

Consumer sentiment is shifting as they readjust their priorities in the wake of the coronavirus upending much of what was considered normal, as well as regarding how companies respond to and combat systematic racism and bigotry.

Understanding the wants and needs of the consumer is critical, especially as consumers are adopting new behaviors.
"We are not going to go back," Professor Wind says. "In every given domain there will be integral change."
The real value in overcoming crises is reflecting on what you learned. Select one thing to start experimenting with to improve it. 
"We have a unique opportunity for change," Professor Wind says. 
Professor Wind's guidelines aren't just a crisis lifeline, but a way of reframing business models and strategies. We change our values and priorities and take actions to reduce racism, bigotry, and other forms of hatred. And together, we can design our future.
Additional Insights
Our next speaker in our Reimagine Tomorrow series is George Day. Professor Day will speak on How Vigilant Organizations Gain An Edge on Thursday, July 9 at 2 PM ET. Register at https://www.netelixir.com/experience/. 
Our Covid-19 Updates Webinar series can be viewed in its entirety. Our sixth installment, Road to Recovery: Business Insights & Lessons From Ecommerce Leaders, will air live Thursday, June 18 at 2 PM ET. At this, we will continue to share real-time ecommerce data from June,and host a roundtable discussion with retail industry leaders.
Learn More about Ecommerce Updates During Coronavirus
You can join the conversation on social media using #NxInsights.
For further reading, you can see our prior retail analytics updates on retail ecommerce and online shopping behavior: