NetElixir hosted our Veterans Day webinar, Road to Recovery: Real-Time Data on ECommerce Trends + Updated Holiday Forecast, yesterday with Aaron Pelander, the Vice President of Marketing for GovX. Pelander and Udayan Bose, the Founder and CEO of NetElixir, discussed the latest eCommerce trends, actionable strategies, and insights into how GovX pivoted their marketing tactics to win new holiday shoppers.
By understanding the real data around the latest eCommerce trends and online shopping behavior, we can better navigate through this challenging year. As marketers and retailers, we have to follow where, when, and how our customers are shopping and searching online and be there for them at every turn. During this holiday season, customers are looking for an easy and seamless online shopping experience, promotions, and ways to connect more with each other. By providing a helping hand, brands can better support their customers. 
Customers' Online Shopping Behaviors
Consumer preferences are changing at a rapid pace, based on Bain & Co.'s Elements of Value Pyramid. Customers are prioritizing safety and wellness when they shop.
"Safety has become and continues to be one of the primary drivers [of shopping behavior]," Bose says. "We have seen very specific emotional drivers play a very important role [in the buying process]. For example: reducing anxiety, as well as wellness." 
Hope and nostalgia have also played an important role throughout the months of the coronavirus pandemic. Bose suggests that hope and safety should be retailers' main focus, especially during the holiday season, as consumers continue to navigate new shopping situations. Consumers will remember brands that they felt safe with.
As new shopping trends and motivations continually emerge, it is hard to pin down exactly what will be the new normal. However, based on the data collected by NetElixir's Retail Intelligence Lab so far, we see that 1 out of 8 new-to-online shoppers (i.e., those who made their first regular online purchase during the coronavirus pandemic) continue to make 50% of their purchases exclusively online for the Food and Grocery retail industry. NetElixir first marked this trend around mid-April, as lockdowns eased and people could choose to shop more freely in brick-and-mortar stores. 
Having successfully crossed the first barrier to online shopping, customers are becoming increasingly more comfortable navigating eCommerce sites. Customers are even open to exploring new brands, creating ample opportunities throughout this holiday season.
How ECommerce Trends are Evolving
Current eCommerce trends point to a sustained explosion of online sales. NetElixir's Retail Intelligence Lab has tracked the YoY changes in online sales across seven categories for now nineteen two-week periods, starting from February 9th, detailed below:
The Food and Grocery retail category is starting to pick up momentum again, after a slight dip throughout the end of summer. Bose forecasts that Food will see a 100%+ YoY growth during the holiday season as more people prepare home-cooked meals instead of eating out. Apparel has also declined YoY from its peak in the first two weeks of September, presumably bolstered by back-to-school sales.  Home Furnishing, Tools and Hardware, and Home Décor continue to see strong YoY increases. Overall, NetElixir forecasts that the remainder of the holiday season will see online sales grow at 30% YoY across retail categories.
Prime Day 2020 helped to jumpstart an early holiday shopping season, but the online spike it generated subsided quickly. Online sales for the Food and Grocery retail industry did, however, see sustained growth, trending upwards from October 18th on, as pictured below: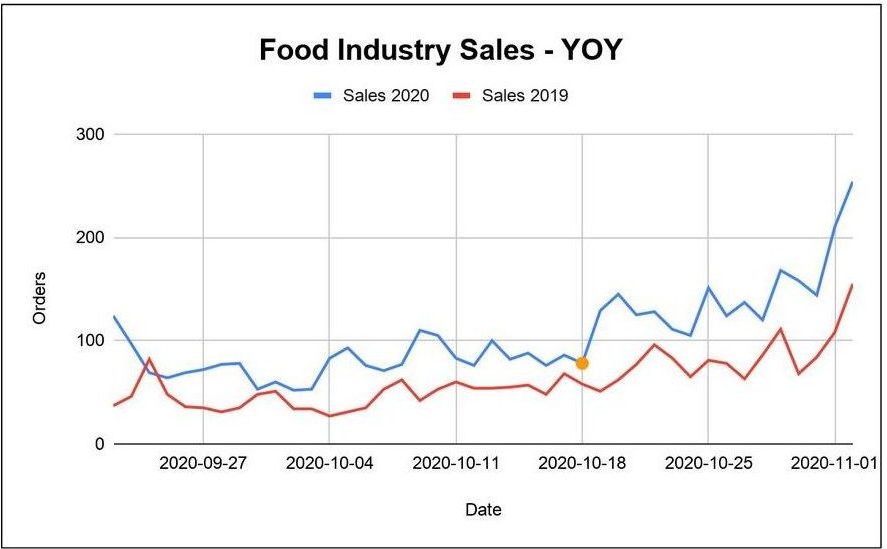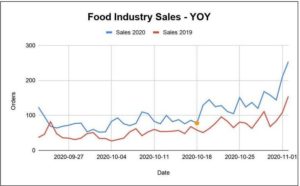 While this may not be attributed solely and directly to Prime Day, as Food's spike started a few days after the Prime Day event concluded, monitoring the residual effect of online sales events is important to monitor where else consumers shop.
Likewise, current events influence consumer's shopping habits. Election Week in the United States did have an impact on eCommerce trends and online sales. The Gifting, Home Decor, and Tools and Hardware retail categories experienced a marginal decrease of less than 10% in eCommerce sales during Election Week compared to the week prior. Apparel, Home Furnishing, Pet Supplies, and Food and Grocery all experience substantial growth during Election Week compared to the week prior. Conversion rates across all retail categories, however, were 5% lower during Election Week than the week prior. 
"There are events of this magnitude – and Election Week was definitely an event which had a pretty massive impact and importance – which has a direct correlation with the eCommerce trends," Bose summarizes. 
Google Ad investment will increase across businesses, as CPCs themselves are also increasing across all retail categories. As the holidays draws nearer, marketers are advertising more aggressively and earlier to avoid last-minute shipping delays.
Your 2020 Holiday ECommerce Sales Calendar
For the past 13 years, NetElixir has released an eCommerce calendar to help retailers mark important dates they should consider in their marketing strategy. Some key insights from this year's calendar includes:
Weeks of November 22nd and November 29th

: will account for the two biggest online shopping weeks of 2020;

Week of December 6th

: most retailers will set a cut-off date for guaranteed holiday shipping (delivery by 12/24);

Week of December 13th

: BOPIS commerce will surge and most retailers will lower their digital marketing spend;

Week of December 20th

: while usually a busy week for last-minute deals and buys, it is forecasted to be the quietest week of the 2020 holiday shopping season.
Download your 2020 Holiday ECommerce Sales Calendar now at https://www.netelixir.com/holidays/. 
Overall, NetElixir forecasts a 30% YoY aggregate growth for eCommerce sales throughout the rest of the holiday season. We forecast 45% growth in November and 20% growth in December YoY, as consumers try to get the bulk of their holiday shopping done early.
Q&A with the Vice President of Marketing at GovX
GovX is an online-only retailer, who caters exclusively to people who are currently serving or who have served in the United States Armed Forces and law enforcement, including firefighters, first responders, and other government service agencies. GovX works with over 400 brands to provide a military discount to GovX's members. 
While Veterans Day is normally a kickoff for larger holiday events that wrap up the year for GovX, this year has obviously been different. Pelander explains that the company has been digging into holiday planning for the past month to capitalize on the early shopping season.
"This whole year has been uncertain," Pelander says. "I think, partly, what has helped the planning for the holidays now has been more due to this year's worth of adjustments, changes in strategy, all leading up to this point."
GovX shifted their December budget into November and late October for aggressive paid search and social advertising to capture early shoppers sooner rather than later. New customer acquisition has still been the focus of GovX's strategy in first generating awareness of GovX's mission amongst veterans and first responders, and then encouraging those members to shop through the site.
"A big focus for us this year has been on new customer growth, so not just getting a new member for the sake of a new member, but we want them to make their first purchase with us within the first 30 days of their membership," Pelander explains.
By partnering with NetElixir, GovX has been able to shift their budget and spending to target and engage new members more effectively. We have helped them expand into YouTube marketing, as GovX has focused on pressing forward to make the most of the eCommerce boom that the coronavirus pandemic has accelerated.
How has GovX Pivoted their Marketing Strategy?
Pelander explains that through strong conversion rates, the company has been able to drive up more ad spend because consumers are converting more quickly during the pandemic months than before. As long as the conversion rates continue to hold strong, GovX will continue to advertise aggressively to maximize new memberships and sales. What's important, Pelander notes, is pushing the right promotion at the right time and to the right person. GovX's members continue to buy for themselves even in the midst of the holidays, as they will buy from a brand they like at the right price.
GovX's holiday messaging kicked in right around Prime Day so as not to specifically compete with the sales event, but to coincide with the flow of online traffic the event created. This holiday season started in mid-October for the brand, as they offer week-long sales that typically lasted only a day in prior years, such as extending the Veterans Day sale and Cyber 5 promotions.
What has helped GovX maintain growth throughout these past few months is their agility and drive to keep being aggressive in a time when they could reap those benefits and other companies have hesitated. Their new customer focus has become GovX's mindset to set the tone for the first 30 days that can propel new members to become loyal customers. Pelander says the scale of data from 2020 is so immense that fully analyzing the eCommerce trends and online shopping patterns that have emerged for the company over the course of the year will help create new strategies moving forward.
"It's been a great year for learning," Pelander concludes.
For a Deep Dive into Other ECommerce Trends
If you have any questions about the data provided or the eCommerce sales calendar, please contact us at university@netelixir.com.
Read more: