The end of the holidays and start of a new year is a natural time to reflect. This is especially true for retailers who are curious about what trends and insights emerged from the recent shopping mayhem. Fortunately, the digital marketing experts at NetElixir have combed through the data to paint a clearer picture of consumer behavior during the 2017 holiday season.
Methodology
We used LXRInsights, our proprietary analysis tool, to evaluate holiday traffic data from over 400 million ecommerce website visits across our client base. Our analysis began on Thanksgiving Day (11/23) and continued through Christmas Eve (12/24). We collected data from Google AdWords, Bing, Yahoo Gemini, and directly from the ecommerce sites.
Our Projections vs. Actual Results
Our initial projection of 10% holiday sales growth was somewhat conservative, but we still ended up very much in the ballpark. We ultimately saw U.S. sales increase by 13% overall. This supports what we found in our Thanksgiving weekend analysis, as well as last year's holiday trends.
Ecommerce Sales Growth by Region
While each region saw a notable uptick in sales, the largest came from the Southern US, which nearly doubled the national average at 24.3% growth. Studies have shown that Florida, Texas, North and South Carolina, Georgia, and Oklahoma rank among the fastest growing state economies (Source: U.S. News). This coincides with our results and highlights the region as a major source of opportunity for retailers.
Paid Search YoY Trends
We tracked double-digit percentage growth in CPC, impressions, conversions, and average order value (AOV). Since 2012, ecommerce has nearly doubled its share of total retail sales, which helps explain the 14.2% jump in average CPC. Increased competition among mobile advertisers also plays a role. Over the past year, the gap between desktop and mobile CPCs has shrunk from 35% to 15%.
AOV showed an eyebrow-raising leap of almost 20%. We discovered that although the value of cart items remained mostly the same, the number of items increased. This makes sense as consumers grow comfortable with online shopping and make more of their purchases online rather than in-store. Rising free shipping thresholds likely contribute as well. Buyers are willing to add more items to their cart to get that coveted free shipping.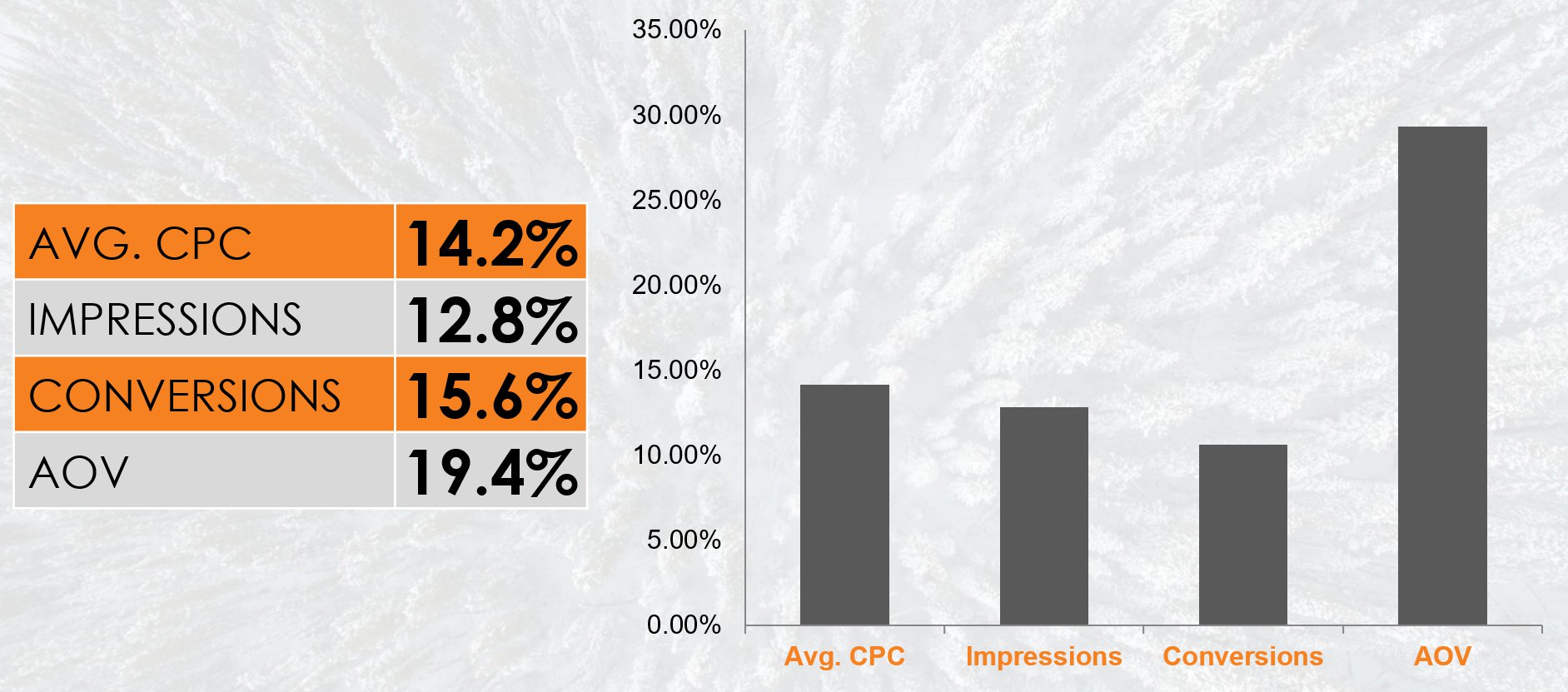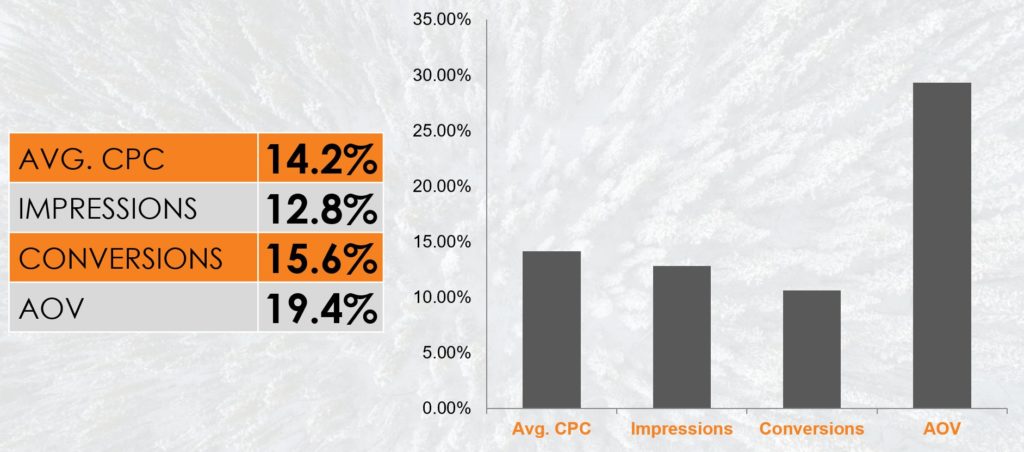 Mobile Visits and Sales Increased in 2017
Mobile continues to grow as a force in ecommerce. We saw increases in mobile share of visits in almost all major product categories. With more connected devices in play and retailers providing more user-friendly mobile experiences, it's understandable that consumers are doing more of their browsing on mobile.
Mobile Share of Visits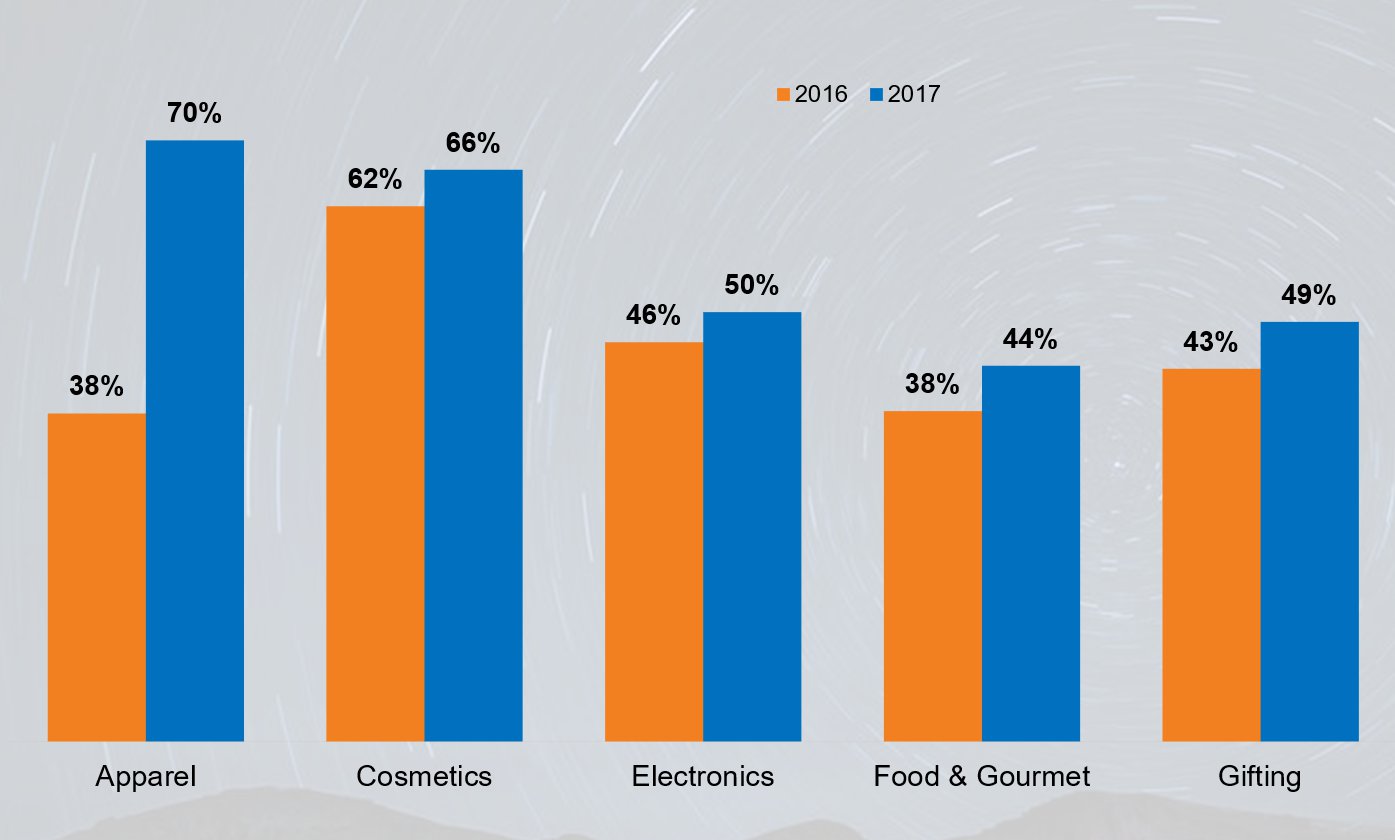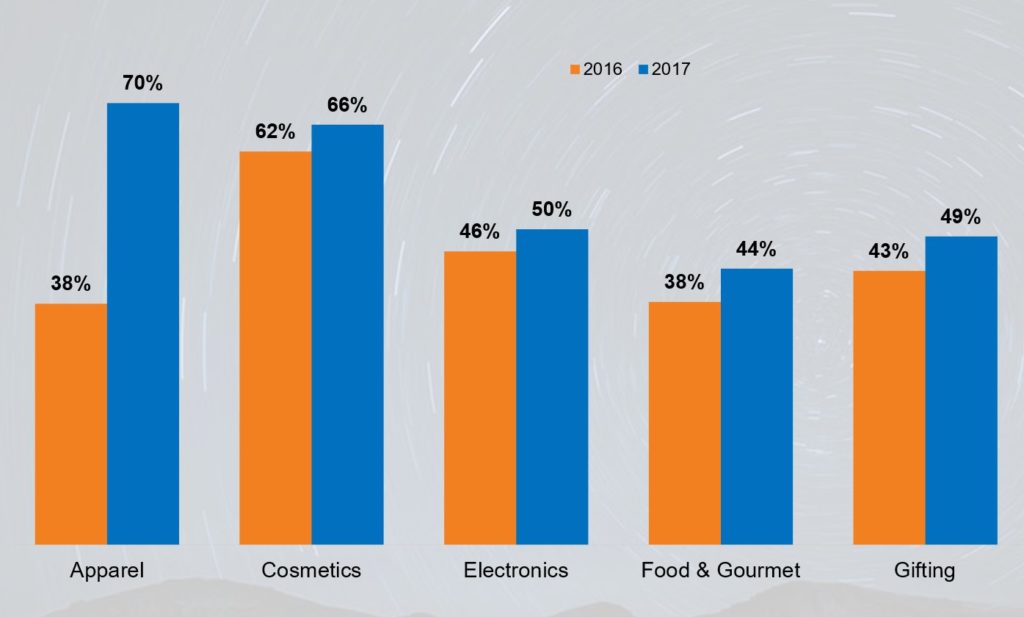 Mobile Share of Sales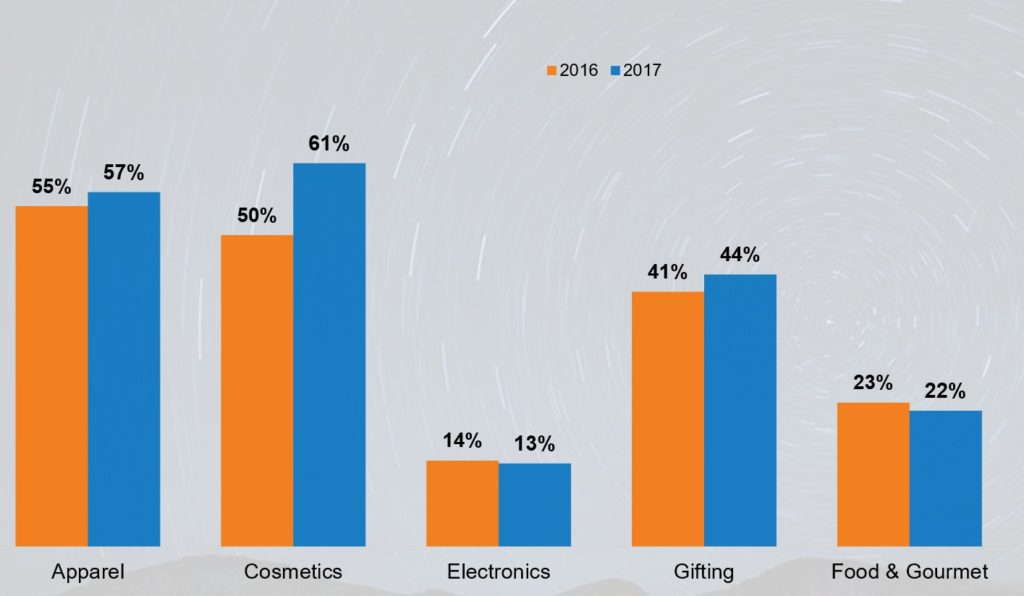 The share of sales for mobile has also grown, albeit more modestly. We have a few theories as to why. Many consumers may be practicing "showrooming" by researching products and comparing prices in-store, and then buying offline to get the item more quickly. It's also a fair bet that buyers are still more comfortable inputting credit card information on desktop sites rather than mobile.
Overall, there was much to celebrate for ecommerce, and NetElixir CEO Udayan Bose envisions many of these trends continuing in 2018.
"This holiday season data shows overall positive growth," he said. "Consumers are continuing to move to online shopping for their holiday purchases and are also using their mobile devices more for purchasing in specific retail categories like cosmetics. With the mobile visit data trending in a steeper upward direction, we can expect that ecommerce figures will be higher next holiday season."
Hungry for even more insights? Read our Future of Search Marketing guide to get our predictions about where digital is going in 2018 and beyond.
Watch the Webinar On-Demand
If you missed our full webinar with the holiday results, retail insights and SEM hacks, you can watch the complete replay below.