Pinterest first announced Promoted Pins back in September 2013. Then, in May 2014, Pinterest provided the use of Promoted Pins to a few advertisers located in the US. Now, in 2015, Pinterest has released a waitlist option for all companies to register to use this service.
What does a Promoted Pin look like?
Promoted Pins look similar to a normal Pin, but the key difference is that below the Pin you can find a snippet of text labeling it a "Promoted Pin". Every single Promoted Pin is verified by the Pinterest team to ensure that the Pin meets their quality standards before it will be displayed.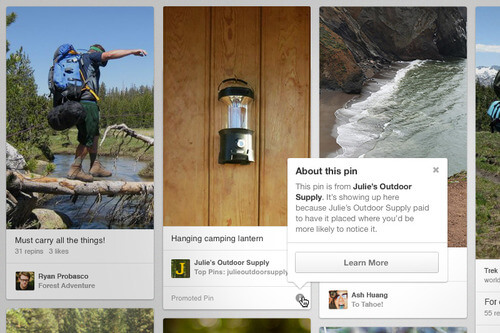 How do you promote a pin?
Promoted Pins are incredibly useful as they help drive traffic to your business. They can increase the visibility of your Pin by targeting the right audience at the right time.
Here's how you create one:
1) Create a new Pin, or use an existing Pin that is performing well. Make sure your Pin is well designed, with a high quality display image.
2) Pick the right keywords and Call to Action words. As per Pinterest regulations, you can use 150 keywords for each Promoted Pin, so a well-designed keyword strategy is a must to drive more traffic. You shouldn't use commercial and functional call to action words, so opt for soft call to action words in your image and text display.
3) Using irrelevant keywords may prevent you from getting your Promoted Pin approved. Make sure you research keywords that will match to your Pin. At any point in time, you can monitor or change your keywords which aren't generating any clicks.
4) Based on your relevant keywords, you can then target your right audience by using language, location, gender, and device targeting to drive more traffic.
5) The next step is to set up your budget. The minimum budget to bid on a keyword is 5 cents. The amount you enter in this field is set as the maximum amount you are willing to pay when someone clicks through to your site. This is the point where you have to think strategically in investing and targeting to get your customers to click through.
6) Set your daily budget, as here you don't have an option to set a lifetime budget.
7) To check how your Promoted Pin is performing, you can go to https://analytics.pinterest.com/. After starting your Promoted Pin campaign, it will take 24 hours to generate performance data. On this page you can find information on Clicks, Impressions, Re-Pins, Click-through-Rate (CTR), Total Spend, and Campaign Status (Paused, Running or Completed). It is always good to also track cross-device conversions (Mobile and Desktop).
Promoted Pins are a great way for advertisers to target their product or services to a highly engaged audience. Let's hope this feature will soon come into effect for all advertisers!