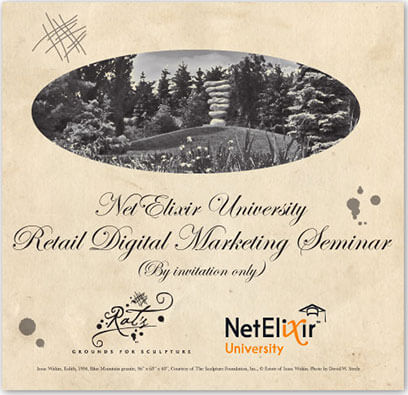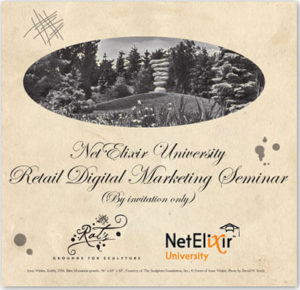 We started NetElixir University on September 12, 2012. The purpose was to "democratize the digital marketing industry". The goal – to train 10,000 businesses in the best practices of digital marketing. Our first event was the Search Marketing Workshop for Retailers. 15 executives from retail firms like Reed & Barton, Music and Arts and Haband attended our workshop. Over the past 12 months, we have conducted retail search marketing webinars – every month. Through our webinars, we have shared practical and proven search marketing tips with attendees (all retailers). Three of our webinars were co-hosted by eminent retail executives – Laura Jajko (VP, American Frame), Limin Zhao (Global PPC Manager, Lenovo) and Grace Yco (Digital Marketing Manager, Vix Paula Hermanny). Attendees loved the practical knowledge that was shared.
To celebrate the first Anniversary of NetElixir University, we are hosting our first Retail Digital Marketing Seminar on September 17th at the Grounds for Sculpture in Hamilton, NJ.
The invitation-only seminar is being organized exclusively for C-Level Retail & Marketing Executives. We wanted to create an intimate event where Senior Executives engaged in collaborative learning and exclusive networking. We wanted to create an event that provided a nice blend of academic research and strategic retail insights. We wanted to create an event where senior executives could share unique business and marketing insights and learn from their industry counterparts – an idea exchange forum that is difficult if not impossible at large industry conferences.
The seminar boasts of a "who's-who" speaker list from exceptional firms and Cornell University.
The venue – Grounds for Sculpture (http://www.youtube.com/watch?v=u4YPND8pU9s) deserves a special mention as well. Often regarded as New Jersey's Best Kept Secret, this unique destination features 270 amazing sculptural marvels spread over 42 acres. It also houses one of New Jersey's Top Restaurants, Rat's. Rat's is based off of the classic children's book, The Wind in the Willows (Former Executive Chef of Rat's, Kevin Sbraga, was the winner of Top Chef Season 7).
We are excited as well as honored to host such an elite group of retail executives. This event is indeed a huge step towards furthering the purpose behind NetElixir University.
We welcome all attendees to the "X= Experience".
Image credit: Philip Grausman, Leucantha, 1993, cast aluminum, 1/3, 108″ x 118″ x 118″, Courtesy of The Sculpture Foundation, Inc.