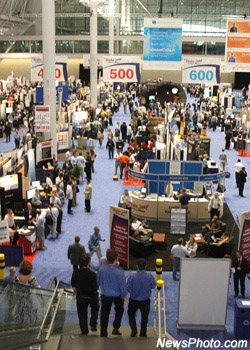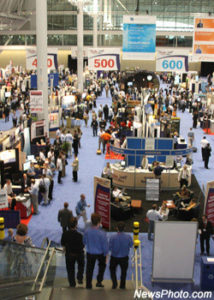 After an exciting time at IRCE 2010, we are back at the office.  It was the largest Internet Retailer conference to date, with several thousand attendees and hundreds of exhibitors!  We spent most of the time at our booth speaking with attendees but were able to sit in on Imran Jooma's presentation.  Imran is the Senior Vice President & General Manager of E-Commerce at Sears and spoke on the subject of social media.
Though we only got to hear one speaker, the feedback we got from many attendees was that the presentations felt a bit commercialized and "too sales-y".  However, the exhibitors were praised as being a great mix of SEM marketing, E-commerce and retail platform technology companies.  Participants seemed to really want information at this conference, as opposed to some conferences where it seems that collecting giveaways is the focus.  We spoke to many retailers with brick and mortar or catalog businesses that were now looking to transfer sales online.  They came to find ideas, seek out vendors and gain insights from various exhibitors.
We spoke to over 200 businesses during the 3-day conference from over 10 different countries.  Most of the retailers we spoke to sounded optimistic about the coming year.  They all indicated that 2010 will be very important and they will most likely increase their spend.  The conversations we had were not specifically about search engine marketing but rather about the technology that can simplify it.
We ran a demo at our booth to showcase our LXR Retail technology, which enables online retailers to effectively monitor, manage, and optimize online advertising and marketing campaigns.  The platform features:
KPI reporting
Repeat vs. new visitor sales analysis
Multi-level revenue and sales reporting
The most exciting feature is that the technology manages all search engines, comparison shopping engines and analytics on one dashboard.  The tool offers granular level analysis and real-time geo reporting.
We were happy to answer any questions we were asked and engaged in some really interesting discussions.  It was a great feeling to not only showcase our capabilities but share expert information with our offline community.  We felt it was an extension of our online social media campaign.  We met some fantastic people at the show and look forward to shared future endeavors.
-Jordyn Haas