As we move closer to the cookieless world, the big tech companies are continually updating and refining their approach to customer privacy. Apple's latest privacy update announcements continue to impact how advertisers are navigating the privacy ecosystem and the measures they are taking to keep advertisers and customer privacy balanced. 
IDFA, Apple's Mobile Identifier
Mobile apps do not rely on cookies to collect user information; instead, they rely on mobile identifiers that are unique to each mobile device. AdID is Android's identifier and IDFA is Apple's. Mobile identifiers are actually safer than browser cookies, as they offer more control over how and when data is used or shared. Data is stored within the app itself, to identify app-related data to a specific user. Third-party cookie data, on the other hand, is stored within the browser and tracks the user across different websites. 
Under the IDFA privacy updates, new apps or versions need to be submitted to Apple for review. During this review, Apple asks whether the app will use a mobile identifier and how the data will be used to determine if it adheres to privacy regulations. Apple is prioritizing user privacy and raising the standards for app developers and owners by making them compliant with their App Tracking Transparency (ATT) update.
The ATT update is changing how apps disclose their data usage. To Apple, "Tracking refers to the act of linking user or device data collected from your app with user or device data collected from other companies' apps, websites, or offline properties for targeted advertising or advertising measurement purposes. Tracking also refers to sharing user or device data with data brokers."
The latest privacy update means that users now have an option to ask an app not to track them across websites. The opt-in nature (as opposed to an opt-out approach) will always prioritize user privacy over advertiser benefits — an approach that won't be going away any time soon.
The Impact of Apple's App Tracking Transparency Update
Since the April release of Apple's App Tracking Transparency privacy update, users have reached a new height in setting a privacy benchmark: 96% of users are opting out of ad tracking.
In addition to asking an app not to track them, an iOS user can see what data is being collected and how it is being used within each app's product page. Apple is giving users more choices and control over their data. As users learn more about how their data is collected and shared, online shopping behavior may change as users adjust their online habits to protect their privacy.
eMarketer initially forecasted that 50-95% of users will opt to limit tracking, with most estimates nearing the 85-95% range. Brands should use the description prompt, often seen as your data will be used to deliver personalized ads to you, carefully to tell users exactly why they are collecting information. Prior to Apple's ATT release, eMarketer conducted a survey to better understand under what circumstances users would opt-in for tracking: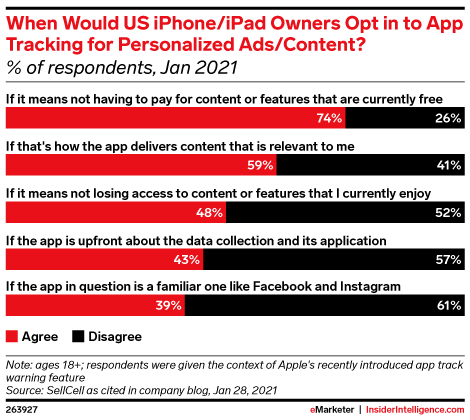 Whether features like free content or highly personalized ads come into play to entice users to opt-in for tracking remains to be determined. As of now, users are prioritizing their privacy above all else.
Even if some users decide to opt back in, the mobile advertising landscape is dramatically changing. Some other impacts ATT will have on mobile advertising include:
Probabilistic measurement instead of individual-level attribution will go up. Data and conversion modeling will use machine learning, similar to what is used in the absence of third-party cookies.

Options like frequency capping and other campaign optimizations will be limited due to a lack of measurable data.

Audience targeting strategies will be impacted.

API-based solutions for ad measurement will go up significantly.
With API-based solutions, developers can better control what data will be shared and when. Unlike tracking pixels, which share event data all at once after the user's activity has ended, API-based solutions limit what data is being shared so it is useful.
Next Steps Into the Privacy-First World
During Apple's Worldwide Developers Conference, they announced some of the following key privacy updates:
Safari's Intelligent Tracking Prevention (ITP) is now shielding a device's IP address as the new default setting, impacting a marketer's ability to understand geographic information.

The new iOS 15 update will come with an App Privacy Report that details how often apps have accessed a user's data like location, photos, camera, and microphone in the last seven days, as well as what apps have contacted other web domains and how. 

Apple Mail will have a new Mail Privacy Protection feature that blocks email tracking pixels. This might prevent marketers from knowing if their emails were opened and the time when the email was opened.

Private Relay is an upcoming extension of Apple's virtual private network and a feature of iCloud+ subscriptions that encrypt traffic relays for an extra layer of privacy.
Google recently announced that it will be extending the timeline of when third-party cookies will be phased out, to give developers more time to create alternative solutions. Chrome is delaying third-party cookie deprecation from 2022 to mid-2023, culminating in a complete depreciation in late 2023.
While that delay offers more flexibility to test and create new solutions, it is only a matter of time before third-party cookies are erased and it is best to prepare early. As always, NetElixir is here to help you survive — and thrive — in the privacy-first era. Contact a NetElixir expert today to discuss how to future-proof your business and empower your e-commerce growth.
Read More