When it comes to search in today's digital landscape, there's been a major shift in what platforms have to offer, in order to improve the ability to connect with customers.
As NetElixir's CEO, Udayan Bose, appropriately said, "We are in a massive data revolution."
Our Modern Search webinar, Introduction to AI & Audience showcased AI's unrivaled ability to identify and speak with your high-value audience. Here are some of the key takeaways:
For More Conversions, Call AAA
According to Google, using AI technologies in Automation, Attribution, and Audience can result in a 27% increase in conversions for advertisers. That's a sizable addition to your sales numbers. These newfound conversions are the result of AI understanding the more opportune moments to serve ads.
AI's Role is Changing Ours
AI is best deployed as a tool for input, prediction, and learning. When it handles these parts of a task, the role of marketers and retailers becomes about judgement. You're not just looking at the data to find powerful insights, you're also considering what data points should be considered as inputs in the first place.
As Bose mentioned during the webinar, "There is no foreseeable substitute for human judgement."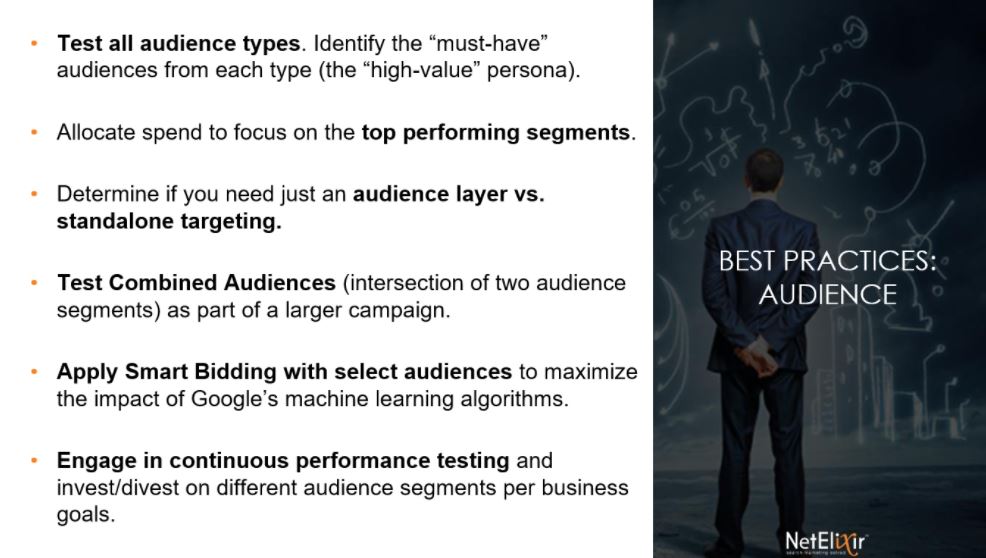 A review of some of our best practices.
Audience Best Practices
There's a host of steps you can take in your campaigns and your data to maximize the return your ad units deliver. Whether it's testing all audience types, applying Smart Bidding, or allocating spend to focus on top-performing segments, taking full advantage of AI's capabilities is essential to improving your paid search performance.
With the rise of AI, there's an incredible opportunity to learn and grow your business. Find out how by joining us for our other Modern Search webinars and download our best practices whitepapers. Reserve your seat today!
If you missed Introduction to AI & Audience, catch the full webinar below: