Jerry (Yoram) Wind is the Lauder Professor Emeritus and Professor of Marketing at the Wharton School at the University of Pennsylvania. He founded the Wharton Think Tank – the SEI Center for Advanced Studies in Management, running it for three decades. Among his many innovations and achievements at Wharton, since joining in 1967, Professor Jerry Wind has led the development of Wharton Executive MBA, the Lauder Institute, and Wharton School Publishing. 
One of the original Legends of Marketing, Wind had an 8-volume anthology published by Sage in 2014. He has edited top marketing journals, published over 300 articles and 25 books, and consulted with over 100 companies. Professor Wind is one of the most cited authors in marketing and globally recognized and honored. He was inducted into the inaugural group of AMA Fellows and received the four major marketing awards: Buck Weaver, Parlin, Converse, and AMA/Irwin Distinguished Educator Award. He is a trustee of the Philadelphia Museum of Art, the Curtis Institute of Music, and Grounds for Sculpture in Hamilton, NJ. Professor Wind is also the Co-Founder of The Interdisciplinary Center (IDC) Herzliya, Israel's first private, non-profit university and the Co-Founder of the Purple Project for Democracy and of the Reimagine Education global competition and conference.
Currently, Professor Wind's research explores reinventing advertising, creativity and innovation, challenging our mental models, and marketing-driven business strategy, the Network Challenge. He has a forthcoming book called Transformation in times of Crisis.
NetElixir is honored to have Jerry Wind join us again for an informative and empowering presentation on Opportunities in Times of Crisis.
Rethink Innovation: X=Experience 2019 by Jerry Wind
In 2019, Wind was a featured speaker at NetElixir's annual X=Experience. There, he conducted an Innovation Workshop and shared his perspective on:
Why legacy firms can rarely come up with breakthrough innovations

The case for change and the importance of challenging one's Mental Models

12 suggested guidelines to enhance and reinvent the innovation engines of legacy firms

The relevance of the guidelines for the participants and importance of developing a set of individual action plans
Meet Professor Jerry Wind below:
 Reimagine Tomorrow with Jerry Wind
Our monthly webinar series, Reimagine Tomorrow, brings you scholars and thought-leaders to share their expertise, experience, and research on strategy, technology and innovation, and insights to help you navigate the ongoing crisis. NetElixir aims to prepare you for whatever comes next by connecting you with these experts for live discussions showcasing their recent research. We aim to equip business leaders with the knowledge and resources they need to make educated decisions during this uncertain time. You can register for this interactive and thought-provoking webinar at https://www.netelixir.com/experience/. 
Professor Jerry Wind will present Opportunities in Times of Crisis this Thursday, June 4th at 2 PM ET.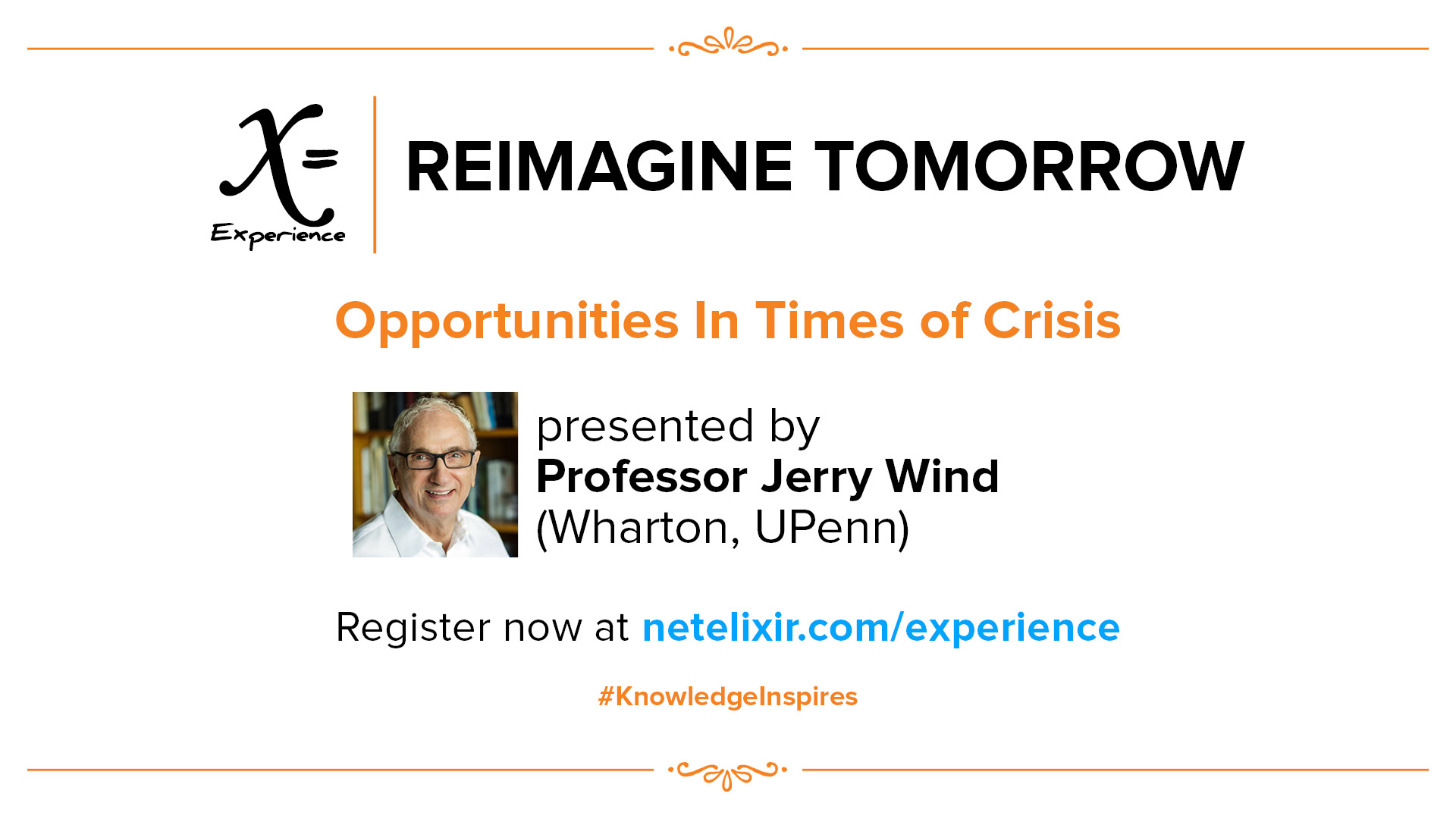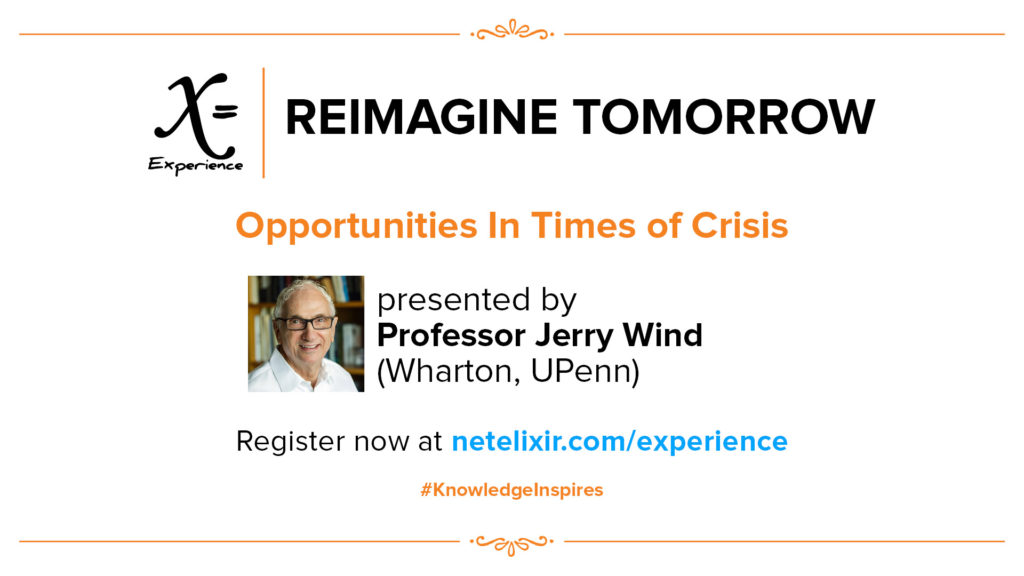 Professor Wind offers 10 guidelines on creating our own opportunities in times of crisis. The coronavirus outbreak has accelerated the digital trend and shifted many companies to a customer outreach approach. Wind's guidelines include:
Speed up your digital transformation and the creation of digital infrastructure

Reexamine your talent strategy and adopt open innovation

Assure your organizational agility and resilience by enhancing its culture and organizational architecture
The guidelines posited by Professor Wind are not purely for the coronavirus crisis. Because businesses must be proactive, not reactive, these guidelines will help business leaders identify opportunities that lie within this current global crisis and overcome problems small and large. Professor Wind's presentation will help you to innovate and adapt your market dynamics, identify untapped opportunities within your organization, and challenge you to invest time and resources to explore the new opportunities which emerge.
These 10 guidelines will help us design our own future and develop a set of individual action plans to expose opportunities that lie within each organization.
Join the conversation on social media by using #KnowledgeInspires.
Additional Insights
Our Covid-19 Updates Webinar series can be viewed in its entirety. Our sixth installment, Road to Recovery: Business Insights & Lessons From Ecommerce Leaders, will air live Thursday, June 18 at 2 PM ET. At this, we will continue to share real-time ecommerce data from June,and host a roundtable discussion with retail industry leaders.
Looking for additional insights and information for your specific category? Email us at shareinsights@netelixir.com.
Learn More about Ecommerce Updates During Coronavirus
You can join the conversation on social media using #NxInsights.
For further reading, you can see our prior retail analytics updates on retail ecommerce and online shopping behavior: