The boom in retail e-commerce and digital experiences is no where near slowing down. McKinsey noted the incredible quick adoption of e-commerce during the pandemic, noting that in Q1 2020, e-commerce grew by 10 years in just three months. Taking the data from the U.S. Department of Commerce, NetElixir aggregated the YoY growth rate of e-commerce compared to total U.S. retail sales: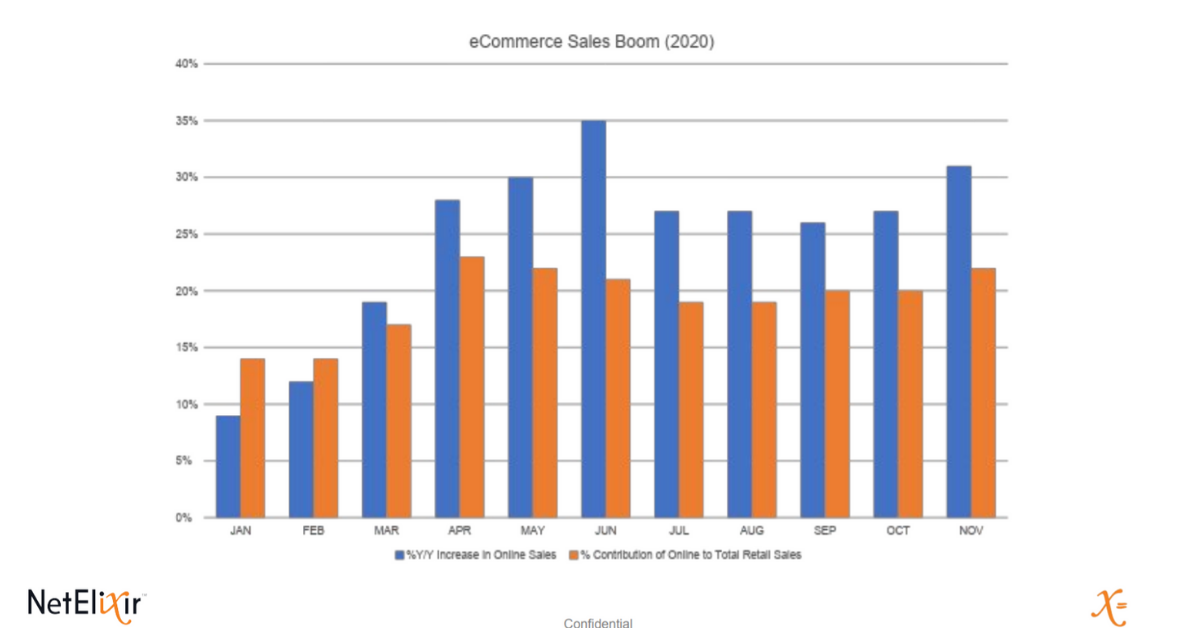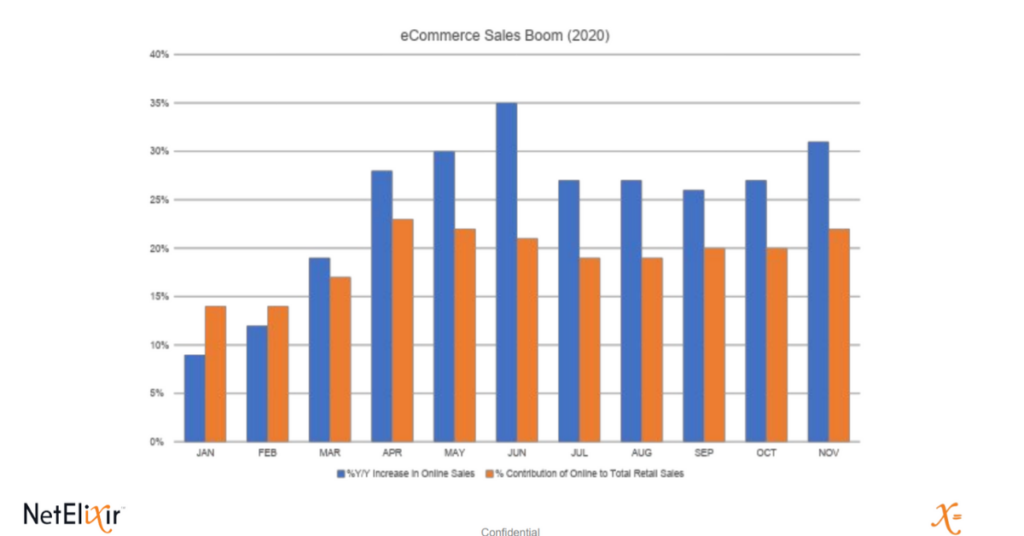 While estimates have lowered overall growth to just over two years in a few months' time, it is no secret that the digital future is today. 
The New Online Shopper Persona
The numbers are staggering, but who is contributing to this e-commerce growth? The pandemic brought in unprecedented numbers of online shoppers. With no alternative as lockdowns swept across the country, these shoppers turned to e-commerce for essential needs. Now, having crossed the initial barrier to online shopping, they continue to shop in droves. These new to online shoppers display their own, unique patterns in terms of search-shop-buy behavior and thus require unique marketing strategies.
For instance, a portion of these shoppers (who we shall call Frugal Freddy), are primarily concerned with getting the most value from their purchase. Messages to Freddy should include promotions and sales, but also the intrinsic value of the product itself and why it is better than competitors.
Around 17% of all first-time online shoppers have continued to shop regularly online and their average order value was 12% higher than other shoppers, according to NetElixir's dataset. Newly Online Nelly is still getting used to online shopping, as she made her first online order ever during the pandemic; catering to Nelly requires a seamless online shopping experience, user-friendly interface, and rewarding her loyalty.
"The reason I call it the new online shopper persona," Udayan Bose, Founder and CEO of NetElixir, says, "is primarily because the pandemic changed a lot. It is a very humbling time and it is a very difficult time for humanity."
These shoppers will continue to change and adapt with new coronavirus-related developments. The vaccine, for instance, will improve consumer sentiment. With a more positive and optimistic consumer sentiment, shoppers will be more likely to spend beyond the essential needs categories. 
Retail E-Commerce Q1 2021 Forecast
The retail categories which have been successful in winning new online shoppers will continue to reap the benefits of the new audiences, as long as their loyalty is properly cultivated and engaged. Within NetElixir's dataset, the Food and Grocery, Gifting, and Home Décor retail categories were the most successful in winning new shoppers, as depicted in the table below:
To thrive in the new e-commerce world, marketers need to resonate with consumers who are always online, looking for connected experiences as well as innovative products, and make use of new technologies with extended reality. To capture younger audiences, brands need to be vocal about important social issues. As a marketer, as yourself what is your brand purpose? Ensure that purpose is clear in all your messaging, from your website to mission statement to social captions to product descriptions. How is your brand helping others?
As the retail e-commerce landscape is continually evolving, businesses need to develop a system of open innovation and rapid experimentation to test out what works and what doesn't to win new audiences and maintain their competitive advantage. Live customer data is the key to understanding your customers, new and returning, and to meeting them at every turn.
For Q1 2020, NetElixir predicts:
January and February will still have relatively high YoY growth compared to the pre-pandemic baseline. January will have tremendously high returns – more than usual, as with online shopping people bought multiple items to ensure they had the perfect gift and right fit. February should see some more growth, as consumer sentiments should improve with a higher vaccination rate. Finally, the YoY growth for March is low because it will be hard to compete with the explosion of online growth from March 2020.
Disposable income is still relatively high, despite high unemployment levels. Demand should pick up again in April and May with spring and increased vaccine roll outs. This demand should boost the Apparel retail category and other harder hit categories as people buy in tandem with their more optimistic view about the future.
Further Resources
For a more in-depth look at predictions for the beginning of the new year, watch NetElixir's on demand webinar, The Future of Retail E-Commerce. NetElixir's Founder and CEO, Udayan Bose, delves into the new online shopper persona, how marketers can thrive in 2021, and emerging digital marketing trends.