How consumers interact with brands and what they want from brands is constantly evolving. As more and more people started online shopping, their relationships with brands have shifted to accommodate new needs, new behaviors, and new e-commerce expectations. Customers are increasingly expecting to shop directly from brands, giving more power to director-to-consumer, or DTC, brands. DTC e-commerce brands build a strong community with their loyal customers. 
These digital-native stores were uniquely positioned during the coronavirus pandemic to weather the near-total shift to online shopping because they didn't have to change their business models. They were already able to meet customers where they were. The changing e-commerce landscape has opened tremendous opportunities for more and more brands to reach their customers directly and cater to their online shopping behaviors. While the e-commerce boom certainly heightened customers' interest in DTC brands, the customer experience of these brands is what truly gives them an edge compared to other retailers.
The DTC E-Commerce Explosion
eMarketer forecasts that DTC e-commerce is on the path of exponential growth. Sales from DTC brands currently account for 14% of total retail e-commerce sales and consumer interest in DTC brands is rising, as detailed: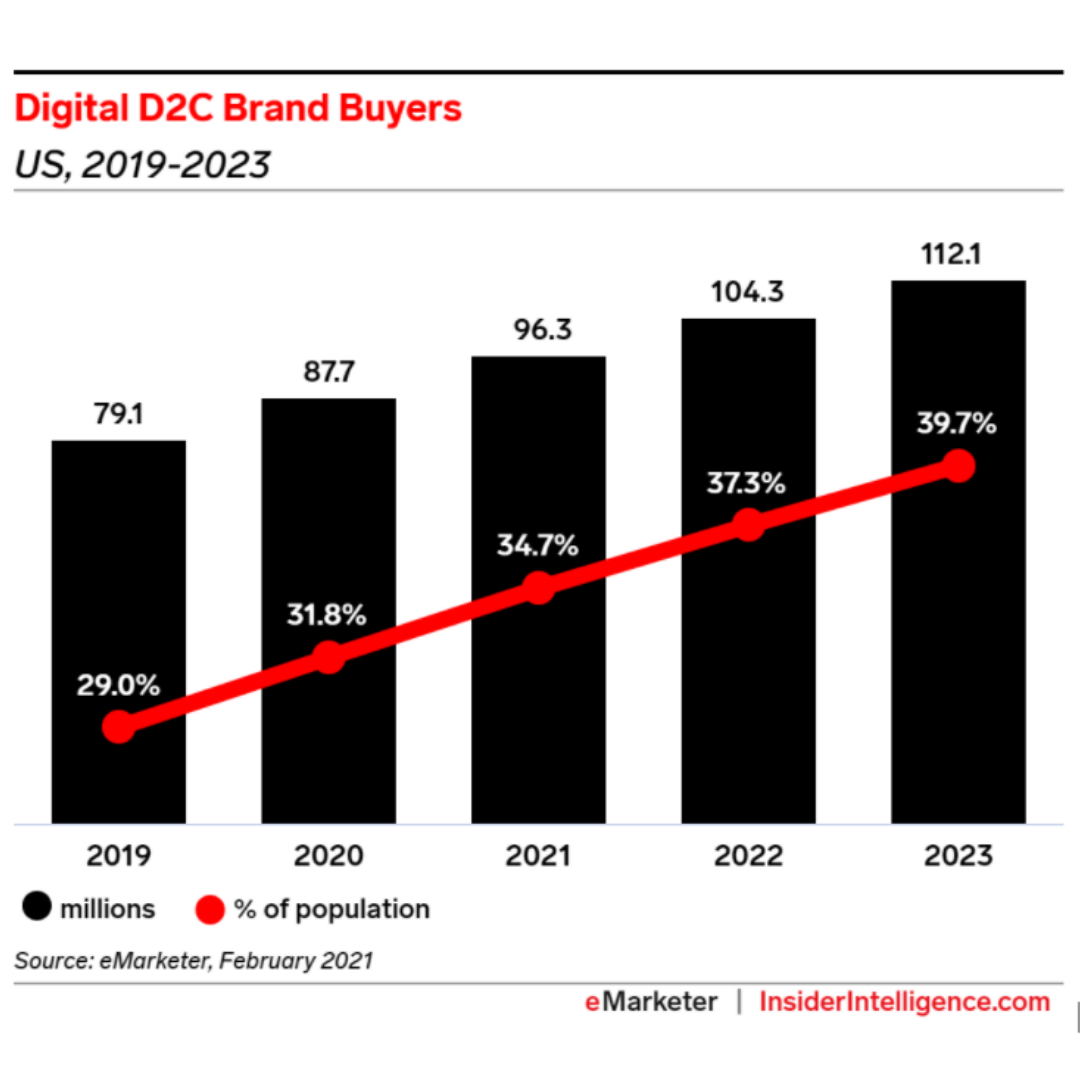 A digital presence is becoming increasingly important for all brands, not just as a way to sell to consumers, but to communicate and engage with them. Direct engagement with customers will play an especially crucial role in the cookieless world. 
More consumer demand — greatly accelerated by the coronavirus pandemic — is driving the DTC growth as customers like the direct engagement and community aspect of interacting with DTC brands.
The DTC Experience
Luckily, there is no singular way to become better online. To adopt more of a digital-first strategy, brands should look to those with a similar product strategy and a strong digital approach, rather than simply looking to copy bigger online brands like Amazon and Walmart. While these bigger brands are seen to dominate the digital commerce landscape, your brand's digital approach should fit your own strategy and objectives.
The key to a good DTC experience is customer engagement. The DTC model gives brands better control over every moment of a customer's experience. With better control comes more nuanced insights behind customer motivations and behaviors at each and every touchpoint. Aggregating this data to learn more about customer's interactions will better inform the overall marketing and business strategy, to be able to create that frictionless experience that will encourage a customer to return again and again.
For customers, DTC is about a direct relationship with the brand their buying from. Customers are looking for a value match from the brands they shop from, both in terms of monetary value and social causes. Because they have so many options available, customers can afford to be choosy about who they buy from.
In regards to the overall DTC journey, Google shared the following consumer stats with NetElixir:
57% of consumers say they go out of their way to purchase directly from brands

55% of DTC online shoppers are under the age of 45

39% of consumers say they are constantly experimenting with different brands, while 61% are loyal to specific brands
So why are shoppers turning to DTC brands more and more? According to Google's data, it's about a better value perception: 68% of online shoppers say individual brands offer better quality than third-party retailers and 61% say that individual brands provide a more personalized and authentic experience. 
As DTC brands learn from their customer's engagements and perceptions, they can improve their site experience and product offerings to appeal more to those customers. 
What Drives Shoppers to a Specific Brand?
To shoppers, quality, experience, and values drive brand love. They turn to DTC brands because DTC offers:
Consistent quality standards.

Assurance that brand values are in line with the shopper's own.

Superior shopping experience and more informed customer support.

A better understanding of the environmental footprint of the shopper's purchases.
Some drawbacks to DTC brands include an increased difficulty comparing prices and products across brands, a smaller selection, and less access to discounts and promotions. However, strong communication between brands and customers, sharing their values and quality, can go a long way in winning over customers. More informed customer support informs the brand directly about what customers are looking for and helps the brand target customers more precisely.
For DTC brands to be successful, they need to be vocal about their values and missions. They need to share original creatives that tell their brand's story and the social causes they actively support. Because DTC e-commerce is online-first, brands have simple and frictionless shopping experiences. Additionally, DTC brands deliver experiences, not just products. They invite consumers in to be part of the brand's community and story. Personalized messaging accrued from first-party data helps these brands personalize their customers' experiences and win new customers. It is a unique experience that relates back to the brand story and value at each and every touchpoint along the customer's journey so customers know exactly who they are shopping with.
Steps to Elevate Your Brand Experience
Some next steps to help you improve your DTC experience are:
Create clear messages so consumers can learn more about your brand story and values.

Ensure your brand is discoverable by using non-branded keywords when customers are researching products you sell.

Have an easy-to-navigate site through a clean design, clear directions, and a curated selection of products.

Begin building your first-party data foundation by collecting insights from site navigation, online sales, and omnichannel interaction.

Create opportunities for loyalty and cross-community relationships (which will also give you rich first-party data).

Lean on your first-party data by evaluating the more effective strategies for gathering data about your customers.
How NetElixir Can Help
We help brands amplify their values through responsible communication. Our proprietary customer analytics platform, LXRInsights, connects brands with their customers to give deeper insights into their online shopping journey. Request a demo today to start learning about your customers, like what time of day they are more likely to shop and how frequently they make a purchase.
With better insights into your customers, you can craft creatives that engage your target audience and authentically share your brand's story. Contact NetElixir to see how we can elevate your content strategy to boost your overall brand experience.
Read More