A group of friends are getting together for dinner on a Saturday evening in a busy metropolitan area. They're craving burritos and in the mood for some authentic salsa verde. They want a hole in the wall that's cheap and has enough space for five people to sit comfortably. Cerveza or BYOB would be great, too. What do they do?
Everyone pulls out their phone and searches "burritos near me" on Google Search or directly on Google Maps. (Let's pretend they're not locals for the sake of this example.) That's where you come in.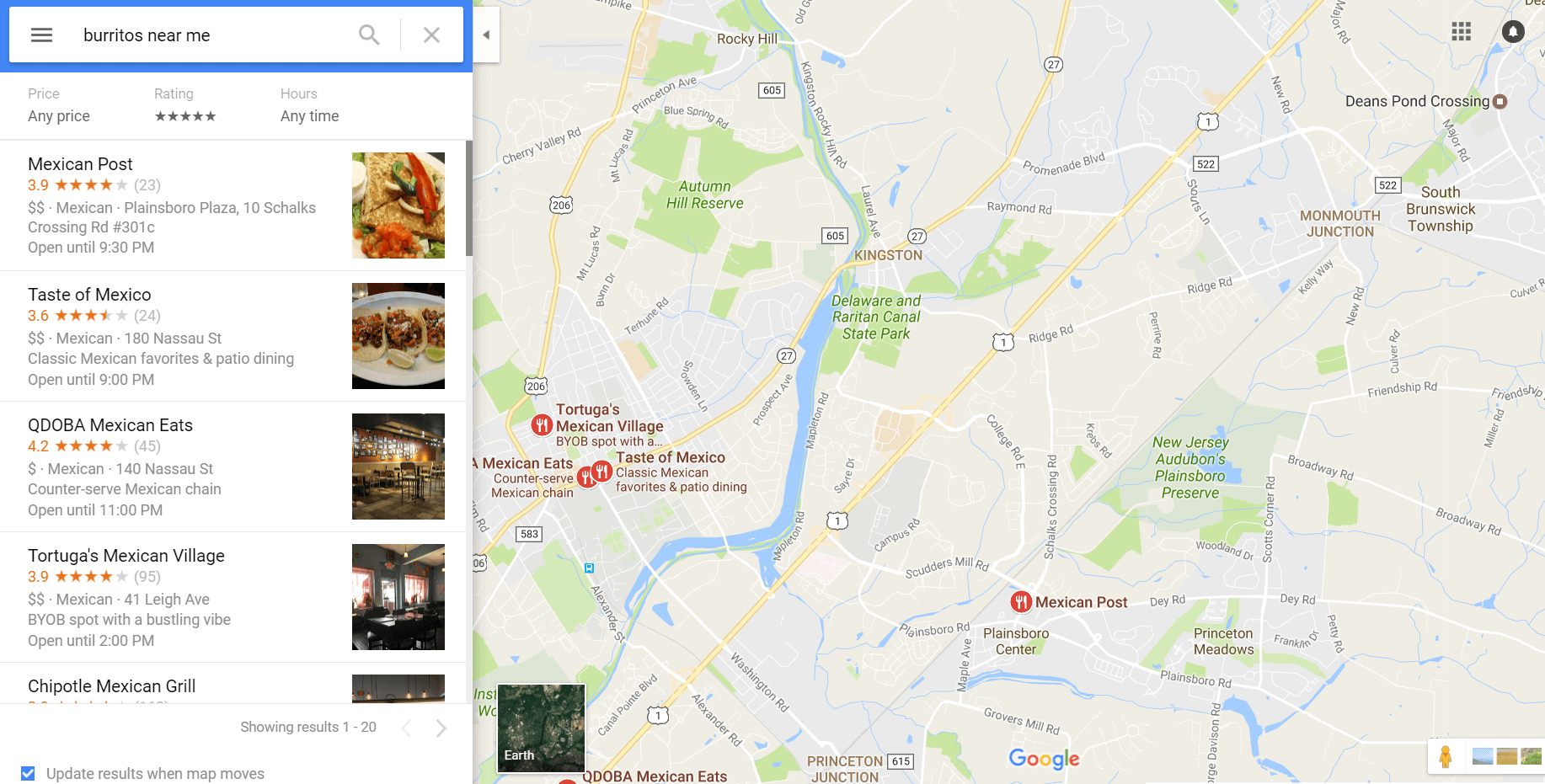 Your family-owned and operated restaurant has been serving authentic Mexican cuisine in the area since tacos were a thing. You specialize in the art of burrito making, which the locals love and you have more positive reviews online and in print than you can handle. Unfortunately, people aren't searching for you by name.
That's why you should optimize for search. Updating your local listing to include your address, phone number, specialty cuisine, reviews, photos, featured menu items, and adding call extension will allow people to call for a reservation or place an order for pickup. When you take advantage of those micro-moments, the long-term benefits will astound you.
Even if you're not a restaurant, the same applies regardless of what type of business you own. Let's get started and go over some basics on how you can dominate local search results in 2017 and beyond!
What is local search?
Local search is an effective way to market a business online. It helps businesses promote to local customers at the same exact time they're looking for local services.
How does it relate to SEO?
You need to rank on search engines like Google and business directories such as Yelp, Superpages, Foursquare, Yellowbook, Google My Business listing, and Bing Places for Business page. Otherwise, you'll miss the mark when someone searches for your type of business locally!
Why not go international instead?
For a sale right here and now, you wouldn't want to advertise to someone across the world! After all, millions of customers turn to local search to find the best products nearby every day. If you're not convinced, check out these figures from BrightLocal:
96% of PC owners make local searches.

46% of ALL Google searches are local.

64% of local users turn to search engines and directories first to find local businesses.

50% of local mobile searchers look for business addresses and phone numbers.

78% of local mobile searches end in offline purchases.



Why is local search so important, especially for small businesses?
Businesses can better position themselves to local customers. That means if someone's walking around and their sandals break – they need a new pair of shoes right now. They're not going to order shoes online and wait for them to be delivered. They need to find the closest store to take care of this emergency fast. You can't beat connecting with a potential customer at the exact time they need your services!
What are the cons/pros of local search, if any?
All SEO takes a while to settle in, but once local gains momentum, you'll see a better return on investment (ROI) because users have specific intentions on what they're looking to buy. Unlike traditional advertising, local SEO also doesn't waste exposure. You only reach potential customers when they need you the most, and not when they don't. This means that local SEO is efficient AND cost-effective for your business.
Is this strictly organic or paid?
Many of the best local SEO tactics are FREE at the moment. It still costs nothing to claim your business on Google My Business, Bing Places for Business, and other business directories. This means FREE and targeted traffic right to you!
What can you do to get in on this action? Let's get started!
Optimize information on your website
Create a domain that reflects your business type and its location. (For example,

www.larrysbakerynewyork.com

.)

Perform keyword research to see what kind of language customers use when looking for businesses like yours. Then incorporate those words on page titles.

Include your business's name, address, and phone number on every individual page.

Make sure your web copy has as much about your local area as possible. For instance, mention nearby parks, sections, and even sports teams.

Create pages with testimonials, customer stories, staff info, and Q&As.



Update and secure your business listings on online directories
Check local listing websites like Facebook, Google, Yelp, YP, and Dexknows to make sure you're listed and that your NAP+W (Name, Address, Phone Number, Website) is accurate and consistent. These are heavy ranking factors.

Since local directories dominate the first page of the SERP, you could gain up to a 50% conversion rate. Local directory marketing is essential!

Make separate listings for each location of your business. That'll help boost brand and store visibility.

Enhance your listings with videos, photos, and other relevant information that could attract customers even more.
Have a solid link building strategy
Continue sharing links to your website from major social platforms (like Facebook, Instagram, and Twitter) while encouraging users to also share and engage with you.

Include links to your website in email newsletters to customers.

Host or sponsor local events. Then, encourage organizations and partners to link to your website when referring to those activities.

Create a local directory of your favorite community businesses to link out to on your website. Who knows? They might return the favor!



Media coverage
It's not a bad idea to develop relationships with local media outlets and bloggers. This can lead to long-term positive impacts on search results for both of you. It's a win-win for everyone. Just think, you'll be able to reap the benefits from even one glowing post from a big name blogger for years to come!



Respond to reviews
Since

80% of local customers trust online business reviews

, you need to encourage clients to leave ratings and reviews across a variety of sites if they're happy.

This also means you should be responding proactively to these reviews – even if they're bad! Just be appreciative, respectful, and helpful. You could score hundreds of new customers!

Never, we repeat, NEVER post fake reviews. Google will know and you'll lose visibility!



Get on social media
Regularly post on your preferred social media platforms like Facebook, Google+, Pinterest, Instagram, and Twitter. This will encourage user engagement which will land you higher on the SERP.

These posts can focus on new products, promotions, contests, and even fun stories.
Mobile
If you haven't noticed already,

mobile is a big deal

when it comes to local search. Pay more attention to how your important web pages look to mobile users. Be wary of Flash or PDFs that could hinder user experience.
So if you're a business looking for new customers (who isn't?), invest some time in local search. As you can see, it's not too difficult or expensive to begin. Remember, there's always someone out there who could use your services, or burritos, RIGHT NOW.
Contact us today for a free SEO audit to make sure you're ready to go!