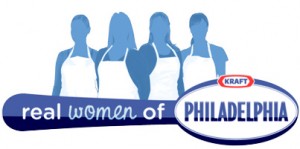 Imagine you're a brand with a rich history.  Your followers are loyal but sales have been less than favorable over recent years.  You need to revitalize your brand and give people new reasons to consider why they loved it in the first place.
Integrating social media into their advertising, the company launched a promotion geared towards amateur cooks.   The Real Women of Philadelphia site was created as platform for interaction and engagement among consumers.    Philadelphia Cream Cheese partnered with Food Network personality Paula Deen for their venture.  The campaign kicked off in March with a YouTube video hosted by Paula announcing a cooking contest.  Cooks  were asked to submit videos highlighting their best recipes…using Philadelphia Cream Cheese, of course.  The aspiring cooks were judged on personality rather than technical expertise.  Deen and a panel of judges narrowed the field to 16 semi-finalists, who will be invited to a cook-off in Savannah, Georgia on June 3oth.  The competition will stream live on the site and there will be winners in four categories: appetizers, entrees, side dishes, and desserts.  Each lucky winner will receive a $25,000 contract that includes hosting a weekly online cooking show, participating in publicity tours, being featured in cooking videos, and appearing in a cookbook featuring the community's favorite cream cheese recipes.  After the four winners have been chosen, they will be in charge of soliciting recipes from other women in the growing online community.  This contest, held over a period of 16 weeks, will culminate in a winner receiving a $500 prize.
The contest is being promoted on all of the brand's social media platforms, including Twitter and Facebook.  According to AdAge, the Real Women of Philadelphia site has had 550,000 unique visitors from the site's launch in March to the end of May and there have been 3,600 recipe submissions.  Philadelphia Cream Cheese is a brand that has always looked to recipe sharing as a way of involving consumers.  The contest, and surrounding media, is certainly a fresh way to incorporate the same idea in a digital medium.
-Jordyn Haas