Recently, we've seen some exciting new innovations coming our way from Google. With the roll out of offline conversion tracking, Google has taken yet another step towards creating an all-encompassing advertising ecosystem. This feature works on the simple principle of conversion import i.e. the user needs to upload all of the related offline conversions data back into AdWords. This will then be synced up with your account information and show the precise conversion information down to the keyword and ad copy level.
Users with a focus on improving brand awareness via lead generation had been facing a real challenge in back tracking their conversions (and revenue) to their PPC efforts. The new offline tracking feature is a bold attempt towards bridging this gap. Though not as simple as it sounds, this definitely is valuable in calculating ROI and dollar value for deep conversions. This also opens up many opportunities for account optimization and growth.
We've listed a brief snapshot of the backend and implementation of this feature below.
Backend of Offline Conversion Tracking:
When a user clicks your ad a unique GCLID is created. This is an alphanumeric string which uniquely identifies the click on the ad.
This GCLID needs to be passed on along with the other lead information and stored in your database. For this you need to

Update the code on each of your web pages to store the GCLID in a cookie
Modify your site's lead information submission page to read this information from the cookie and pass it along to your lead management system along with other information
Finally modify your backend database management system for easy storage and retrieval of this information
The type of conversion then needs to be defined in the AdWords account.
This is followed by the final conversion data being reintroduced into the account using the latest Import Offline tool.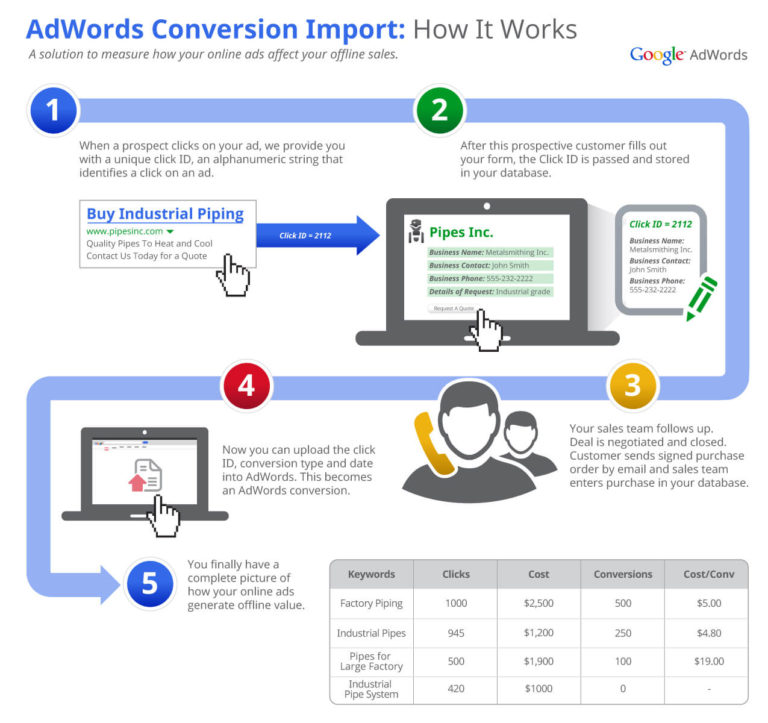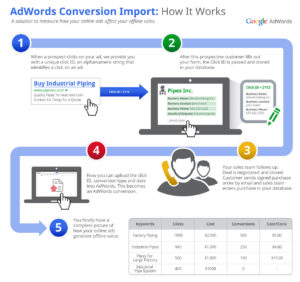 Attention Areas:
To reap the benefits of this feature you have to enable auto tagging in your account. Without this the import offline conversions tool is unavailable.
This feature can attribute conversions data only to clicks which are less than 90 days old. So if you belong to the higher consideration industries with a time consuming sales cycle, this tool is not the answer.
This feature is also limited to users who have visited your website. There is no information available on the users who come in through the inbound calls.
Google has also come up with guidelines to import data from Salesforce, while Marketo and others have posted this information on their websites.
Offline conversion tracking sounds great, but will the real life daily execution of this technology deliver?   Stay tuned…
Important Links: