"We are already actually in the near future," Microsoft Advertising's Kelly Thomas Nojaim said during NetElixir's Connecting the Dots: Holiday Readiness Summit for Retailers on August 13th. The coronavirus pandemic has accelerated digital trends and e-commerce gains, as well as changed the advertising landscape. How, when, and where customers are searching and shopping has dramatically changed.
Kelly Thomas Nojaim, the RVP of North America Corporate Sales, and Milton Reis, the Global Corporate Sales Manager of North America for Microsoft Advertising joined NetElixir to share how Microsoft Advertising is expanding their search capabilities and campaigns to help retailers better engage with their customers.
Microsoft's COVID Insights and Holiday Insights
Based on Microsoft's search data and projections, most retail categories are expected to see decreased sales as the coronavirus crisis continues to impact the economy. However, there is growth in the Food and Beverage and Health, Personal Care, and Beauty industry.
However, the pandemic is accelerating the adoption of online shopping: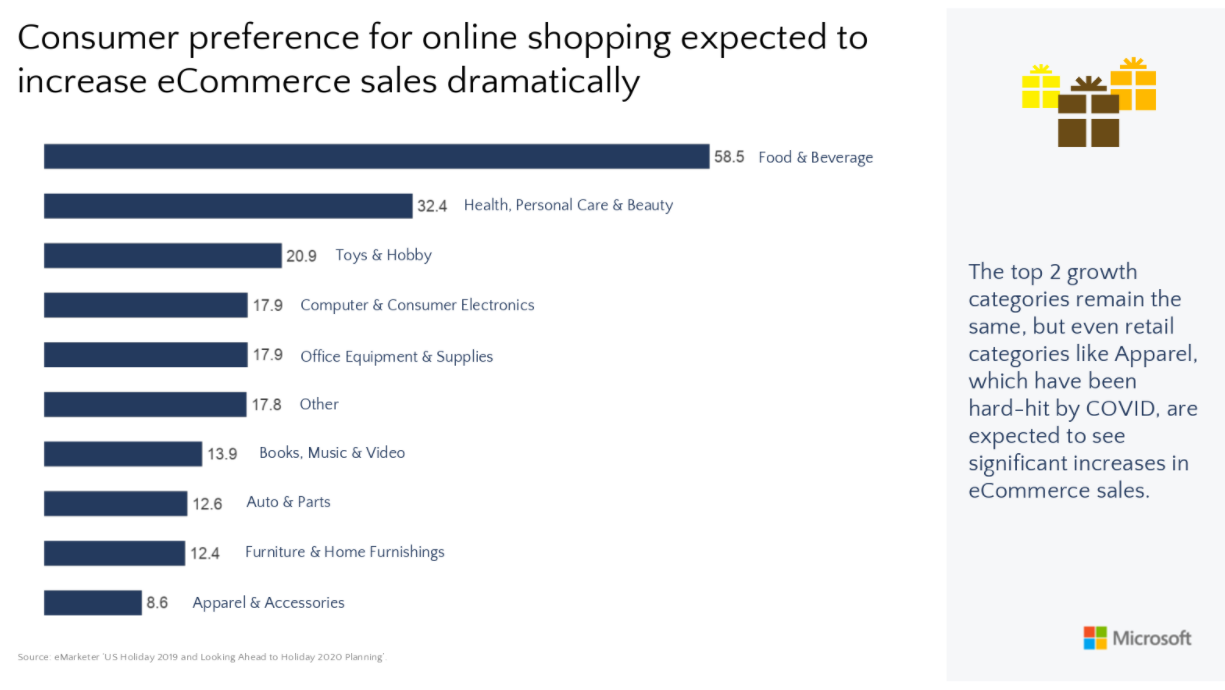 Almost all retail verticals are expected to see growth in their e-commerce sectors, even those who have been hardest hit during the pandemic. Reis notes that this e-commerce and digital growth is made possible across different search engines and media types. 
Despite the hardships presented by the coronavirus pandemic, there is hope among shoppers and retailers. Reis stated that during that financial crisis of 2008, consumers reported that they would spend 29% less during the holidays that year; in reality, they spent only 4.7% less year over year compared to 2007. The 2020 holiday season will certainly be different than any other year, presenting its own unique challenges, and we can certainly expect some dips in sales; however, consumers expectations of themselves may be worse than their actual shopping habits. 
"Search volume in and of itself has for sure increased," Reis said.
The volume of searches across Microsoft's networks during non-business hours (5 AM to 5 PM) has increased 11%, which is almost twice that of the volume growth during regular business hours throughout the course of the coronavirus pandemic to date. Searches on desktops have increased 8%, while table searches have increased 18%. Additionally, weekend search volume increased 12% – again, double that of weekday volume growth. Retailers should reconsider how and when they advertise, as they could be missing prime times. 
"It's really important to know that the current landscape of how consumers are searching is very, very different." -Milton Reis, Microsoft Advertising
While all marketing budgets are taking a hit during the pandemic, search is projected to take the smallest hit as consumers are increasingly at home and on some sort of internet-connected device. However, multitouch positions across display ads, television ads, and out-of-home advertising are still important. A cross-channel strategy of interconnectivity between different advertising campaigns will increase brand awareness and meet consumers wherever they are.
According to Reis, search is often the last channel people reach before making a decision. It may very well be one of the best hidden investments retailers can make this holiday season.
Key Dates of the 2020 Holiday Season for Advertising
We anticipate an early start to the 2020 holiday season. While the holiday season traditionally kicks off in November, early shoppers historically begin searching in October. The month of October does not reach the heavy traffic and sales of Black Friday and Cyber Monday, but searches in October increase brand awareness and help customers decide where to spend their holiday budgets.
According to Microsoft's data, people begin hunting for Black Friday deals and sales information weeks before the actual date – start promoting your deals early to entice shoppers to visit your store on Black Friday. Cyber Monday searches generally ramp up about a week beforehand. Because the lead up to Black Friday is long, it is a peak opportunity for businesses to build brand awareness and start promoting their sales through strategic advertising. The Black Friday and Cyber Monday promotions should be cohesive; don't turn one campaign off to start the next one, but build a connection between the two. 
The peak days of the holiday season aren't just Black Friday and Cyber Monday. Microsoft compiled expected peak search dates based on last year's data where advertisers could have invested more: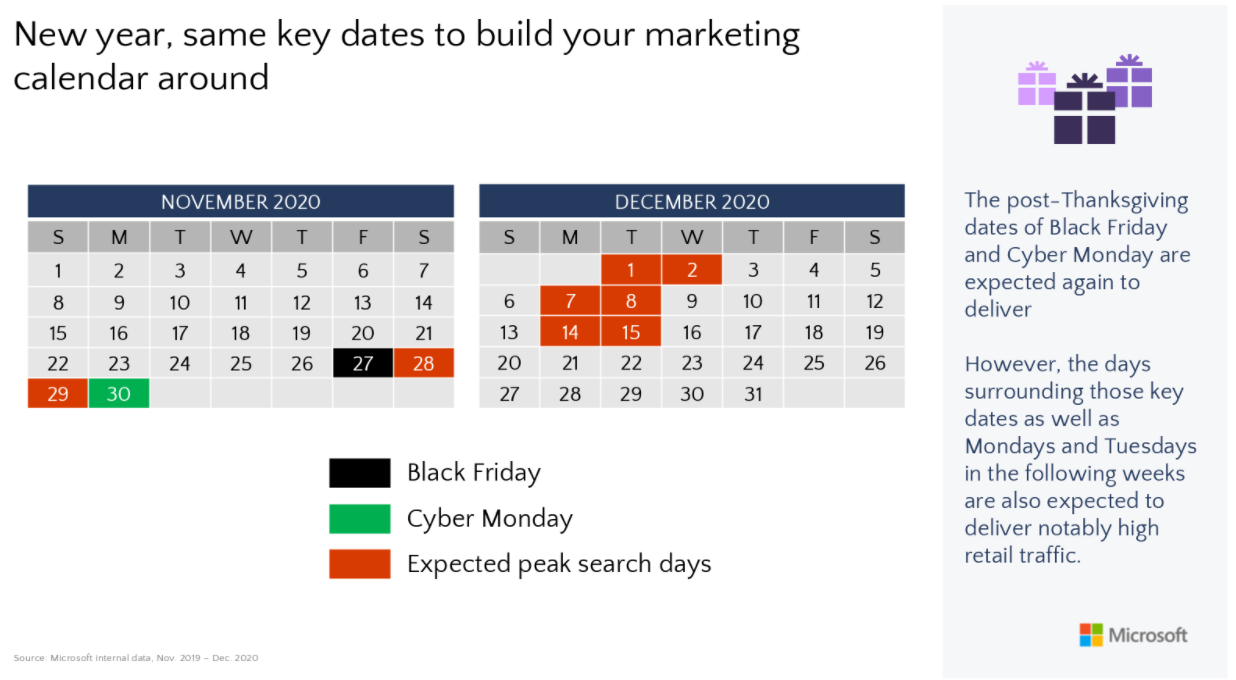 The Mondays and Tuesdays in December are valuable days to capture users post Black Friday and Cyber Monday to keep your holiday success ongoing. The time of opportunities is important, as Reis noted, "Holidays are not just Black Friday, they're not just Cyber Monday, they are a trend that happens throughout those three months."
The rising trend of BOPIS will most likely play a crucial role in this year's holiday strategy. Microsoft reports that 82% of BOPIS orders are instant converters, meaning that people want the immediacy of getting a product they see is in stock and close by. Clothing and furniture are the top items for BOPIS sales. During 2019's holiday season, almost 12% of consumers ended their shopping journey on a BOPIS page; during the first two months of the coronavirus pandemic alone, over 16% of shoppers ended on a BOPIS page. Reis said that numbers could reach 20% during the 2020 holiday season.
"We need to meet the consumer where they are, not just where we think they're going to be," Reis concluded.  
What's New in Microsoft Advertising
Microsoft Advertising offers a search and native solution that includes an audience network to improve the reach and results of each campaign. Through advancements in AI-powered solutions, Microsoft is continuously improving ad performance and efficiency. 
Microsoft Advertising helps you reach your ideal customer, leveraging information from LinkedIn profiles for a more targeted audience. The global search share reached double digits, with one out of every three searches in the United States and one in five searches across devices happening on the Bing search network. 
This holiday season, it is critical to reach new audiences. Microsoft's diverse audience network is composed of majority people under the age of 45, with 46% being married, 35% having a college degree, and an even split between men and women. 
With search playing an increasingly important role in this upcoming holiday season as consumers intend to research more and pre-plan their shopping trips, retailers need to meet consumers wherever they are.
Further Reading on Holiday Insights