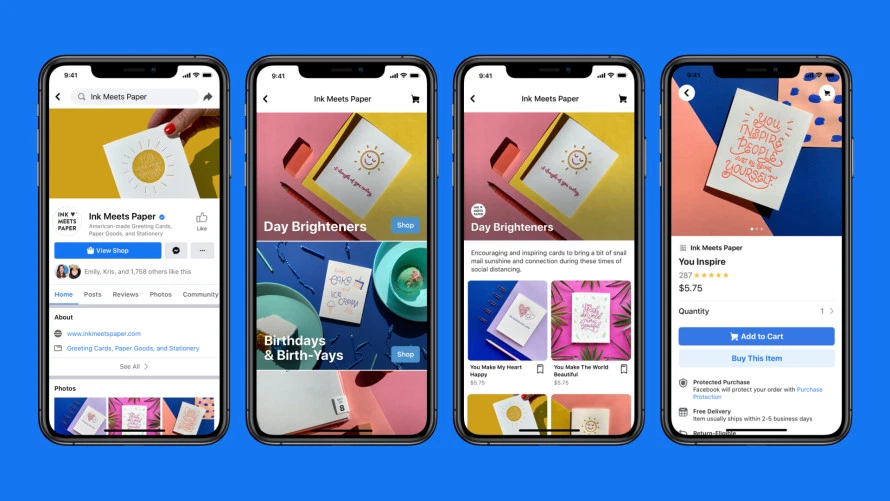 According to May 2020 data from Pymnts.com, 66.4% of US small/medium business (SMB) owners said they will rely on e-commerce more after the coronavirus pandemic. As SMBs worldwide rush to get their business online, Facebook wants to grab a large piece of the pie in this "new" e-commerce world. Facebook launches Facebook Shops as an online business solution.
In what appears to be a major shift to enable social commerce and amplify the power of social platforms for simplified shopping experiences, Facebook and Instagram rolled out Shops earlier this week. The challenging economic climate is forcing businesses to rethink and innovate ways to go digital. Facebook couldn't have launched this new digital distribution point at a better time. Over 1 million businesses have already signed up for Shops within 48 hours of the launch!
Quick Facts of Facebook Shops:
Businesses will be able to create a Facebook Shop for free, but will pay a "small fee" on each transaction. The Shop can be discovered by customers through ads, stories, Marketplace, or photos tagged on social feeds.

The closest parallel we can draw to the Facebook Shop is an Amazon Brand Store that offers a complete brand experience outside of the business's actual website. 

Facebook will be working with partners like Shopify, BigCommerce, WooCommerce, ChannelAdvisor, CedCommerce, Cafe24, Tienda Nube and Feedonomics to give small businesses the support they need.

Any seller, irrespective of their size or budget, can move their business online and engage with new and existing customers in a fun social ecosystem.
Our Thoughts On This Launch:
This new digital storefront is here to stay and will benefit from the impact it has for businesses who have been hit hard due to the pandemic. While key stakeholders such as banks have extended small business loans, this announcement has the potential to revive small businesses in an unprecedented way by creating demand in an otherwise cautious spending environment. 
Facebook is looking at major social dominance as it will now have access to shopper insights from millions of users. Brands could benefit from integrated payment options, selling through live video from creators, and offering customers the option to connect their loyalty programs to their social accounts. Influencers will become an integral part of this arrangement as they can drive their followers directly to the Shops on Facebook and Instagram.
As Facebook continues to expand and add focus on SMBs, NetElixir is here to help. We have been partnering with retailers for over 16 years and are prepared to provide guidance, insights and more.  NetElixir is a Facebook marketing partner and a Feedonomics partner, and our team is ready to get your retail business started with Facebook Shops.