"In God we trust. All others must bring data." — W. Edwards Deming
In today's context and to thrive in the digital landscape, businesses need reliable and real-time data to continue to make strategic decisions. Tracking tools like Google Analytics, Omniture, Supermetrics, and more have funneled granular information surrounding website performance, market trends, consumer information, and more to businesses to assist in their growth journey.
Metrics like average monthly users, bounce rates, and customer demographics provide the foundation for strategic decisions. Tracking conversions, revenue attribution, and more related to the customers' journey provides a more holistic view of a brand's impact. 
While there are ample resources for tracking data, the key lies in seeing crucial data points in a more logical and cohesive way in order to glean actionable next steps. At NetElixir, we help our clients with apt data visualization through Microsoft's Power BI tool for better representation and smarter decision-making. 
How Does Power BI Empower Our Clients?
Depicting Trends and Anomalies
Detecting data trends is a crucial step to identifying opportunities as well as anomalies. A critical assessment of both data gaps and opportunities allows a brand to correct their mistakes, test something new, and learn how they can best grow and evolve. 
In a simple example, the below graph depicts an increase in revenue in the months of May and June, whereas the order numbers had a dip in the month of June specifically:

This may indicate the fact that the average order value in the month of June exceeded that of May; hence, a further look into what products were bought, what promotions were running, and more will illuminate potential strategies. Even though the transaction numbers dipped, the revenue contribution was almost the same —maybe a new product launched that customers swarmed to buy or maybe a higher free shipping threshold rounded out carts. 
In the day-to-day maintenance of the brand, looking at isolated pieces of data is important to understanding key metrics. However, cross-analyzing data between departments is crucial to creating sustainable long-term plans and understanding how different business facets work together to achieve end goals. Executives managing thousands of observations and multi-dimensional data bits need a more sophisticated way to detect and analyze all these data points and their intersections — here is where NetElixir's Power BI dashboard can greatly empower brands in their trend analysis.
Actionable Insights For Better Decision Making
Data-driven decision making leads to new business opportunities, a stricter control over branding, and more sustainable growth. When we analyze accessible visual data, we see an overview of a brand's core activities and omnichannel impact. 
For example, in our work with a B2B brand that supplies health care equipment, we harnessed the power of consumer data to optimize their omnichannel growth strategy. Diving into their product data across channels, we saw some products perform better on Amazon compared to Google search. Rather than pulling the product from ads completely, we picked the top-performing products for each channel for new marketing campaigns that worked in tandem to further the brand's end goal of increasing revenue.
A cohesive dashboard provides a better vantage point to notice trends and new market opportunities. 
Individual And Integrated Dashboards
By using Power BI, we can share a full-fledged e-commerce dashboard that combines multi-channel data points to share unique insights into overall marketing performance. We also have a Power BI dashboard for individual verticals like SEO, paid social, and search. 
Below is a demo of what one of our paid search dashboards looks like: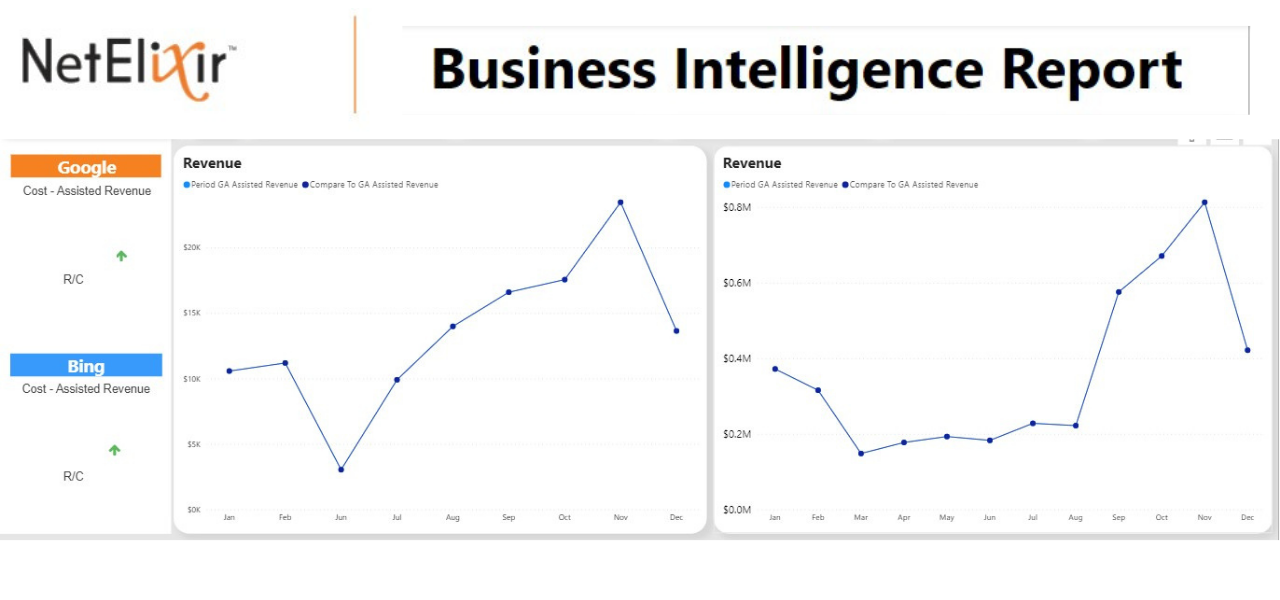 We can easily compare performance between various platforms and assess how to best allocate resources to make the most of your ad budget. In the above graph, we can deduce the assisted revenue performance of a product in Google vis-à-vis Bing during a selected time frame. The left chart represents assisted revenue from Bing, while the right graph represents the same numbers from Google. In a similar way, we can also compare metrics like impressions, clicks, orders, CPC, and cost. The data will dynamically appear within your dashboard. 
Our integrated dashboard shares the breakdown of which channels drive the greatest revenue percentage for your brand, as seen below: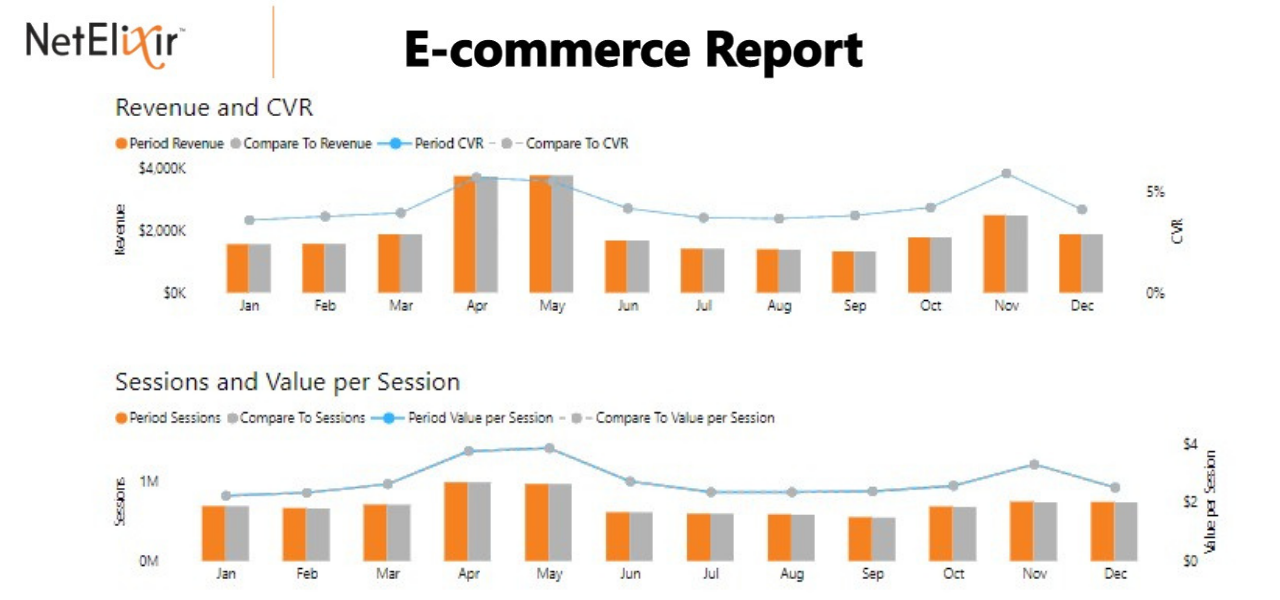 In the above illustration, the first graph depicts conversion rate and revenue trajectory, while the second one portrays sessions and value per session within a selected time period. We can analyze the data further by selecting specific dates and various channels like direct, organic, or referral and further segment the results by devices. Upon selection, the data changes dynamically and helps you get the desired output within seconds.
Learn which investments are contributing the most to your brand's growth so you can optimize your holistic strategy.
NetElixir's Recommended Next Steps
While we take pride in being able to share actionable and intuitive insights with the help of our owned customized dashboards, the NetElixir Power BI team is also keen to explore further opportunities.
Our Power BI solution is part of our analytics package that helps you get the most out of your website. Our goal is to assist clients with custom reporting in BI basis their requirements. If you have any questions or want to make the most out of your data, feel free to reach out to us!
Further Reading
Written by Ragamalika Chekuri, SEO Analyst and Antara Chaudhuri, Sr. Client Ops Manager