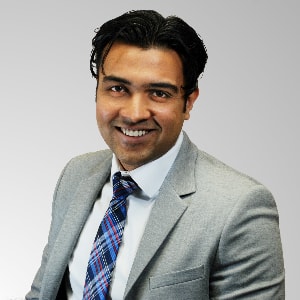 If you've been following NetElixir's Employee Spotlight series closely, you've noticed that our team is made up of smart, energetic individuals. They're also people with unique interests who are capable of bringing their individual quirks to the table when servicing our clients. For this edition, we're getting to know a little more about Tauseef, our Director of Digital Marketing. He happens to identify with a particular private detective. Read on to find out who!
Tauseef has been with NetElixir for five years and counting! Fun fact – he has gone skydiving and is great at solving Rubik's cubes. He says doing these activities at the same time would be fun but he hasn't tried it…yet!
YOU TRANSITIONED FROM THE HYDERABAD OFFICE TO THE PRINCETON OFFICE. HOW WAS THAT TRANSITION?
"It was a pretty smooth transition," Tauseef said. "At the end of the day, NetElixir is one, big family and we have a really strong culture of supporting each other. I'm blessed and thankful for all of my colleagues in the Princeton office for making it really smooth and easy for me. Culturally, it was a big shift. I have had a great journey so far but every day is still a learning opportunity."
Learn more about Tauseef in the video interview or full transcript below:
Q: WHAT DO YOU LIKE ABOUT WORKING AT NETELIXIR?
A:  I think working at NetElixir gives me the opportunity to have a real-world impact on retailers. It gives me an opportunity to understand the nuances of multiple markets and industries, which is a learning like no other.
Q: WHAT IS THE MOST IMPORTANT QUALITY NEEDED FOR SUCCESS?
A: Firstly, understanding the concept of success. Success is not a milestone. It is a journey. It is a day-in and day-out experience. I think the most important things are being able to learn, the willingness to learn new things, and being able to adapt to new opportunities.
Q: IF YOU WERE A FICTIONAL CHARACTER, WHO WOULD BEST REPRESENT YOU?
A: Mr. Sherlock Holmes. He tries to find the truth at all costs and the thing I associate most with me (and I'm sure my wife would agree) is I'm not a very orderly person so I don't really care about the methods but there's always a method to my madness.
Q: IF YOU COULD HAVE DINNER WITH ANY 3 PEOPLE (DEAD, ALIVE, REAL, OR FICTIONAL) – WHO WOULD THEY BE?
A: Mr. Sherlock Holmes would be number one and Mr. Hercule Poirot would be the second. They have the zeal to define and arrive at the final truth and both of them have their own very contrasting methods. So when Arthur Conan Doyle made Sherlock Holmes and when Ms. Agatha Christie made Hercule Poirot, it was a conscious act of keeping them with a separate personality. It would give me an opportunity to learn the differences in traits while also going in the right direction of the pursuit of truth. The third would probably be personal. It would most likely be family–my wife and my daughter. I would love to have dinner with them any given day.
Q: TELL US ABOUT ONE OF YOUR BEST DAYS AS DIRECTOR OF DIGITAL MARKETING.
A: It's always great when you hear some stories of real-time impact you've been able to make on retailers. One such incident was a client coming back to me and saying, "Hey Tauseef, you know what? Because of a promotional event, we had to hire additional hands on board. We usually hire them for the holiday season. We keep them on staff for eight weeks and then we let them go. But, thanks to you and your team the volume of sales has gone up so dramatically that we have now made them permanent employees." Knowing that we made an impact on at least at least four lives on that given day was nothing like ever before. It is definitely one of the happiest days I've seen in this role.
Do you have a passion for helping retailers grow their businesses? Join our team to make an incredible impact like Tauseef has! Find out how at netelixir.com/careers.