Search engine optimization is a tactic that is constantly evolving. Google is continually updating its algorithm and how it processes queries, so it is essential that your SEO strategy is always up-to-date to stay competitive.
As we move into the new year, it's important to stay ahead of the curve and be aware of the latest trends in the SEO industry. Make sure you consider these 2023 SEO trends to find success in the new year.
The Most Emergent Factors in SEO For 2023
Core Web Vitals
Focus on Core Web Vitals to improve user navigation. Google continually emphasizes the importance of the user experience and prioritizes websites that consider the end user.
If users have a negative experience on your website, your site rankings will suffer. One key component of delivering a positive user experience is page speed. If a page takes over three seconds to load, more than 53% of users will abandon it, leading to an increase in your bounce rate. There are a set of metrics that measure your page load speed from the user's perspective. The three key aspects of the user experience, loading, interactivity, and visual stability, will be a big focus for 2023:
Largest Contentful Paint (LCP)
This tracks the time it takes to render the largest content element visible in the view port, from when the user first requests the URL. The largest element is typically an image or video, or perhaps a large block-level text element. This is important because it tells the reader that the URL is actually loading. To provide a good user experience, LCP should occur within 2.5 seconds of when the page first starts loading.

First Input Delay (FID)
This is the time from when a user first interacts with your page (when they clicked a link, tap on a button, and so on) to the time when the browser responds to that interaction. This measurement is taken from whatever interactive element that the user first clicks. This is important on pages where the user needs to do something because this is when the page has become interactive. To provide a good user experience, pages should have an FID of 100 milliseconds or less.

Cumulative Layout Shift (CLS)
The amount that the page layout shifts during the loading phase. The score is rated from 0–1, where zero means no shifting and 1 means the most shifting. This is important because having page elements shift while a user is trying to interact with it is a bad user experience. To provide a good user experience, pages should maintain a CLS of 0.1. or less.

Reinforcing E-A-T signals
E-A-T is a key quality indicator that shows a page is a high quality and useful. E-A-T stands for expertise, authoritativeness, and trustworthiness – the three primary factors that Google uses to determine the quality of a page. Google's Search Quality Rater Guidelines have repeatedly emphasized the importance of boosting your E-A-T signals that were relevant to your website. This can be done through social proof, customer testimonials, links to authoritative sites, expertise, badges, and much more.
According to their guidelines, content should be:
Helpful to users.
Created by an expert.
Posted on an authoritative site.
Trustworthy.
Updated regularly.
Video Marketing 
Google Search is a starting point for people to discover and watch videos. By marking up your video with a video object, Google provides explicit information such as the description, thumbnail URL, upload date, and duration and can then better show it to the appropriate user. Videos can appear in Google Search results, video search results, and Google Discover, thus increasing its reach across Google's inventory.
Video marketing also allows you to improve your SEO content to fit the standards set by search engines, and improve your chances of ranking at the top. Furthermore, Google has implemented features to help users find information more quickly through videos.
In particular, when creating videos for your marketing strategy, keep in mind these features:
Clip markup: Clip markup enables you to highlight key points of your video so that users can hop straight to those parts. If you had a video containing tips, for example, you could create a markup for each tip.
Seek markup: Seek markup tells Google how your URL structure works. This information is critical because it allows Google to display the key moments of your video automatically. It enables Google to link within a specific point in your video.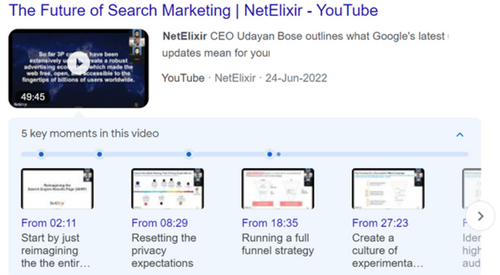 Structured Data
Within the realm of SEO, structured data is organized and labeled with particular groups of text that assist search engines in understanding how to interpret and display the content. Not only does structured data provide information about a page, but it also classifies its content. This is a significant way to prepare for the future of search, as Google and other engines are continually personalizing the user experience and answering questions directly on their SERPs. Consequently, this leads to more user attention and CTRs. Furthermore, it aids a site's domain authority in a niche while leaving a positive impression on audiences.
Voice Search
Voice search is another area that is seeing rapid growth, especially amid the rising popularity of voice-activated assistants like Amazon Alexa and Google Home. As more and more people use voice search to find information online, businesses will need to adjust their SEO strategies to ensure these users are finding their content.
Mobile SEO
Given that over 65% of Google searches are now conducted on mobile devices, it is not surprising that the search engine is prioritizing mobile-optimized content in its results. This shift to mobile-first indexing is liable to cause a big shake-up in the SEO world in the next year, as businesses make sure their websites and content are optimized for mobile users.
Mobile-first content also means offering mobile-friendly payment options (such as Apple Pay and Google Pay) and making checkout a breeze. So, by optimizing for mobile devices, you will help provide a positive experience that enables you to rank better in search results and complete a conversion.
SERP Features
SERP features are important because they help your website stand out on the search results page. If you have a SERP feature that is relevant to the user's query, it can help you attract more clicks and traffic to your website. 
Snippets are the different elements that appear on a Google search results page. These can include things like organic listings, paid ads, and rich results. It can vary depending on the query, and some features are only triggered for certain types of searches. If your page offers valuable information that people frequently search for, you're probably eligible for a featured snippet.
Google Discovery
Discover is essential to SEO since it is such a large part of Google Search that allows users to stay current on topics relevant to them. Discover shows not only new content, but top article posts regardless of their publication date. Any business' content strategy is not complete without Discover since its reporting feature in Search Console provides brands with valuable performance data for their content. Having this information can help businesses improve their content, rank better in search engines, and increase the likelihood of appearing in Google Discover. The best way to optimize Google Discover is to continue producing user-centric content.
AI and machine learning are areas that are expected to make big waves in the coming year.
NetElixir's SEO Team Is Here To Help
At NetElixir, we are always striving to help our clients stay ahead of the curve when it comes to their e-commerce brand. That is why we offer SEO services to help improve your website and increase your chances for success. Our team of experts can provide you with custom insights and suggestions to help you get the most out of your website. If you have any questions, please don't hesitate to contact us at growth@netelixir.com. We would be more than happy to help you boost your e-commerce website's success.
Further Reading