When it comes to digital marketing, first appearances do matter. Getting a customer acquainted with your brand often starts with visuals — a cool logo, clear product images, candid team photos, and compelling designs. Designing a cohesive brand identity across every marketing channel, from your website to social posts to ads to emails, takes dedication and commitment, but pays off. A consistent brand identity better connects you to a customer, makes you more easily recognizable across the digital landscape, and differentiates you from your competitors.
2020 brought a swarm of new-to-online shoppers to the e-commerce landscape. They found your brand through the usual marketing channels, but did you make yourself memorable? Design is part of how you make your brand unforgettable and help ensure customers return to you again and again.
Importance of Consistent Branding
Your brand is the idea, image, and feelings that people have in mind when they think about you as a company. If your messaging about your company is not consistent across your different channels, it will confuse your customers. They won't have a clear idea about what your company stands for — and will likely turn to a competitor whose values they can understand and relate to more. Consistent messaging makes it easy for people to make associations. Those associations help customers remember the brand and what it stands for because you are more than just your products. Your brand is your entire experience, from online search to purchase to delivery experience
With online sales expected to increase by 6% this holiday season, making your brand memorable is crucial to capturing customer interest. The pandemic created new shopper personas and these shoppers are looking for brands that they resonate with on a personal level. Your brand identity humanizes your company and helps you make a connection that can last throughout this holiday season and beyond.
How To Build a Brand Identity
When creating your visual brand identity, keep in mind font, color palette, and tone. Consistent fonts and colors will make your brand recognizable across platforms and provide a cohesive brand style guideline for any designs you create. In regards to tone, consider how you want customers to feel when they see any branded imagery, from ads to your website to your logo.
As a whole, consider your target audience and what might resonate with them. However, stay true to your brand's personality and values, as an authentic brand presence is important in cultivating brand trust and loyalty. 
When designing creative assets to complement and promote your brand, start with identifying and understanding the marketing objective, target audience, and what motivates that target audience to make their decision. From a creative perspective, think about ways to connect with the target audience in an interesting or emotional way. Play on the range of human emotions, as appropriate within the scores of your goal, by making them laugh, entertaining them with something that makes them smile, or encouraging them to think or wonder more deeply about something. 
Take inspiration from wherever you can: movies, research, books, real life, music, art — really, from anywhere. Part of your brand identity is associations people make and if you can control some of those associations with pointed references or homages, then you have a better sense of what makes people relate to your brand. Once a marketer understands the objective and insights, we need to start putting ourselves in the target customer's shoes and looking for things that will connect with them. You want to make your customers feel good, not just with the product they are purchasing, but with the brand they are supporting.
Tips for Developing Your Holiday Designs
When creating your ad graphics, keep in mind the following tips:
Consider negative/white space.

Balance your messaging hierarchy.

Keep your story, ad, and layout simple and focused. 
As digital ad spend rose nearly 15% in 2020, according to eMarketer, it is important to create branded and compelling imagery to make your graphics stand out. The best way to stand out is to consider what your competition is doing, and then do something different, making sure to stay true to your brand values and mission. As we know, gifting comes with a lot of emotion, so finding a way to connect emotionally with your customers is powerful, if executed properly. In these times of uncertainty, nostalgia in marketing is bringing people a sense of comfort and ease. Leverage the positive emotions inspired by the holiday season to connect with and captivate your audience.
To get a better sense of what makes your customers click, run some simple A/B tests in your designs. Try running variations of:
Background color (i.e., lighter or darker shade)

Price points (i.e., comparing a specific monetary amount like $50 off to a percentage of 10% off)

Offer location (i.e., in-store, online, or mobile)

CTA placement (i.e., middle or bottom of ad)

Button color (i.e., fully colored in or just outlined)
Test results usually take about two to four weeks to complete, so running tests now can better inform your Black Friday and Cyber Monday promotions. Even a marginal improvement in ad CTR can improve your ROI and holiday sales. These insights will also help your post-holiday promotions. 
Customized Designs For Your Brand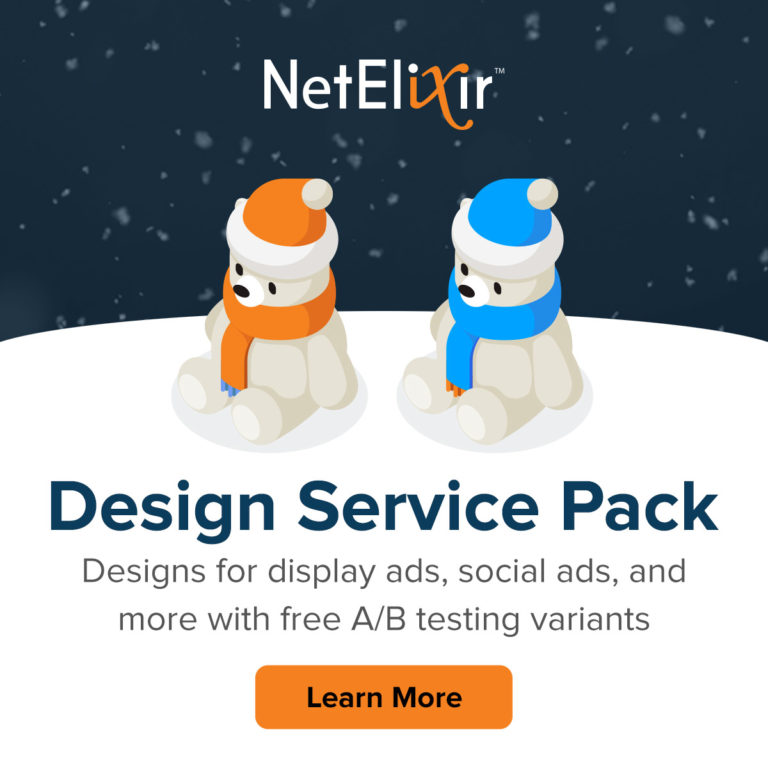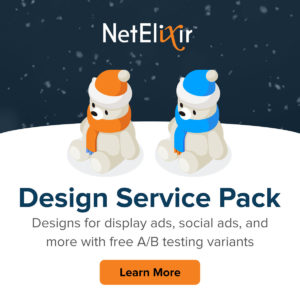 Give your ads a little extra love this holiday season by employing NetElixir's expert design team to save you time. During our limited-time offer, we'll design branded ad graphics for Facebook and Display ads (with up to 5 size variations included). Our Holiday Design Pack is perfect for:
Driving more conversions with visually compelling and branded ad imagery

Repurposing an ad across platforms

Freeing up your designers by letting our experts bring your ideas to life
We'll share these assets in less than one week, so you can kick your holiday promotions into high gear. All NetElixir designs include free A/B testing so you can better understand what makes your customers click.
Further Reading