Thank you for attending Day 2 of our #AnalyticsWeek webinar series! In today's presentation, Marlena Laszkowska, Product Specialist at Google, presented a comprehensive overview of the Universal Analytics platform, as well as some of the key benefits of implementing it for your website. This presentation covers some of the unique features that Universal Analytics offers that the standard Google Analytics does not, with a focus on the benefits of usings unique user ids to track and analyze your customers better than ever before.
Make sure you don't miss Day 3 of #AnalyticsWeek, as two leading e-commerce specialists cover retail analytics hacks you can use for your analytics reporting for your business!
Day 2 Q&A
1. How do you recommend an account approach the migration process from ga.js to analytics.js so that they keep their historical data and minimize an interruption in their analytics data collection?
2. We have looked into upgrading to Universal Analytics and have been told that we should consider using Google Tag Manager as well.  Should we install one before the other, pursue the implementation simultaneously?  What do you recommend?
A: We're putting these two questions together, as they both relate to upgrading to Universal Analytics in the best way possible. For those of you who are not using some kind of tag management system already, we definitely recommend implementing Google Tag Manager or some other tag management tool before you upgrade to Universal Analytics for two reasons:
The general benefits of a tag management system – page load speed improvement, ease of adding, modifying tags, etc.  Check out this Google case study for more information on how it can help your site! http://services.google.com/fh/files/blogs/gtm-casestudy-raileurope.pdf
Tag management makes the upgrade process to Universal Analytics much easier.
Once you have your tag manager of choice installed with all of your current tracking tags working correctly, you can then tackle the UA upgrade. Here is Google's reference on upgrading to UA via Google Tag Manager: https://developers.google.com/analytics/devguides/collection/upgrade/reference/gtm.
We recommend the approach of using a 2nd Google Analytics account during the development process so that you can have both your UA tag and your old classic GA tag firing simultaneously into 2 different accounts.  That way you can verify that the UA tag is working correctly by comparing the numbers in both accounts.
Once you have verified that your data is collecting correctly, all you need to do is transfer the property which has all of your historical data to UA, then remove your old classic GA tag from your tag manager container script and change the account number in the UA tag to your current account number. Then when you publish the revised container script, the data from the UA tag will be passed to the same account as your historical data for a near seamless transition.
3. When will Google be dropping support for the old version of Google Analytics?
A: Although no date has been set publicly, Marlena mentioned that if history is any indicator, the current classic ga.js script will probably be supported for another couple of years. That said, it is important for those of you using the ga. js script or even the old urchin script to understand that all of the new capabilities such as the User ID and Enhanced Ecommerce features highlighted by Marlena require Universal Analytics and all future enhancements will do likewise.  For example, Google will be adding a Lifetime Value Report to GA in the upcoming future.  That report will only be available to users of Universal Analytics.
4. If I was going to show my company's CEO one feature of Universal Analytics in order to get the budget I need to do the upgrade, which feature should I pick to show him?  
A: The answer to this really depends upon the nature of your business. If you are an online retailer selling tangible products, then we recommend you show your CEO the Enhanced Ecommerce reporting capabilities.  It is a fairly simply code modification to enable those reports, much less complicated than enabling the User ID feature, and the enhanced granularity you get on shopping behavior, product performance, and the merchandising of your site is extremely powerful. Here is a good blog on Enhanced Ecommerce.
On the other hand, if your business is service-oriented or if the primary demand generation activity for your website is lead generation and not actually driving commerce transactions, we would recommend you show the User ID feature.  Although it is more involved to implement, the ability to track the behavior of a known audience as well as the cross-device tracking capabilities are extremely powerful, especially if your business depends on repeat business or has a longer sales cycle.  With User ID, you can track behavior of past customers so that you can know when past customers have visited your site and taken some kind of conversion action or not.  Likewise, you can also track prospects' activities.
For example, with User ID, you could generate reports that show you what companies have visited your site as well as the individuals from those companies that visited your site.  You can then incorporate that information into either a nurturing campaign or have your sales force do some outbound calling. Here is a relevant quote from this case study.
 "If you're running a business based on user logins, I can't think of any reason to not implement cross-device tracking – the additional insights you get are huge." – Dr. Valentin Schellhaas, CMO, Westwing GmbH
Finally, if you are a brick and mortar retailer, the feature we recommend you show is the ability to include offline data into your GA view For example, you can import loyalty card data so that you can track offline transactions as well as online transactions.  Here is a great post outlining the concept of incorporating scanner data and foot traffic data into your GA account (Warning: this post is very geeky).
5. Do you have any examples where a company was able to point a financial gain to how they upgraded their analytics?
Marlena presented an example where a French upmarket retailer used the User ID feature with cross-device tracking to identify their most profitable user segments. They most profitable user segment happened to be multi-device browsers, who generated over 300% more revenue per user than the average user!  A complete list of Google Analytics success stories is available here.
6. Can we use link clicks to capture User ID?  Other than login authentications, what are some other ways to identify users for the unique User ID feature?
A: Inbound link clicks can be used to capture User ID if they are links that you control and they contain some kind of identifier parameter.  For example, many email service providers or marketing automation platforms have the ability to add a unique identifier to all links contained in an email campaign.   You'll need code on your site that parses that parameter and passes it with your tracking code info.
Other ways you could identify a user on your site are:
Any kind of form where an email address is required. For example, if you have an email sign up form, a contact form, a support center, or a blog where you require users to identify themselves, you could do a lookup on the email record to see if it matches your CRM data and assign a User ID accordingly.
Your checkout process. You can capture people's information as they enter it even if they abandon their cart. Like above, you can do a look up to see if you have them in your database already.
7. I don't see this 'User-ID' thing or 'Cross Device' in my GA account. How can I add these sections?
A: You must be using Universal Analytics to use these features.  In order to use User ID and Cross Device tracking, you have to:
Enable the User ID feature in your account
Set up a User ID View
Add the appropriate code to your site
Check out these articles in the help center for more detailed instructions:
https://support.google.com/analytics/answer/3123666 – How to set up User ID
https://support.google.com/analytics/answer/3123669 – More about User ID Views
Here is screen shot of the User ID Setup Screen in GA: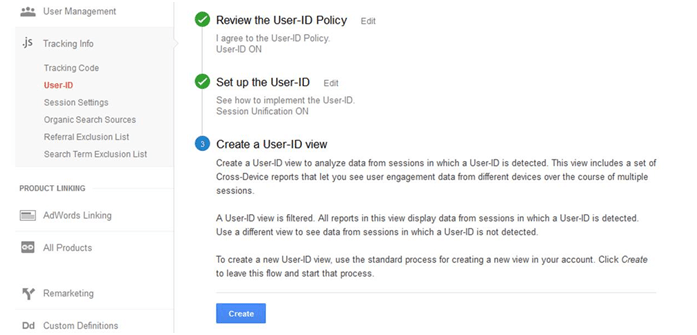 8. Is there a cost for Universal Analytics?
A: There is no cost to upgrade your current free version of GA to UA.  The only cost you will incur is the development effort to change the tags on your site and to implement a tag management system, if you decide to do so.  Google Tag Manager itself is free as well.
9. What kind of testing does UA help with? 
There are a number of features available in UA that increase your testing capabilities.  For example, UA's referral exclusion feature lets you add domains that will be excluded from being categorized as a referral. A common example of that feature is to exclude paypal.com as a referral, so that you can see the traffic source for users who check out via PayPal.
From a testing viewpoint, many advertisers, particularly those using TV to drive site traffic, use vanity domain names to track the response to their TV ads.  One challenge with that method using the old GA tracking is that when a user clicks from the vanity domain to your regular site, you lose visibility to how the user arrived at the vanity domain.  Referral exclusions attribute the referral from the vanity domain to your site to the source/medium that drove the user to the vanity domain in the first place.
Another application where testing becomes easier with UA is call tracking.  There are a number of services that can put customized phone numbers on your web pages so that you can tie inbound calls to the web traffic source that drove the user to the page where the number was displayed.  In UA, it is easier to view the call data and the landing page data at the same time, which makes it easier to do A/B testing of landing pages or landing page designs.  Here is a blog from one of these inbound call tracking services that covers this in more detail.
Here is a view of a report from dialogtech.com that shows visits and phone call data in the same report: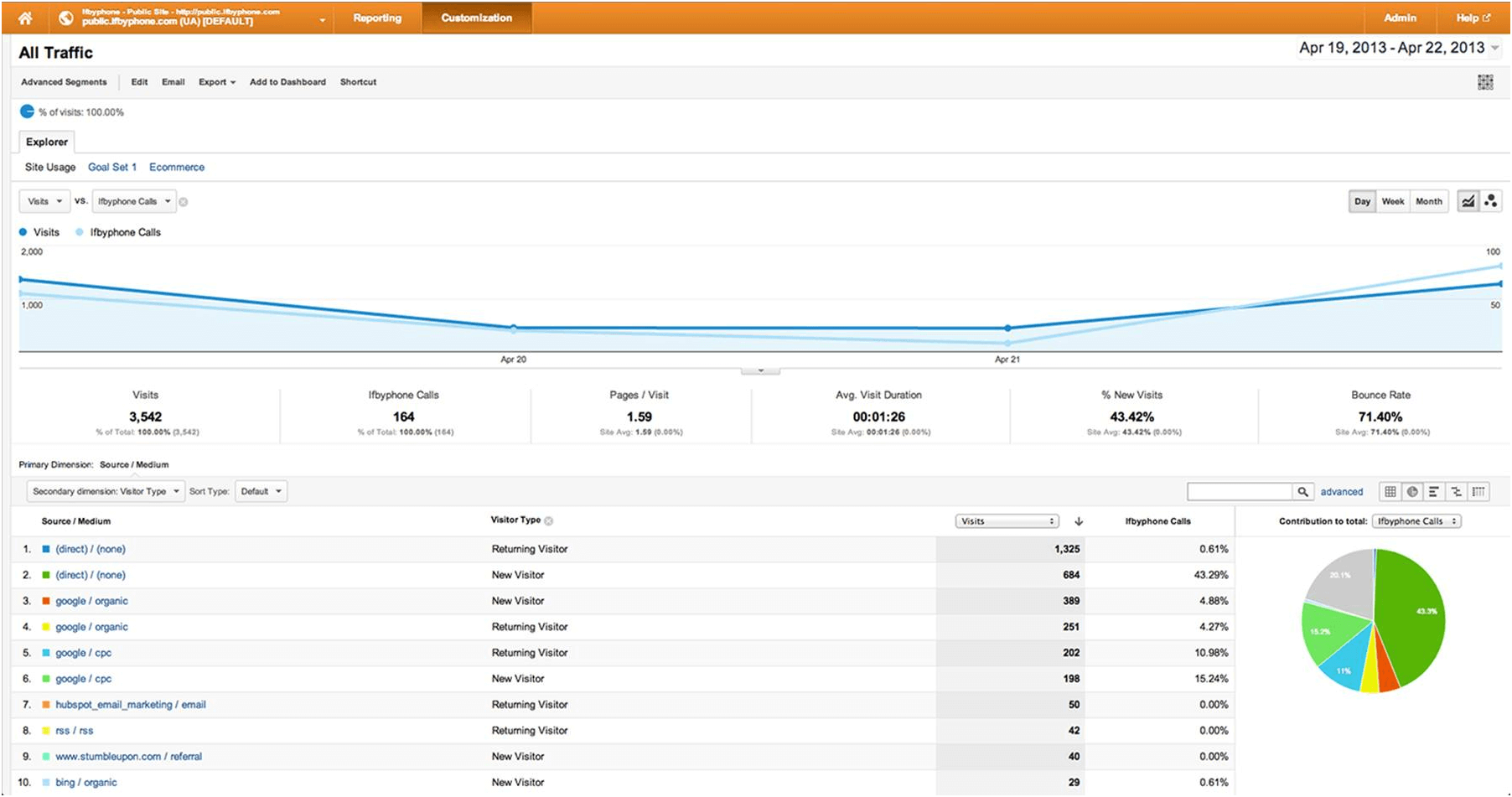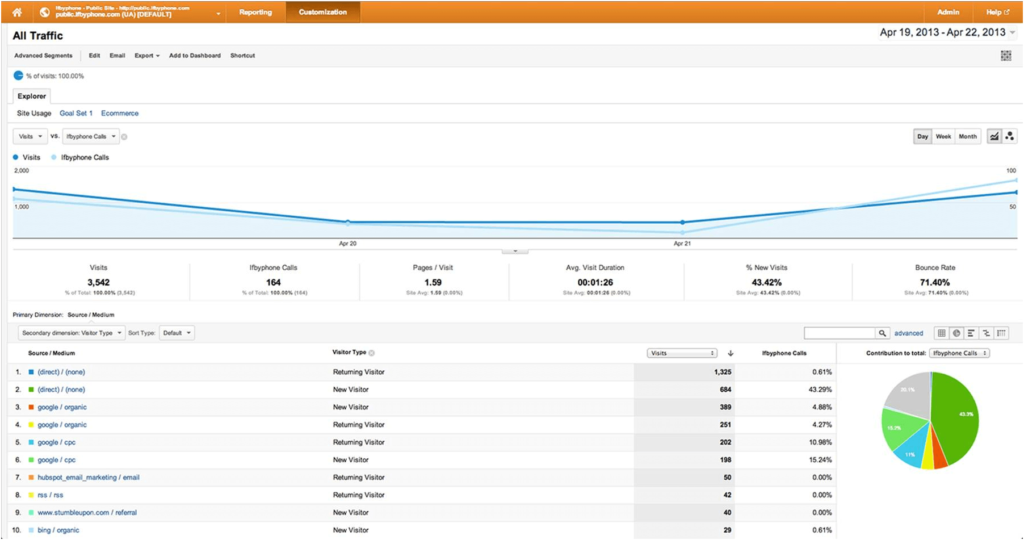 10. By the way, can you define Universal Analytics?
A: In a nutshell, Universal Analytics is the next generation of Google Analytics.  It is the first step in Google's migration towards a user-centric view of analytics from the legacy session-centric view.
For more information on UA, here is a good overview of the changes.