NetElixir looks at the Cyber 5 weekend – from Thanksgiving Day to Cyber Monday – by the numbers to analyze the eCommerce trends and online shopping behaviors to forecast how this data could impact the remainder of the holiday season. While there is a lot of data to unpack regarding this year's Cyber 5 results, NetElixir found eCommerce sales in America grew by over 25% YoY. 
This is NetElixir's 16th holiday season – and it has been one of the most difficult holiday seasons to prepare and forecast for. Cyber 5 2020, as with everything else this year, has been unlike anything we have experienced. While the final online sales for November fell short of our initial prediction of 45% YoY growth, we still saw some incredible turnout and record-breaking stats within our dataset. 
13th Annual Cyber 5 Report
For our 13th annual Cyber 5 report, NetElixir's Retail Intelligence Lab captured the hourly data across each day from Thanksgiving to Cyber Monday and compared sales volume, average order value (AOV), conversions, and more to 2019's data. We captured data separately for new product sales, as well as for mobile devices and desktops across 6 retail categories to see how, when, and where customers were searching, shopping, and buying. All told, we analyzed about 50 million sessions across this five day period. (This granular data is made possible through our customer proprietary tool, LXRInsights, which helps us find and engage high-value customers.)
The eCommerce sales for the western region of America grew by 34% YoY, while the northeastern region had the lowest YoY growth at 21%, as depicted in the map below: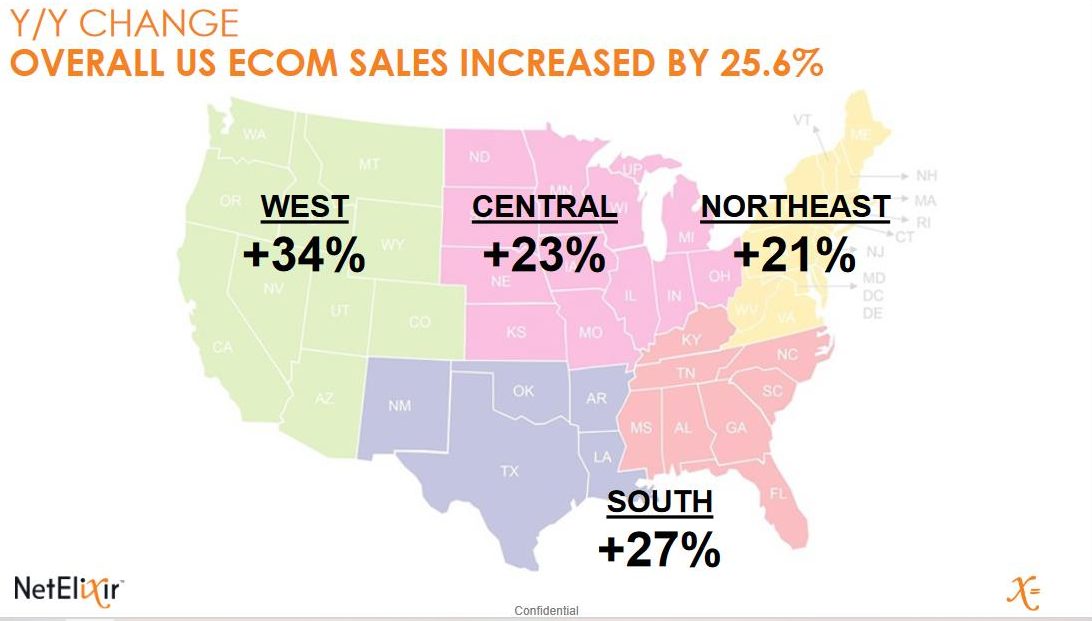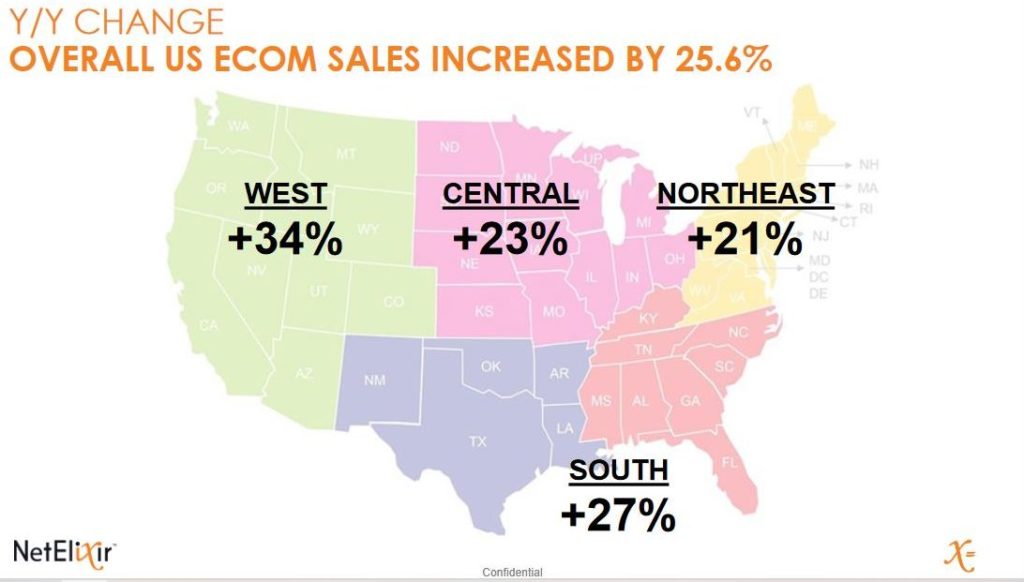 Areas in the west like California which experienced higher-than-average growth, may be due to longer lockdowns. These lockdowns, as seen during the onset of the pandemic, forced people to shop online, if they wanted to take advantage of the Cyber 5 deals. Due to the varying impact of the coronavirus pandemic across states, NetElixir looked at the state-wise data for the first time this year to see how each state navigated online shopping. New Mexico, Maine, and Alaska had the highest YoY growth at 101%, 91%, and 76%, respectively. On the flip side, the District of Columbia, West Virginia, and Hawaii had the lowest YoY growth rate at 1.2%, 0.1%, and -10.6%, respectively.
Based on the data, the ten states with the lowest growth rate within our dataset seemed to be harder hit by the pandemic, showing its continuing impact on eCommerce. Additionally, states with lower growth, like New York and Illinois, already had strong eCommerce penetration, so growth might reasonably slow as the market share is already diversified.
Day By Day Cyber 5 Results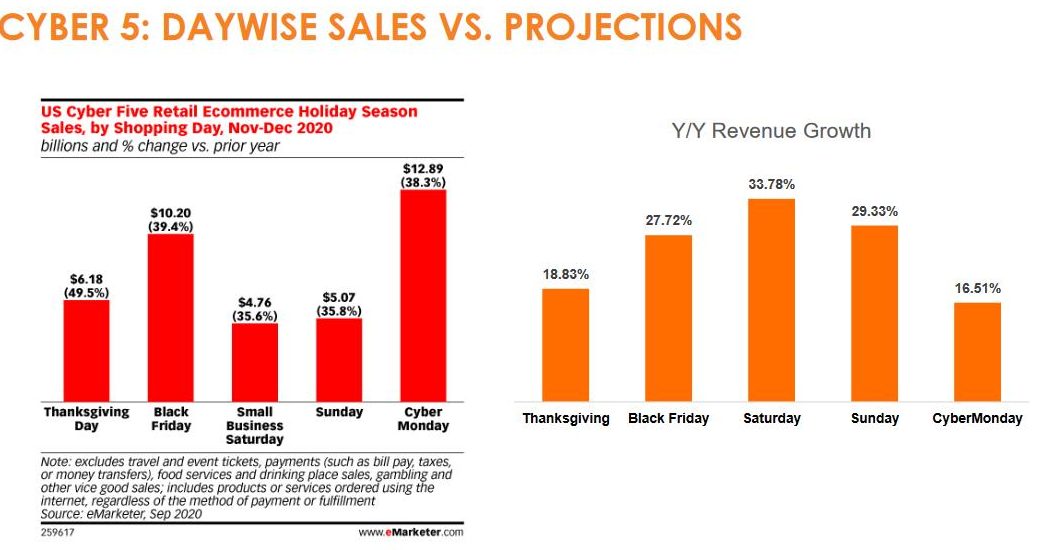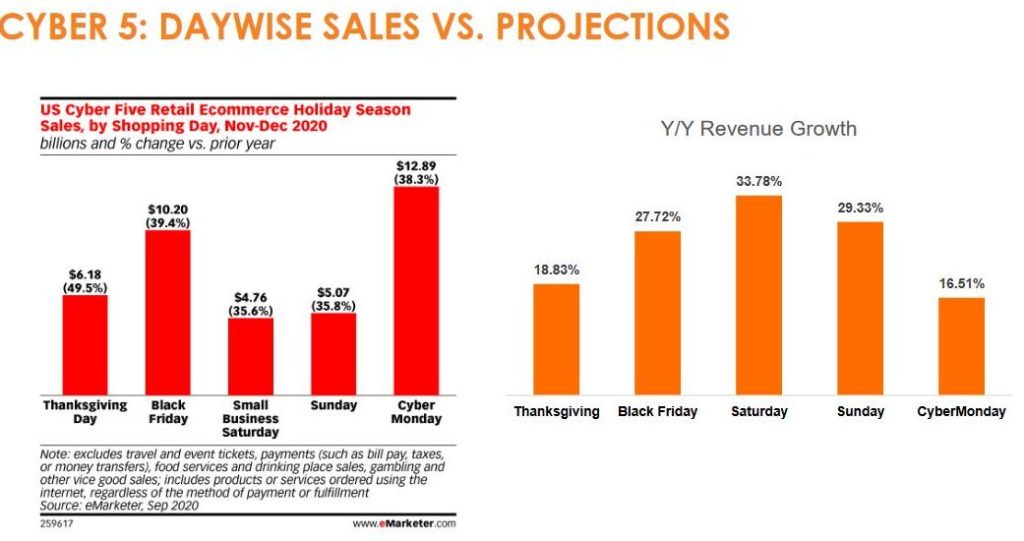 Thanksgiving
NetElixir initially predicted a 45% YoY increase in November eCommerce sales as we hypothesized that this Thanksgiving, with many stores closed and smaller celebrations, people would spend more time shopping online. This year, however, ended up being one of the slowest Thanksgiving Days we have seen – at least since Thanksgiving emerged as one of the biggest shopping days and a key component of Cyber 5 around 2013. Thanksgiving's AOV rose from about $118 in 2019 to $163 this year.
Black Friday
Black Friday also had lower-than-expected YoY eCommerce growth, as revenue grew by only 27%. Black Friday's AOV was $174, up from about $120 in 2019. 
Cyber Monday
Founder and CEO of NetElixir, Udayan Bose, admits to being disappointed with the results of Cyber Monday, which had a revenue growth of only 16%. "This is the most muted or slowest growing Cyber Monday in recent times," Bose says. Cyber Monday had the lowest YoY revenue growth out of the five days. 
Despite this low growth, however, Cyber Monday still had the largest percentage of orders and revenue across all five days. In 2019, Cyber Monday's orders accounted for 35% of all orders during Cyber 5; in 2020, Cyber Monday accounted for about 30% of all orders. Cyber Monday also had the highest AOV at $181.
The number of orders remained flat compared to last year. Despite fewer people buying this year, they were spending more on each purchase occasion, which drove up the percentage of Cyber Monday's revenue share.
The Impact of Cyber 5 Across  Retail Categories
At NetElixir, our Retail Intelligence Lab is constantly monitoring data. We wanted to see what impact Cyber 5 had on the overall November eCommerce sales. In the middle column of the chart below, we looked at the daily data from November 1-23, 2020 and compared it to the daily data of November 2-25, 2019 for the November growth rate. The right column is the data of purely Cyber 5: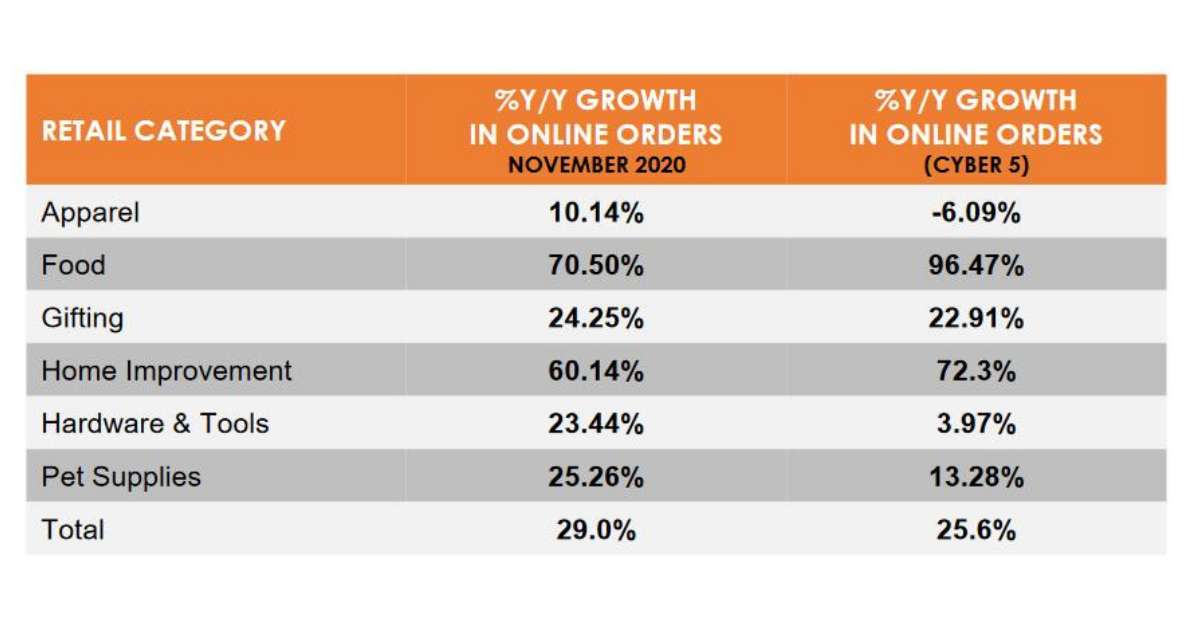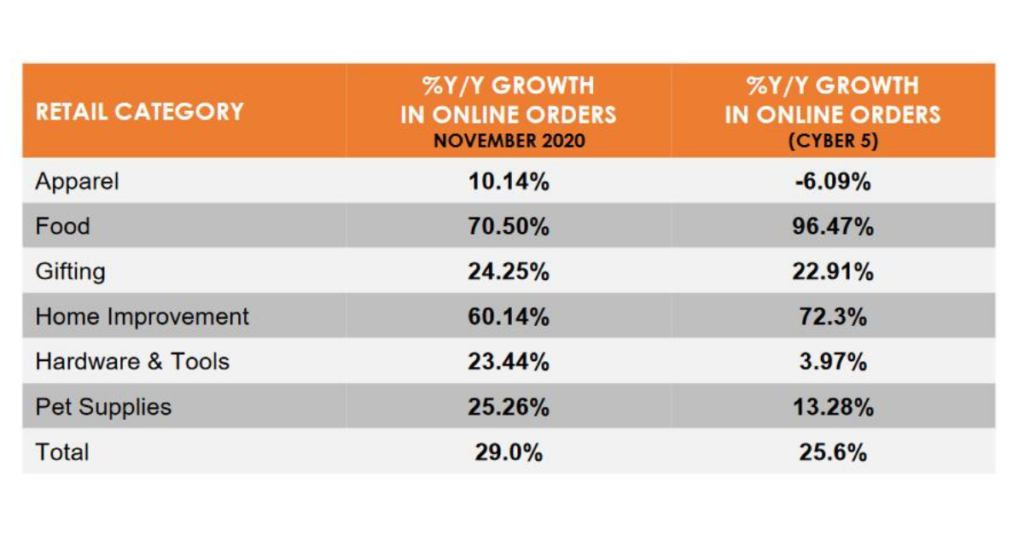 Category-wise YoY ECommerce GrowthThe Food and Grocery and Home Improvement retail categories were the only ones that experienced higher growth during Cyber 5 than the rest of the month. Overall, demand seemed to drop during Cyber 5. It seems shoppers were not as enticed by promotions as anticipated (due in part, most likely, because Cyber 5 and Black Friday deals were promoted earlier than the days itself).
The majority of orders through Cyber 5 came between noon and 6 PM (local time) at 35%. In 2019, the majority of orders came between 6 PM and midnight (local time). With more people remote working, they presumably shopped more during the day when they are already online.
In a new study by NetElixir's Retail Intelligence Lab, we analyzed the percentage of revenue that came from new products. New products are anything launched from January 1, 2020 onwards. We found:
This study sought to identify what consumers prefer and how innovative brands were this year. Unsurprisingly, 84% of the Cyber 5 revenue for the Apparel retail industry was from new products, as people want the newest looks. New product contribution for Food and Grocery is the lowest, as most people purchased staples this year. 
Innovation in products and understanding consumer preferences is key to maintaining customer loyalty. Constant innovation and new products will keep customer's interest and keep them coming back for more. The direct message that Bose pulls from this is, "Please innovate."
Emerging Consumer Shopping Trends
Based on this data, we are surmising the following online shopper trends:
Needs prevail over Wants: The pandemic has led to a shift in buying preferences towards essential product categories (such as Food and Grocery and pet supplies) and currently relevant product categories (such as Home Furnishings and Home Decor). Brands should continue to promote essential products and promptly inform customers about any shipping delays or product stockouts. The modern shopper is a lot more conscious about their purchases and maintaining their needs during this difficult time.
Shopping Fatigue: There are signs that shopping fatigue may be setting in for many categories like Apparel that experienced a Y/Y decline in both shoppers and revenue. Twitter volume for #CyberMonday was about a third of that for #BlackFriday, suggesting shoppers don't want to be bombarded with sales language and promotions (but still want promotional prices). Shopper fatigue may be attributed to the delayed Prime Day event, which boasted Black Friday-level sales and encouraged an early start to the holiday shopping season. This may have consumed a large portion of consumer's holiday budgets, leading to a lower-than-anticipated Black Friday.
The Latency Challenge: Shoppers are visiting websites more frequently and in shorter amounts of time compared to last year. Shoppers visited websites more frequently (+13% YoY) and within a shorter span of time between first visit and purchase (-7% YoY). However, fewer shoppers purchased in the non-essential categories. For example, in the beauty category, latency went down by 19% (204 to 166 minutes between first website visit and purchase). Shoppers are buying more quickly than last year, but conducting more research before because we are spending more time online due to increased remote working. Bose sees the higher frequency of website visits due to consumers checking in for fresh deals.
Reign of Mobile: For the first time since NetElixir has been tracking the Cyber 5 results, mobile contributed to more orders than desktop with 55% of all Cyber 5 orders coming from mobile. However, this is presumably for impulse purchases and smaller purchases, as the AOV on mobile was 38% lower than on desktop. ECommerce sites should be streamlined for mobile devices, especially as consumers become more comfortable shopping online through various devices. Mobile share by category is: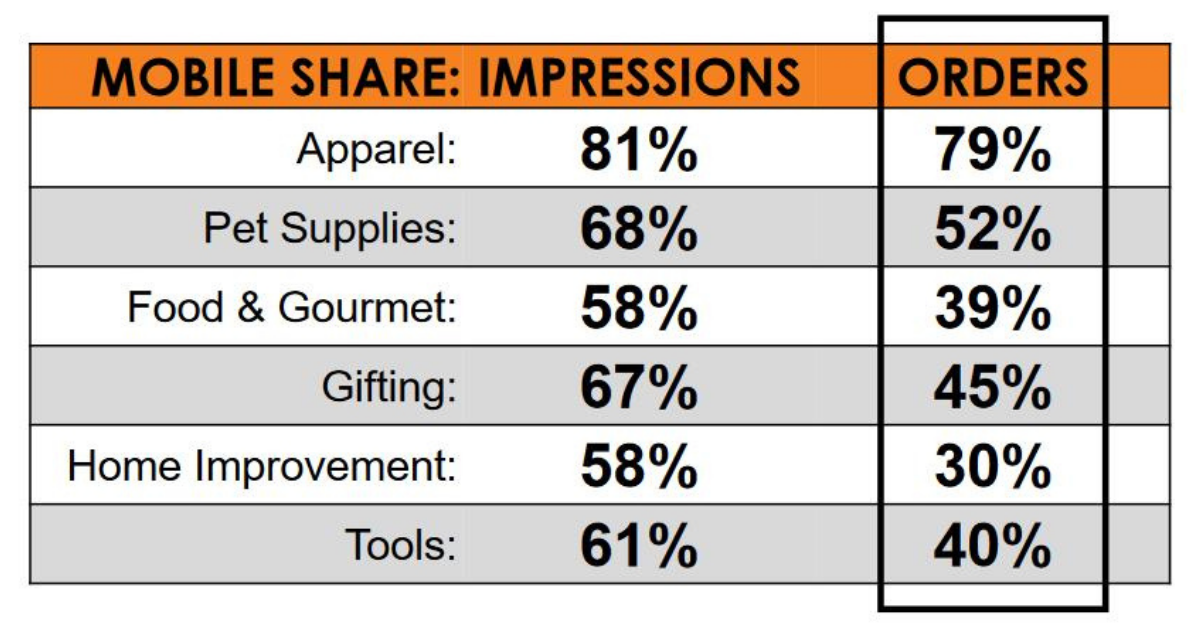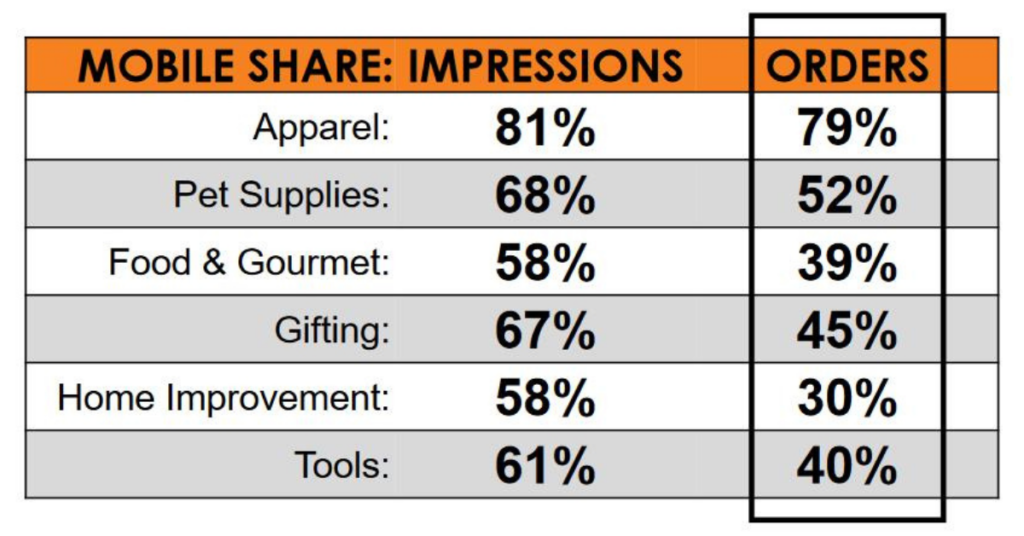 From this data, NetElixir is mending our original 2020 holiday retail sales growth prediction of 30% YoY to 19% YoY. 
Further Reading: