FACES 2021
How did consumers react, adapt, and evolve with the rapid digital and social changes?
Online Holiday Shopping Behavior of High-Value Customers
The pandemic accelerated digital transformation and brought many shoppers online for the first time in their lives. These new-to-online shoppers displayed unique online shopping behaviors and provided a brand-new market for e-commerce retailers that cannot be ignored or overlooked.
Understanding live consumer data will be critical in this new digital era. Our Retail Intelligence Lab analyzed high-value shopper behavior across 10 retail categories: B2B Manufacturers, Fashion & Jewelry, Home Furnishings, Baby Care, Pet Supplies, Beauty & Cosmetics, Gifting, Tactical Wear, Tools, and Food & Gourmet.
The NetElixir Retail Intelligence Lab analyzed over 2 million unique online customer paths-to-purchase across ten retail categories throughout the course of 2020. Download our report today!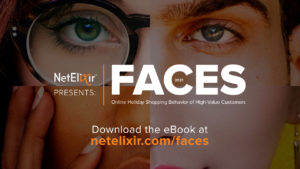 Download FACES 2021
The NetElixir Difference
We strive to be more than just an agency to our clients: We aim to become a trusted strategic partner, totally invested in the success of your business. Our team members provide complete transparency and accountability throughout the entire process to ensure your expectations are being satisfied.
When you work with us, you're not simply asking us to follow a cookie-cutter strategy. You're trusting us to build a comprehensive, nuanced marketing blueprint designed to drive business growth. We embrace cutting-edge advancements in machine learning and employ proprietary technologies as cornerstones to our approach. They allow us to develop and execute a plan that's always in step with your customers - and one step ahead of your competition.
Today's customer journey has become increasingly complex, spanning multiple channels and devices. That's why NetElixir specializes in connecting the dots to engage customers in a responsible manner while maximizing your impact at every touchpoint. To accomplish this, we offer a range of digital marketing solutions: