There is not one, universal path to successful innovation. We each have to find our unique solutions to the questions we face on a day-to-day basis. Jerry Wind, the Lauder Professor Emeritus and Professor of Marketing at Wharton, as well as the Founder of Wharton Think Tank, teases his eight principles of innovation transformation to NetElixir to help guide our approach to innovation.
Through his years of research and consulting expertise, Professor Wind is helping organizations prepare for the post-pandemic reality by providing tools to change our mental models to rethink our organizational and growth strategies. With strong leadership, an environment of open innovation, and the ability to always keep learning, we can create opportunities for success in whatever we do.
Connect the Dots with Professor Jerry Wind.
NetElixir: Tell us a little bit about your experience and latest book.
Professor Wind: Hi, I am Jerry Wind. Following a 50 year career at Wharton, in the last four years, I have been the Lauder Professor Emeritus and Professor of Marketing at Wharton.
My latest book, Transformation in Times of Crisis, coauthored with Nitin Rakesh, the CEO of Mphasis, just won the International Business Book of Year Award. And my current research and consulting focuses on capturing opportunities in times of crisis and preparing us, and especially legacy companies and organizations, for the new post-pandemic reality. That includes addressing the other aspects of our crisis – the call for social justice, economic recovery, addressing the climate crisis, and the inevitable shift from shareholder to stakeholder focus. This includes, of course, the need to rethink and reimagine everything we do including innovation, marketing, the role of the CMO, the talent strategy, and even the vision of the firm and its growth strategy.
I am delighted to be with you and discuss Transformation in Times of Crisis and especially the implications of our eight transformation principles and implementation framework to your individual companies.
NetElixir: What is a key driver of innovation that companies tend to overlook?
Professor Wind: While there is no single key driver that is ignored by all companies, I believe that significantly more attention must be given to the interplay of three drivers – advances in technology, their implications to the behavior and expectations of the increasingly empowered and skeptical consumers, and the impact of these two forces on the need to challenge our mental models and reinvent our vision, objectives, strategy and organizational architecture, and network orchestration.
NetElixir: Companies are already beginning to prepare for future crises. What is one area they should focus on?
Professor Wind: The initial temptation is to select one of the key challenges facing society – the economic divide, the climate crisis, the continued cry for social justice, diversity, equity, and inclusion, the shift to stakeholder orientation, and my deep concern about the ideological divide of our country and many other countries. Yet, companies should be ready to address any of these or new crises they may face, i.e., how do you prepare an early warning system to identify the coming crisis, and an agile system that allows both the design and implementation of effective prevention, or if that fails, a speedy recovery.
NetElixir: What is one example of innovation you've seen from companies during the pandemic that has impressed you?
Professor Wind: There are many examples, from the global collaboration among pharmaceutical firms that led to the development of the vaccine in record times by multiple firms to GM conversion of its manufacturing capabilities to the production of ventilators, the effective shift of most universities and schools to eLearning and almost universal adoption of Zoom and other platforms as the new mode of communication and even selling and negotiating, to the shift to digital medicine, and the shift by so many cultural institutions to digital programming and innovative ways of engaging their current and new customers. Common to all these examples is courageous leadership that recognized the need for a speedy shift in their mode of operations.
I hope you can reflect on these three topics and answer them from your perspective. But remember that while you may have specific industry views, consumers' expectations do not know industry boundaries.
Connect the Dots with Jerry Wind
Join NetElixir's virtual conference, Connecting the Dots: Driving Change Through Innovation, to learn more from Professor Wind about his eight transformation principles.
Transformation in Times of Crisis, live on 6/10 at 10:15 AM EST
Experiencing life after the ides of March 2020, we are on the eve of shifting to a new reality of post-pandemic life, combined with the slow reopening of the economy and an increased demand for social justice. Professor Wind, Founder of the Wharton Think Tank, presents how we can lean into opportunities by understanding the implications to cope, prepare, and seize them. He will also share his eight leading principles to creating opportunities during times of crisis and ways you can begin to focus on testing experiments that can lead to significant innovations.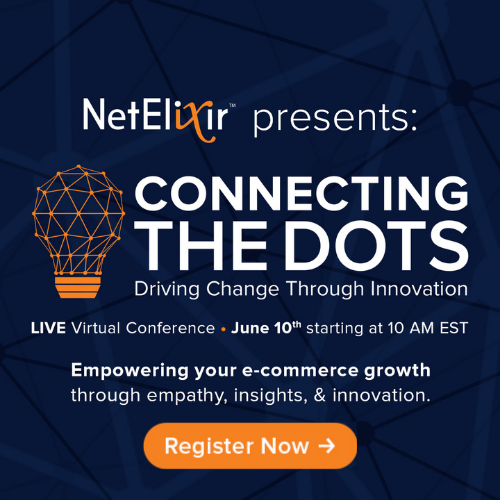 Register now to hear more from marketing legend Jerry Wind!
Read More
Meet Natalie Zmuda, the Head of Think With Google
Meet Michele Peters, the Senior Manager of Global E-Commerce Marketing at UPS
Meet Aaron Zagha, the Chief Marketing Officer at Newton Baby
Opportunities in Times of Crisis, a recap of Professor Wind's previous discussion with NetElixir, from June 2020