In 2016, NetElixir's Founders Udayan and Tulika Bose started the Udaan Trust – Flight Foundation to help underprivileged girls in India break free from the cycle of poverty. We offer these girls scholarships for their high school and college education. The goal of the Udaan Foundation is to help as many young girls as possible. We seek to provide them with the education and skills they need to control their own destiny.
Our mission is simple: we aim to create a world where no young girl is ever afraid to dream big for herself. 
A Gift of Hope
As of the beginning of the 2021 school year, we have fifteen girls enrolled in the Udaan Foundation. The aspirations of these girls range from software engineer to sports coach to doctor to agricultural specialist. They also have personal dreams to gift a house to their parents and to be independent. We seek to empower them with the education and tools they need to fight the challenges they face in their everyday lives.
Udayan and Tulika started the Udaan Trust after visiting a class of tenth graders at Moosapet Government School for Girls in Hyderabad, India in December 2015. There, Udayan asked a question: which of the girls felt confident that they could pass their upcoming exams? Only a few raised their hands. He asked if they didn't have to worry about funding their education and received additional support and resources, how many would then feel confident to pass their exams? More hands went up.
Our Udaan Girls
Swathi was one of those girls and soon became one of our first enrollees. Now, Swathi is set to graduate within the coming months and has received two job offers at leading organizations. We could not be more proud of all her accomplishments! Her success is the validation of team NetElixir's faith in the power of doing good and helping others.
Shortly after receiving her job offers, we met with Swathi to congratulate her and reflect on her journey. Meet Swathi:
"I am confident that their most difficult days are behind Swathi's family," Udayan shares in his own reflection on Udaan's impact. "I am proud that we took that single step back in 2015 to start Udaan — it very well may have transformed not just a girl's life, but is also likely to be instrumental in pulling her family out of poverty.
I am immensely thankful to all NetElixians who have contributed as Udaan volunteers. They have worked tirelessly behind the scenes to make magic happen for our 15 girls — their passion, commitment, and efforts have given Swathi and her family a chance to pursue a better life! I am also grateful to the many who donated to the Udaan Foundation for believing in us and our cause. Most of them have not even seen Swathi or any of our other girls and yet they believed in what we were doing and contributed generously. A hat tip to the donors for their kindness and support. This is our first success milestone — it emboldens us to pursue our mission with greater drive and zest and help many more like Swathi pursue their dreams."
We're not just supporting the academic achievements of these girls, but their personal ones as well. Another enrollee, Haritha, had been selected for the 2021 Handball Nationals. Haritha's talent is hers alone, but her journey is a testament that a little support can go a long way.
We are proud of all our girls, their lofty dreams, and their achievements.
International Women's Day 2022
An African adage says, "If you educate a boy, you train a man. If you educate a girl, you train a village." The Udaan Foundation seeks to uplift underprivileged girls so that they can uplift their communities by sharing their knowledge, ambitions, and spirit.
The Udaan Foundation is one of many seeking to enable lasting social change. We seek to eradicate child marriage by empowering these girls with resources and means to finish their education and choose their own paths. 
Together as a global community, we celebrate the social, economic, cultural, and political achievements of women while marking a call to action for accelerating equality on International Women's Day and all year long. Join NetElixir in honoring the women in your life by supporting the Udaan Trust – Flight Foundation. Your donation will directly support the education, books, and school supplies needed to support and empower these talented, young girls as they fight to #breakthebias and pursue their dreams.
Team NetElixir gathered to create bracelets for our Udaan girls. Though a small gesture, we want the bracelets to symbolize how we are always here to support the girls and help them realize their dreams. We are tied together in the unified mission to better their lives and the lives of all women.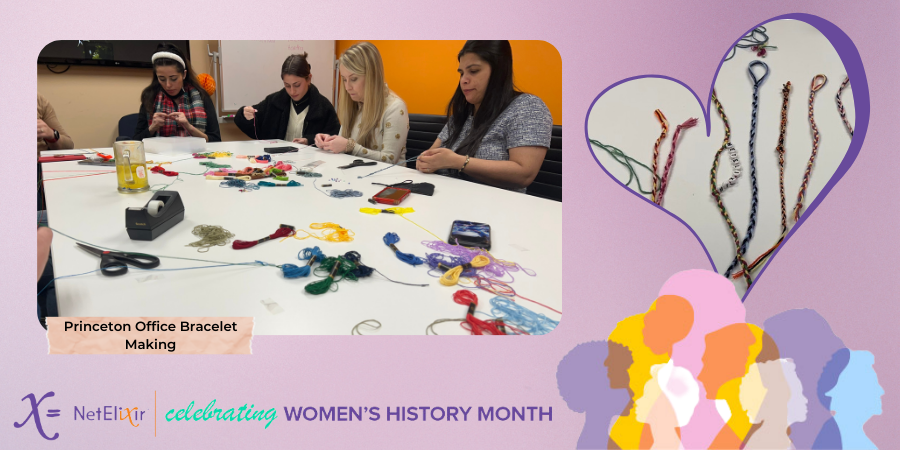 How You Can Help The Udaan Foundation
The role of the Udaan Foundation shifted from providing scholarships and mentorships to our girls. We also host women's hygiene classes in schools to teach girls the essentials of creating and maintaining a healthy lifestyle for themselves.
During the coronavirus pandemic, the world saw an overnight shift from offline to online modes of learning and communication. This transition was harder for the students in rural India who faced a disruption in their academic careers. The Udaan Foundation helped set up remote learning resources and support so girls could continue their education. We supplied laptops and internet access to each of our girls. We partnered with a leading hospital in Hyderabad to distribute free COVID-19 vaccinations to our students and their families. Additionally, we helped cover the costs of provisions, everyday essentials, and even housing. We offered online mentoring on programming, interview skills, and campus recruitment drives so that their career trajectory wouldn't be disrupted further. 
We started Udaan with a goal to help 10 girls by 2020 and two years back we increased it to 25 by 2025. Now, we want to help 100 girls by 2030.
We can achieve our goal of improving the lives of girls only with your support. 
Further Reading