Pinterest, the visual discovery and bookmarking tool, was showing a greater potential to drive revenue for brands for a long time in comparison to other social networks. The social media company took this potential to the next level on June 2, 2015 when they  unveiled their new feature called "buyable pins" for users in the United States. Buyable Pins give an option for visitors to browse items by price and color and then finally purchase the product with a click without ever having to leave the social media platform. Users will be able to buy products directly through the company's app using this new type of pin.
According to comScore, Pinterest now has over 72.8 million monthly active users. Pinterest's co-founder and CEO Ben Silbermann has stated that one of the most common requests seen from these users was to turn Pinterest into a store. Implementing Buyable Pins certainly is a big step in realizing the channel's potential to be a sales platform, as well as recognizing the customer's desires for the social media channel.
Pinterest has explained that when you spot a Pin with a blue price attached, you'll know it's buyable. Buyable pins will have a blue "Buy it" button next to the traditional "Pin it" button, as well as a blue price tag on the left. Color, size, and other variations can be selected from within the pins. Customers can then buy items using a credit card or with Apple Pay. Pinterest will not store customer credit card information, and Apple Pay will only share a device specific account number with the seller, and not an actual credit card number, which ensures additional security for buyers on Pinterest. There is also no added fee for buyers and merchants. Silbermann has stated this feature will become available later this month first on the Pinterest app for iPhone and iPad, followed by Android. Buyable Pins will show up in all of Pinterest's features, such as in search and recommendations.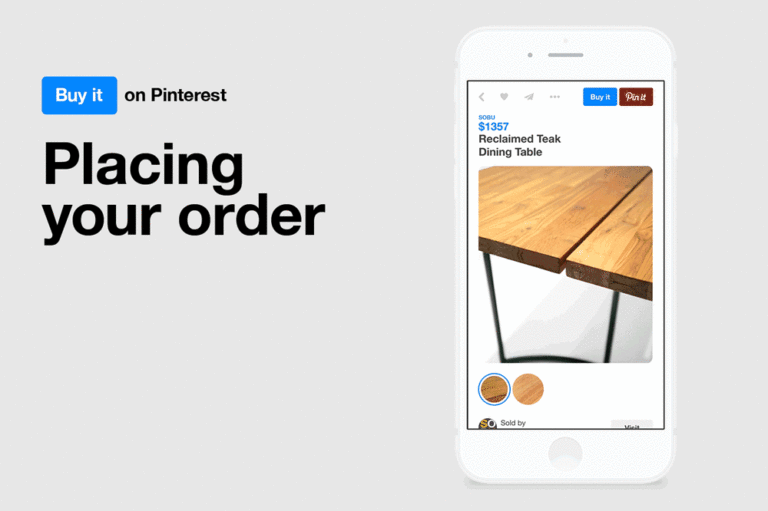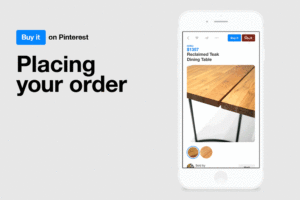 How to Start Selling with Buyable Pins
There are currently over 2 million Buyable Pins available for users in United States from major retailers like Macy's, Neiman Marcus, Nordstrom, Cole Haan and Michaels. For other advertisers, the feature is also available on two eCommerce platforms, Shopify and Demandware.
Pinterest also mentioned that it will open up its platform to third-party developers in the future. Businesses that are not on Shopify or Demandware can sign up for the wait list for future updates on integration opportunity.
Pinterest has been raved about by marketers for being a future-focused social platform with a large number of active members who actively look for products and ideas. Now with 'Buyable Pins', marketers can hope that their purchase funnel will complete right in Pinterest app, from awareness, to consideration, to purchase, and hopefully to loyalty. Such future-focused steps also justify why the valuation of Pinterest has doubled in less than a year to $11 billion, and has made its mark to the top 10 list of Wall Street Journal's Billion Dollar Startup Club. Now that customers can explore millions of hand-picked products on the social media platform, an unexpected find might become your next must-have. Buy it securely, right on Pinterest!