Why Should Your Brand Be On Amazon Marketplace?
It comes as no surprise that Amazon Marketplace is growing tremendously. All e-commerce adoption has been greatly accelerated by the coronavirus pandemic, and Amazon is no different. 
eMarketer reports that Amazon grew by 47% percent in 2020 and CNBC details that, in the first quarter of 2021, sales increased 44% YoY. The chart below shows that Amazon is continuing to capture a larger share of overall retail e-marketplace sales: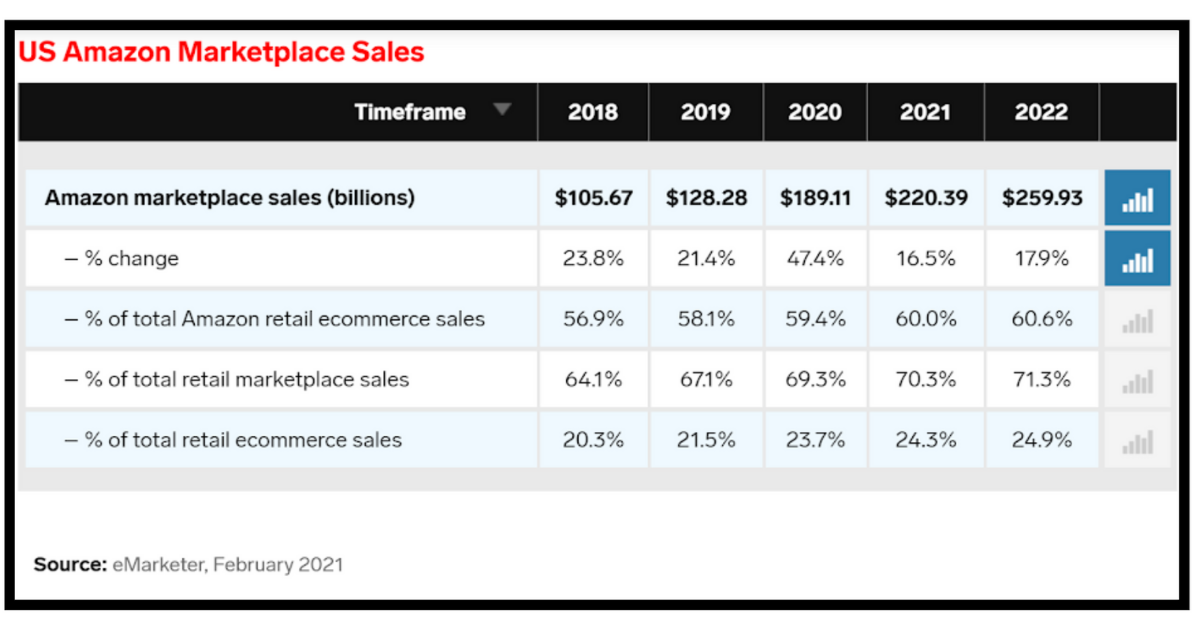 Additionally, in eMarketer's report on net search ad revenue by company share, we see that Google is projected to lose about 6% by 2022, whereas Amazon is projected to gain that deficit.
This shift is very interesting for every brand," says Manish Mohan, NetElixir's Senior Director of Digital Strategy. "While Google, Facebook, and Microsoft may have been your go-to channels from a customer acquisition standpoint, now it is important that Amazon factors in the top five, top ten channels, and you have a strategy to kind of accommodate this marketplace in your overall digital mix."
Manish reminds us that, while Amazon is a growing force, brands should not neglect other marketplaces like Walmart and eBay. Additionally, Manish forecasts that social commerce, like Facebook and Instagram Shops, will soon become an integral part of the marketplace ecosystem. 
Marketplaces should figure into your brand's overall e-commerce strategy to diversify and expand your digital presence, especially as the impending cookieless world will alter how brands can use and collect consumer information. 
Finding Opportunities on Amazon
To better determine the trajectory of your Amazon growth strategy, NetElixir can help identify areas of opportunity by honing in on high-level trends of specific industries and products. We can forecast if a certain market is poised for growth or not and help guide your Amazon growth strategy whether your brand is new and looking to enter a specific market segment or your brand is more mature and looking to strengthen your market share. 
By aggregating the collective data of the overall market, we can track the average review score, unit sales, revenue, and median price across different brands in specific segments to give you a competitive advantage to enter and grow in the space. 
This almost works as a report card to see how well-positioned you are to acquire customers compared to competitors in your space," explains Matt Roth, NetElixir's Paid Search Analyst
We work to uncover opportunities for your brand, no matter your industry. Based on what's in demand, we can help you develop conquesting campaigns to target trending products and capture customers searching for specific types of products.
If you're looking to grow into space, knowing what product is flying off the virtual shelves can help you innovate new products to appeal to new customers on Amazon or tweak the language of your current products to appeal to a wider audience. By introducing Amazon's customers to your brand, you can work on generating brand loyalty and directing customers to the full range of products available on your website.
Creating Your Amazon Growth Strategy
Once you determine your potential of selling on Amazon, you can begin creating your specific Amazon strategy. First, take a look at your current Amazon approach by asking yourself the following questions:
Do you currently look at Amazon more as just a marketplace shopping platform or as a brand discovery outlet?
Brand discovery is a better approach, explains Manish. Amazon is increasingly becoming a product search engine on par with Google and YouTube. While customers are using Amazon to gather product information, the platform itself is becoming more sophisticated, with a better product and editorial recommendations.
Has Amazon's share of your overall e-commerce revenue grown over the past few years?
Compare Amazon's revenue growth to that of your own D2C e-commerce website. Do you see any patterns that are different? The same? At NetElixir, we conduct an omnichannel analysis of product insights, like keyword search and sales, across your different digital channels from your branded website to Amazon to social shops. Our omnichannel approach helps identify which products resonate with certain audiences across certain channels so you can adjust your strategy accordingly.
Do you have an Amazon-specific inventory strategy?
Brands can use Amazon as merely an extra distribution channel of all available products. Or, Amazon can become a very specific distribution point with only select products available. 
It is important to know that the cost structure on Amazon is different from your own e-commerce website due to Amazon's commission, fulfillment, and other fees. Map out your products based on NetElixir's product matrix shown below, where the bubbles represent the total percentage of revenue share that certain products generate along with the measure of their profit margin:
Ideally, you would list products on Amazon that have a high-profit margin and represent a larger portion of your revenue share, to better absorb some of Amazon's fees and entice a wide range of customers.
However, for brands who are new to the e-commerce space or don't have a lot of e-commerce data to map this out, Manish suggests the idea of adding all or most of your products to Amazon. Use the data from the first one or two months to adapt your approach and product selection.
Be nimble enough to constantly learn and adapt," Manish says.
How many resellers do you have on the 3P side?
As a reseller (and any e-commerce merchant for that matter), it is important to have a consistent brand experience across different digital channels. Understand how many resellers you have and ensure the price standpoint is controlled, especially if you are looking to expand to different marketplaces.
What is your Amazon strategy for the rest of 2021 and beyond?
Once you identify your products, the next step is to identify the bottom line you need to meet to reach your e-commerce goals. Obviously, you want to price your products to meet your end goals, but be sure to keep a competitive edge in pricing as well. It is important to have a defensive brand strategy, especially in your ad campaigns, so you don't lose market share to competitors. 
For a full Amazon ad blueprint and to get a deeper understanding of how our Amazon growth strategy works through the lens of hair care as an example, watch the entire webinar at:
How NetElixir Can Help
At NetElixir, we develop and execute a winning strategy across marketplaces like Amazon, Walmart, and Instacart, to grow your e-commerce presence. Request a consultation now to learn how we can empower your e-commerce growth and help you develop a winning Amazon growth strategy.
Further readings to optimize your Amazon growth strategy: