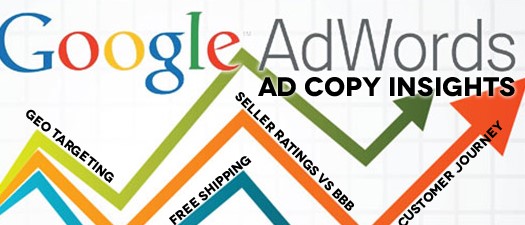 First off, we just want to thank everyone for attending the Ad Copy webinar on April 24th. Even though the webinar started at 2pm ET, we still only had enough time left for a few questions.
NetElixir University is all about sharing knowledge and with that in mind, here is the Q&A segment of the webinar designed to answer all the questions you have about how to find the math behind the message for your paid ads.
Q: How do I write an ad copy specifically for geo targeting?
When writing ads that target specific locales, it's all about including the location in your ad copy. So if you were targeting potential clients in NYC, an example of an optimized paid search ad would include the actual words NYC in the messaging, i.e.  We Do Search Marketing for NYC.
Q: In place of seller ratings, is it possible to automatically pull in Better Business Bureau ratings?
The BBB is not one of the sources for seller ratings in AdWords.  The full list of available sources for seller ratings can be found here. That said, we do have clients using review extensions citing their BBB rating.  You can learn about review extensions here. We looked at a brick and mortar clients' experience with its BBB review extension for the past 30 days and the results are promising. The top 3 ads showing a review extension outperformed their respective ad group totals by almost 8x in CTR. They also had significantly lower CPCs and higher conversion rates.  When you look at all ads with a BBB review extension, their CTR rate was almost 16x the account average.
Q: As opposed to free shipping offers, do you find that free content downloads (whitepapers, free webinars, etc.) work just as well in terms of effectiveness?
While including free content is a very efficient way to market your ads, our research shows that highlighting a special offer such a Free Shipping is a much more effective tactic to increase click-through-rates and impressions.
Q: Why don't customer reviews always show up on a search engine listing (i.e. 2 searches on the same term for the same URL, where 1 shows "stars" and the other does not)?
Customer reviews can refer to reviews of specific products or seller ratings of a company or business.  In order for Google to pick up your review data for your organic listings, the data must be part of the page's structured data using schema.org rich snippets. For paid search ads, Google's algorithm uses thresholds to determine if a rating is shown.  You can find more info on how Google determines those thresholds here
Q: Does the ad copy messaging based on the customer journey work for all categories?
What we've found is that messaging for customer journey is going to be more impactful for bigger ticket items, since these items usually include a thorough decision making process prior to purchase.
Q: Where are review ratings pulled from?
Review ratings come directly from the services you use on your website. There are a number of 3rd party services and many review ratings are built into Ecommerce platforms as well.
Q: Do the impact factors differ between brand and non-brand terms when writing ad copy?
That is a very good question, and the answer is yes, they do differ. For brand terms, adding Official Site is a very powerful tactic, while for non-brand terms using the keyword in the display URL can have a much larger impact.