Opportunities & Challenges in a Covid World
Last week, on September 10th, NetElixir and Lenovo celebrated our 10 years of growth partnership through a special webinar presentation on A Different Holiday: Opportunities and Challenges in a Covid World. We were joined by Ajit Sivadasad, the founding executive of Lenovo's global online strategy.
NetElixir + Lenovo
Lenovo was founded in 1984 with a vision to become the world's greatest personal technology company and to create smart technology for all. Today, Lenovo is the number one PC company in the world with almost 25% market share. Lenovo is also the number one Data Center Group in the world in terms of performance. 
Ten years ago on the day of our live webinar presentation – September 10th – NetElixir started to manage Lenovo's paid search campaign in North America. Since then, NetElixir has increased Lenovo's paid search revenue thirteen-fold, expanding the paid search revenue contribution from 8% in 2010 to 17% in 2020:
Udayan Bose, Founder and CEO of NetElixir, says of the growth partnership: "It is a fascinating journey and we consider ourselves very, very privileged that we got this opportunity to not only partner with Lenovo as an extensive of their team, but to have this unique view from literally almost the best possible vantage situation, where we could see as to how the different strategies and a very powerful and compelling vision was able to drive the company and get it to the level that it currently is: the number one PC manufacture and one of the most recruited brands in the world at this time."
All of us at NetElixir and our Lenovo team are very grateful for this milestone and look forward to many more years of partnership ahead.
Impact of COVID-19 on Online ECommerce: A Turning Point
There is no one method of success during these unprecedented times; as Ajit Sivadasan says, what works for one person or company will not work for everyone. However, based on Sivadasan's experience over these past six months where he knows a little more than at the beginning of the pandemic, he is sharing stats and insights into what will change after the pandemic and what could stay the same. 
The coronavirus pandemic is quickly accelerating the disruptions of traditional business models. Some of the broader trends Sivadasan narrowed in on were more connected health, demographic shift, content, the connected individual, pay to use, transportation and home ownership, education, experiential commerce, and redefining retail, as detailed below: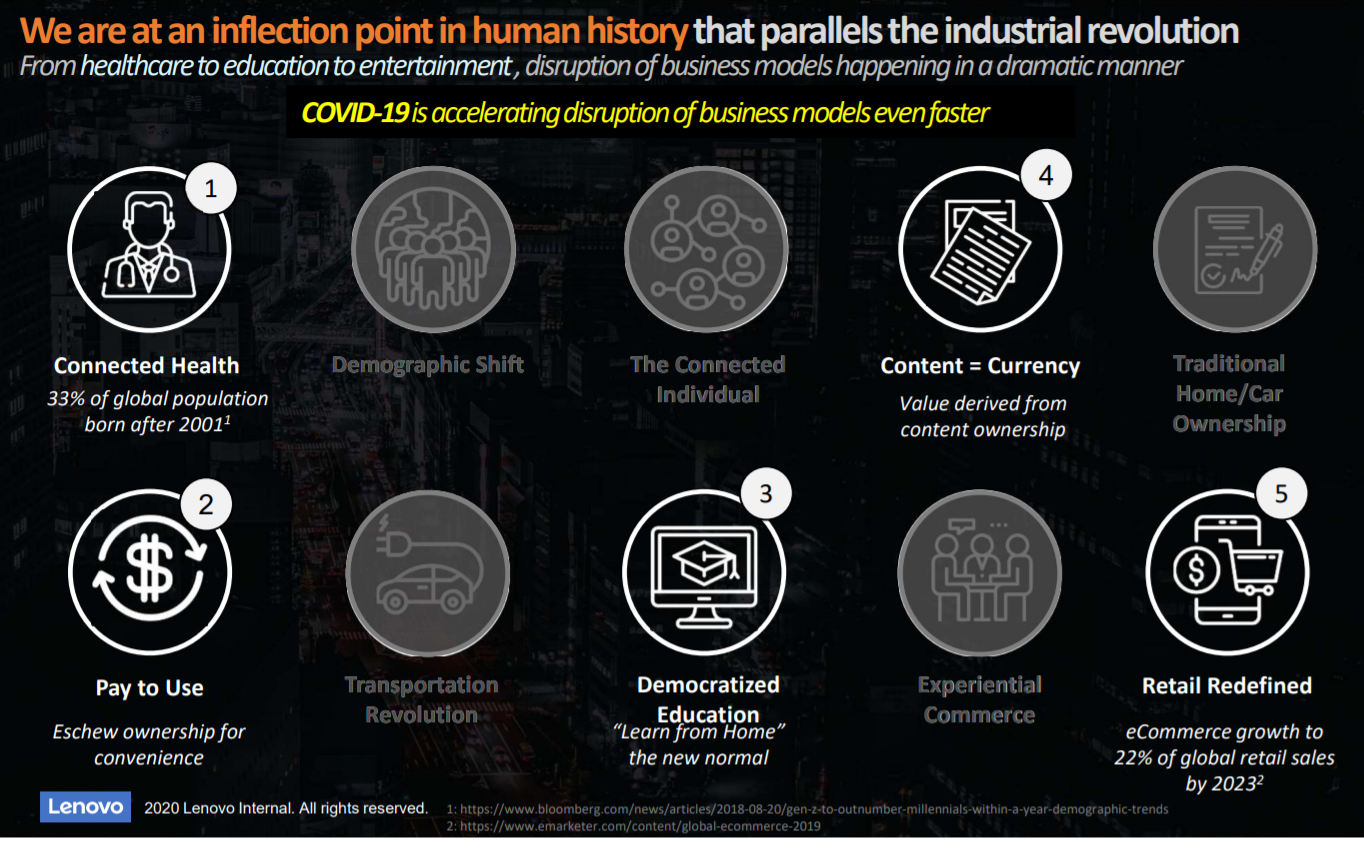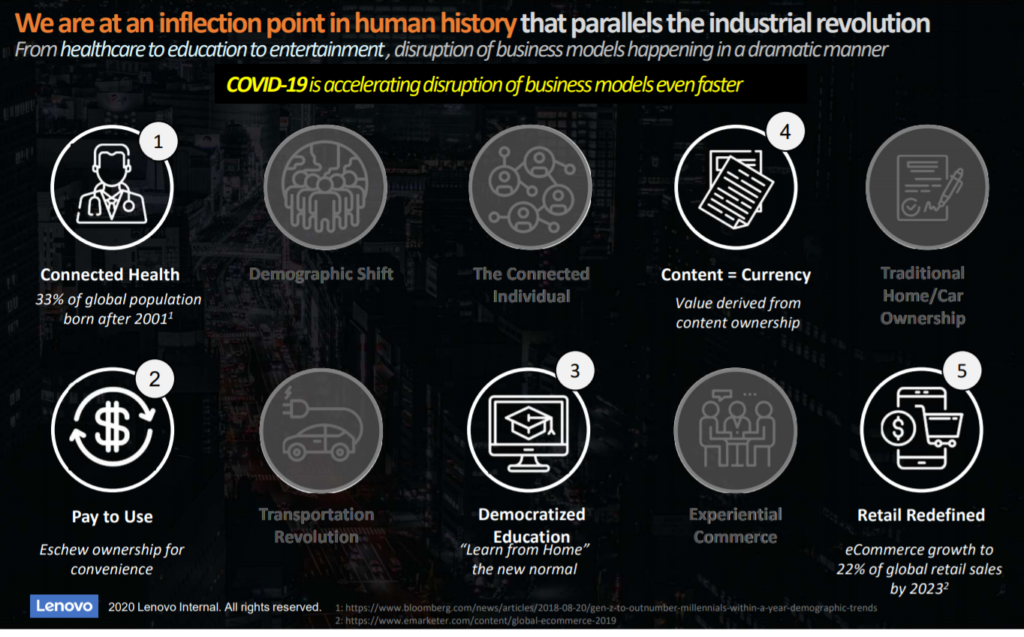 Sivadasan furthers, "We are on the verge of a generational shift which is, in many ways, from an online standpoint, going to accelerate adoption." 
Individuals are connected now more than ever, despite social distances. Digital communication and virtual events help keep us in touch. These digital connections will have significant implications on advertising, targeting, and online selling as everyone can be reached virtually anywhere and anytime. Content form and content consumption is changing as well, as content becomes more of a social and brand currency that can be shared and changed. Video production alone is overwhelming – in 2019, 500 hours of videos were uploaded to YouTube every minute.
"The numbers in terms of how content is used and is being created is staggering," Sivadasan says.
Consumer sentiment is changing, as people seem more inclined to adopt a pay to use means rather than strict ownership. In the future, we could see more reliance on streaming services and bundling options, allowing people to pay for what they use rather than outright buy the whole thing. People expect everything to be available to them, especially in the growing digital age. 
We are quickly undergoing a redefinition of retail that could move to more experiential retail. Sivadasan notes that we are already evolving in the retail space, as physical retail is changing to be more experiential rather than overtly salesy. 
The coronavirus pandemic awakened this disruption across business models around the world and accelerated the digital transformation by a few years. As good as these new innovations can be, however, the pandemic is ushering in a slew of challenges.
Macroeconomic Trends of the Coronavirus Pandemic
For consumers living during the coronavirus pandemic, they are most concerned with their own financial security and navigating the new work- and learn-from-home landscapes. We are seeing new categories of online shoppers, which in turn redefines customer behaviors and expectations. 
Everything is digital or online these days.
What does that mean for small- and medium-sized businesses? While SMBs are in survival mode, as Sivadasan puts it, and preserving their cash flow, they have to shift their outlook to innovation and partnership. This is a crucial time to be online, to transform aspects of business to curbside or delivery, to offer new digital and online services to consumers to keep them connected and loyal. "Leverage your environment to be more virtual-friendly to [your] consumers," Sivadsan advises.
We are seeing a consumerization of enterprise and B2B businesses. Lenovo is seeing more of a demand from individuals and businesses asking to ship products directly to their remote employees rather than divvying out products themselves. Businesses are focused on sustaining their operations remotely. As the supply chain fluctuates and demand turns from businesses to individuals, Sivadasan says that companies need to begin "optimizing for a quantity of one." This shift from optimization for the masses requires different business model, a reevaluation of cost, and more customer-centric means.
Store traffic has decreased 40%, which will be exasperated by many stores deciding to shift their Black Friday events to solely online. Work-from-home equipment has seen a 42% increase in demand. Across the board, consumer electronics ecommerce has grown 58%, becoming more popular than commercial products. Lenovo themselves have seen a dramatic increase in consumer products such as laptops, monitor displays, gaming products, and accessories like headphones. 
Sivadasn says, "We are seeing a significant demand [in consumer electronics] because people are trying to be connected and trying to be productive."
As macroeconomic trends continually favor ecommerce, online retail is assuredly here to stay. 
The Seismic Shift from Retail to Etail
"Innovation is happening in terms of the digital tie between physical retail and online retail." – Ajit Sivadasan, founding executive of Lenovo's global online strategy
A 55% increase in July online spending could offset some of the deficient in the retail space overall, as long as ecommerce sales continue to grow and more brands invest in their  ecommerce experience. Some 25% of North American stores are turning into fulfillment centers to cater more to ecommerce demands. 
By some estimates, the coronavirus pandemic accelerated the digital agenda by three to five years, affecting businesses and customers alike.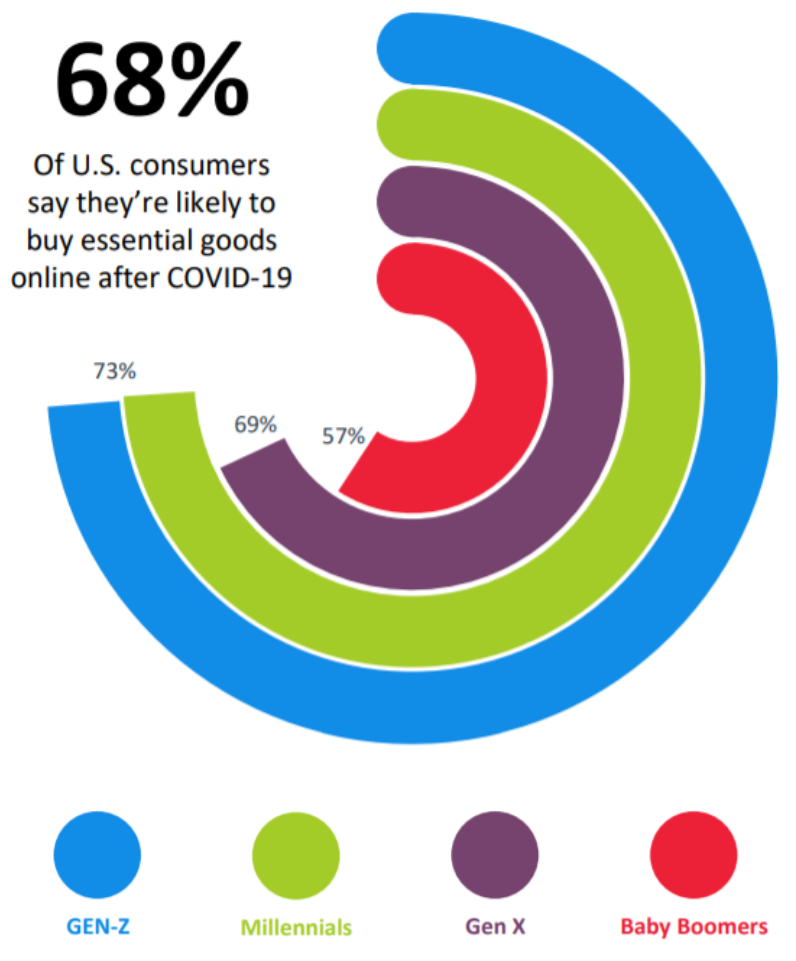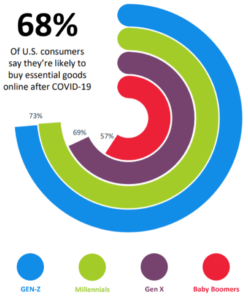 As noted above, native digitals are much more comfortable staying in the digital space, with 73% likely to continue shopping online. However, we will also see a much bigger participation from the Baby Boomers are they gradually becoming more comfortable navigating the online space. Sivadasan explains, "Even the ones who were reluctant to use online in a big way are going to shift online."
These statistics are not surprising; Lenovo's website traffic is up 70% and many other brands are seeing huge increases in their online conversions. However, the challenge is in creating an online experience that is comfortable for both experienced and new users. Online entities will have to make both their mobile and desktop experience more user-friendly to those who are not familiar with digital access to make it easier for all shoppers to have the experience they would like to have.
Mobile usage has been increasingly dramatically as is, but Sivadasan forecasts that there will be a substantial increase in mobile checkouts. 
What Does This Mean for the 2020 Holiday Season?
This holiday season, consumer sentiment will most likely shift to value and essentials. Solution selling will most likely be the stocking stuffer this holiday season. Sivadasan explains, "There is an opportunity to think about not selling discreet products, but to think about selling experiences, and by extension selling solutions." People will be careful of how they spend and will most likely focus on essentials. 
Brand loyalty has shifted and people are more comfortable with trying different and new things. They have the ability and chance to visit any store online. "Advertising is the only limit," Sivadsan says.
This holiday season, there is expected to be a 18% growth in ecommerce holiday revenue for 2020. 
The holiday season will start earlier this year. Black Friday events usually drive foot traffic to brick-and-mortar stores to kickoff the holiday season; with many brands holding virtual Black Friday sales instead, there's no need to pick just one day to launch the holiday season. The 2020 holidays will begin earlier, last longer, shift to online, and could see contention between demand and supply. 
Brands have to adapt and evolve to the new normal. By emphasizing value over price, they will innovate the solution-selling aspect consumers are looking for. As digitization ramps up, there will be new solutions to share and new customer demographic who will need more education and less promotional content. As loyalty is shifting, brands will have to do more than what they did pre-pandemic to keep their existing customers. 
Lastly, Sivadasan notes that accelerated purpose will help brands evolve with the new normal. The pandemic pushed many aspects of life into a new perspective and it is increasingly more important for brands to stand for something. Brands should have a clear sense of purpose and commitment beyond just selling products. "Purpose will be the center stage in many cases," Sivadasan concludes. 
Further Reading on Holiday Insights