Last week, NetElixir hosted our virtual conference, Connecting the Dots: Holiday Readiness Summit for Retailers. The event brought together retail industry leaders, marketing mavens, supply chain experts, and strategic thinkers to share their advice, strategies, and holiday marketing resources to help retailers connect the dots for this financially critical holiday season. Each week, we will recap one of these 'dots' with any additional information and insights relating to the holiday season so retailers can continue to adapt their strategy and have a successful end of the year.
Road To Recovery: Real Time Data On Ecommerce Sales and Online Shopper Behavior
Since early February, NetElixir has been compiling the daily data of ecommerce sales and online shopper behavior to track the impact of the coronavirus on online retail. With over five months of research behind us, we are leveraging our data to build some forecasts for the end of the year – although nothing this year can be certain. 
Based on Bain & Company's Elements of Value Pyramid, we see customer preferences are changing weekly as they adjust to the new normal. Retailers should be cognizant of shifting values and why consumers may gravitate toward certain products over others. Certain customer values, such as the functionality of safety and security, are assuming a higher significance – and will be likely to persist post-pandemic. Think, NetElixir's CEO and Founder Udayan Bose says, about our relationship with hand sanitizer. The product is likely to be a permanent fixture in our lives, both personally and publicly. As we have been navigating through this crisis for over five months, habits have started to build up. The changes in shopping behavior and consumer actions could become permanent. 
Online sales continue to grow at an exceptional rate across categories. NetElixir's Retail Intelligence Lab, backed by our proprietary customer analytics tool LXRInsights, compiled daily data across seven retail categories over fourteen, two-week periods. Our data tracks the year over year increase from 2019, starting from February 9th through to August 8th. The growth in online sales is detailed below: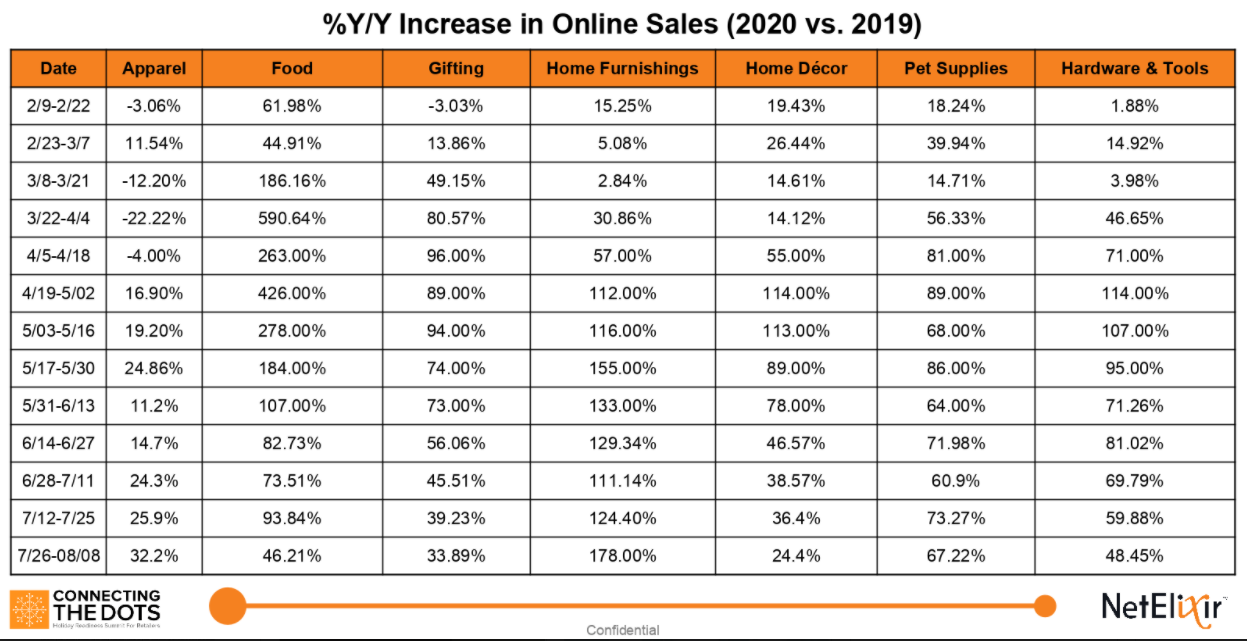 The Home Furnishings retail category has surpassed the Food and Grocery retail category in terms of consistent growth, sustaining triple digit year over year growth since the middle of April. Sales for Food and Grocery have fallen, but still maintain a high double digit year over year growth that is sure to pick up again during the holiday season as people prepare more at home meals. The Apparel retail category, which struggled to gain traction at the onset of the pandemic, is now steadily growing week to week. Gifting has been a breakout category and Bose believes that this holiday season will be a great opportunity for new gifting categories.
"There is a clear and perceptible increase in online sales across categories," Udayan Bose says.
New to Online Shoppers Offer Unique Opportunity for the 2020 Holiday Season
Because shoppers turned to ecommerce platforms throughout the course of the coronavirus, a new population segment has been created. Bose explains that once the initial threshold of that first online order is made, new to online shoppers purchase more frequently as their comfort level increases. NetElixir's Intelligence Lab saw a surprising increase in the 55+ age group and their frequency of purchases.
"Once you are able to get a new customer to cross that mental barrier of oh gosh, can I really shop online?, once that barrier is broken, after that we have seen very clearly consistent frequencies," Bose explains. 
The coronavirus pandemic continues to substantially drive that shift online. The order contribution of new online shoppers rose from 37% of total ecommerce transactions in 2019 to 41.2% to date in 2020. While that may not seem substantial at first glance, it is a critical turning point in bringing shoppers online who may never have tried without the lockdowns limiting their options. New shoppers purchase 18%-27% faster than, conduct 30% more purchase instances, and spend about 12% more in average order value than the pre-pandemic shopper. These shoppers are a valuable opportunity.
Holiday Season Observations Based on 2020 Holiday Data
While no one can claim to predict what the 2020 holiday season will bring us, the data we have collected to date sheds some light on what we may be able to expect. Mobile will continue to be a driving force: the contribution of mobile sales has increased from an average of 48% to 59% across categories. Bose expects a permanent shift of about a 4% increase skewing mobile sales over desktop, with total mobile contributions most likely not dropping below 55%.
The top online shopping dayparts have changed across categories. Pre-pandemic shopping dayparts were skewed toward 6 PM and from 9 PM to midnight; now, transactions are spread more evenly throughout the day.
As gifting has emerged as a popular category, Bose says, "I'm overwhelmed to see the amount of compassionate outpourings and people giving out giftings. Gifting has really become a lot more populous especially among the 18-24 year old age groups." The unboxing and cleaning off of packages offers retailers opportunities to create a unique unboxing experience that promotes safety and sanitization.
Q4 could add $50 to $80 billion in incremental ecommerce. Bose makes this judgement not from a "crystal ball, but based on prior data and current trends" that showcase a massive opportunity and increase in demand.
Having learned from shipping delays throughout the months of the pandemic so far, customers will most likely start their holiday shopping early. Last minute shoppers – classified as those who typically start their holiday shopping after December 15 – will most likely lessen as consumers give more leeway for deliveries. 
2020 Holiday Resources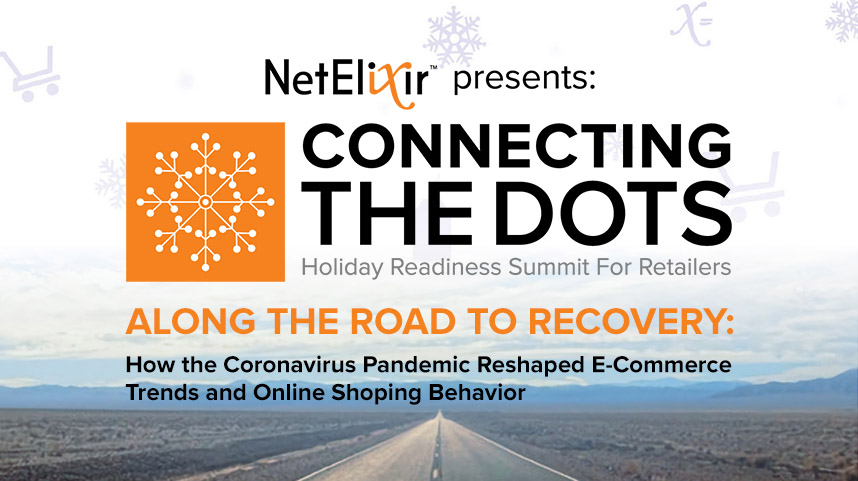 To succeed this holiday season, retailers need to be flexible, nimble, and ready for anything with a 24/7 'always on' approach. They should be monitoring their customers' shopping habits, keeping track of inventory so as not to be advertising on a sold out item, and ensuring a seamless shopping experience. To help guide retailers, NetElixir compiled consumer insights, four months of research, thoughts and experiences from retail industry leaders, and strategic perspectives from academics into our eBook, Along the Road to Recovery.
The more pieces of information that you have, the more you can connect the dots for a stronger 2020 holiday plan. Our Connect the Dots conference may be over, but the holiday season is just beginning. The holiday help continues in our new webinar series Connect the Dots: Holiday Strategies from Retail Leaders. On Thursday, September 10th, NetElixir will be joined by Lenovo's founding executive of global online strategy, Ajit Saviadasan, to discuss A Different Holiday: Opportunities and Challenges in a Covid World. Register now at https://www.netelixir.com/webinar/.