We estimate that 50%+ of Google Ad budgets are already being influenced by AI. During this first holiday season with Performance Max campaigns, it's important to keep your assets updated and test what works best.
New work schedules are creating triple peak work days (coined by Microsoft) and altering consumer search-shop-buy behavior. Marketers need to think holistically, not in channel-specific silos.
Black Friday and Cyber Monday sales may expand, creating a continuum of holiday promotions lasting from the Monday before Thanksgiving through Giving Tuesday, rather than blowout single days.
TikTok will be a huge influencer of products and trends this holiday season, especially as TikTok emerged as the hottest advertising channel to rival Google and Meta this year.
Marketplaces are commanding a greater share of total online sales. We expect marketplaces to account for as much as 58%-60% of total online holiday sales this year.
NetElixir Predicts a
7% YoY Growth

This Holiday Season
Growth will be driven by:
Customers' desires to commemorate a happy season and give thoughtful gifts to loved ones.
2022 being the first "real" post-pandemic holiday season that will see customers spending more across categories, both in store and online.
A longer holiday season that starts in September/October as brands offer attractive discounts to clear their inventories to make room for holiday stock.
Recap of
2021 Holiday Season
For the first time in over a decade, Thanksgiving Day had the highest AOV out of Cyber 5 and Cyber Monday sales did not exceed Black Friday sales.
Mobile commerce continues to garner a greater share of online searches and orders. Omicron variant of COVID-19 continued to disrupt shipping, inventory, and in store visits.
We observed customers were waiting for the optimal deal and if sales were not up to their expectations, they did not make a purchase.
Last year we predicted a
6-7%

increase in YoY sales.

The actual 2021 holiday sales growth was 14.1%

, according to the NRF.
As
Premier Google Partners and part of Google's Leadership Circle
, NetElixir is in the business of empowering Google products to take your marketing to the next level. We're offering complimentary scripts that will strengthen ad campaigns — some of the same tested and tried scripts that NetElixir's paid search team uses to drive results for our clients!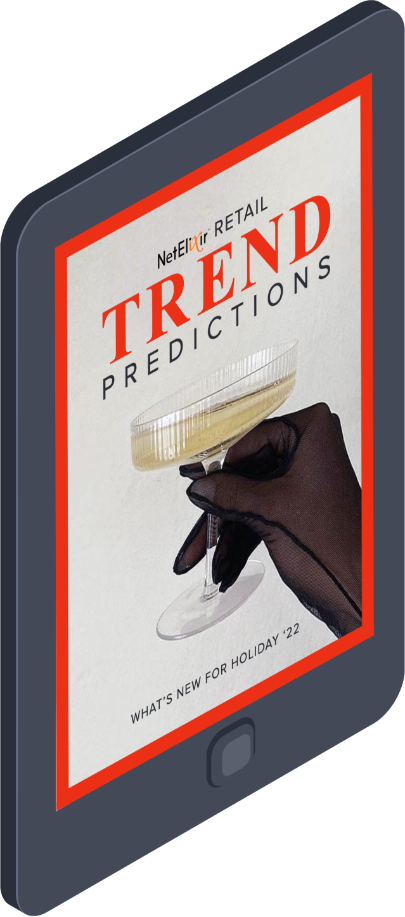 What's New for
Holiday '22

?
Dive into the hottest trends across fashion, food, tech, gifting, and more with NetElixir's latest ebook and learn how you can bring these trends to life for your business.
Nov. 30:

Cyber 5: Results. Insights. Trends. Live Webinar

Dec. 1:

Holiday Review With Our Partners at BWG
Get freshly baked insights to help you prepare for the cookieless future!
Schedule Your Holiday Consultation
We know the day the Grinch's heart grew three sizes — and you can grow your holiday sales by 3X with NetElixir's expertise! Request a complimentary holiday consultation to learn about growth opportunities, competitor analysis, and more to spruce up your holiday strategy.
The perfect blend: join your consult with team NetElixir and get a complimentary coffee on us!