At NetElixir, we don't just understand the unique challenges and opportunities that cosmetic brands like you face in the digital realm – we thrive on them!
Our AI-powered digital marketing platform, LXRInsights, was meticulously engineered for one solution: earn you more revenue at the same spend.
Over 600 Brands & Beauty Leaders Have Trusted Our Strategic Insights, Including: Get Started With LXRInsights Today
*Terms and conditions may apply. Free trial is available only to select clients.
Power of LXRInsights At A Glance
Harnessing the remarkable insights generated by our AI, combined with our unrivaled digital expertise, we deliver consistently glamorous results driving more revenue at your same spend. It's time to elevate your brand to new heights, leaving your competitors in the dust.
More revenue, same spend
Enhanced audience targeting and retention capabilities
Brings back similar audiences to help continually win new customers
Shares personalized insights into high-value customer journey
One-click integration to launch retargeting campaigns on Google and Meta for more efficient targeting and predictable wins
Customers acquired using LXRI audience inputs were nearly 2X more valuable over a 12-month period compared to customers acquired using only Google audiences.
Key Results Of Beauty Clients Using LXRInsights:
$500K in incremental revenue using same spend – driving 2% more revenue from paid media at no increased cost
60%+ greater ROAS for high-value customer segments and similar audiences compared to regular audiences
2X CVR of high-value customer segments compared to regular audiences
Meet Sophia, Beauty's High-Value Customer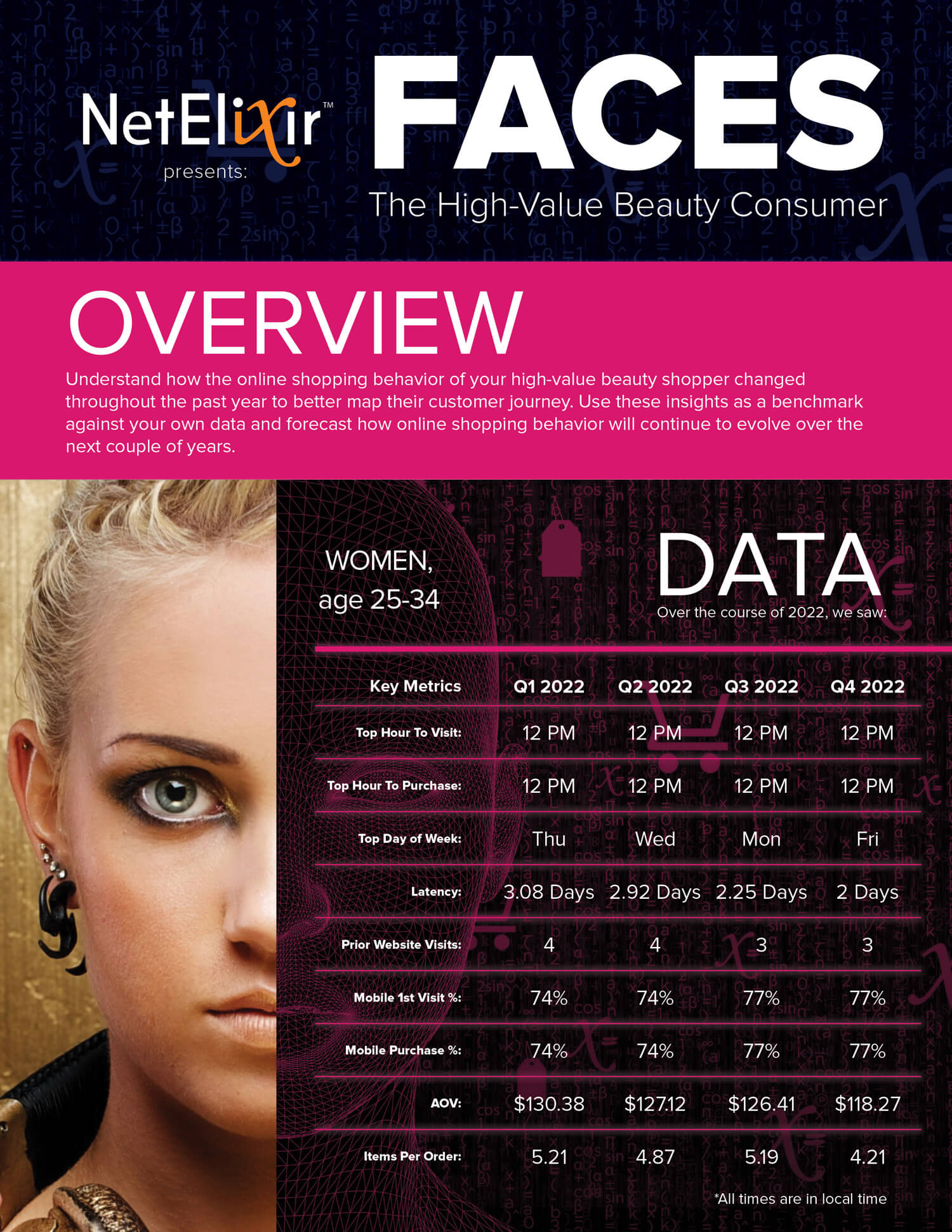 She's a mobile-native, primarily searching and shopping on her phone
She makes her shopping decisions quickly, usually within 3 days
She usually takes her lunch break with a side of online shopping, purchasing around 12 PM
She likes a bargain, but also prefers sustainable, clean products
How Does Knowing Sophia Help You?
Sophia's customer journey should be used as a benchmark for your own customers' journey and habits
Adjust your marketing strategy to ensure you are live when Sophia is most likely to be searching and shopping online to capitalize on her intent
Understand more about where the beauty industry is heading to ensure your brand is future-ready
Where You May Have Seen Us:
Leaders In The Beauty Space
How NetElixir Works Their Magic: The Future Of Digital Marketing
NetElixir Founder and CEO Udayan Bose takes the stage for a fireside chat at the WWD Digital Beauty Forum 2023 with Emily Dougherty, Special Correspondent from Beauty Inc.